Outerwall (NASDAQ:OUTR), the parent company of Redbox and Coinstar, has changed strategy since Jana Partners disclosed its 13.5% stake in the company. Whether Outerwall decided to make these changes on its own initiation, or whether it feared a fight with a heavyweight activist hedge fund, does not matter. The decision to distribute cash to investors in the form of a share buyback and then potentially through a dividend are definitely positive signs going forward. The cost cutting moves to boost profitability are also significant. Both are important any way you cut it.
Outerwall provides a few good reasons to buy the stock. The stock is undervalued. The recent cost cutting moves should increase margins and profitability and that should allow them to use increased cash flow to pay a dividend. The dividend may take some time however, so in the meantime the share buyback will help increase EPS and should provide a steady lift to the stock price. And the short interest in this stock provides the potential for a squeeze to propel the price higher.
The Washington state-based company recently said that it would exit its more recent, and less profitable coffee, food, and photobooth kiosk businesses. It will take a one-time charge in the 4th quarter, estimated at $26-29 million, for shutting these businesses down. It also announced that it would reduce its workforce by 8.5%. This will result in a one-time charge of approximately $5 million in the 4th quarter for things associated with the job cuts, like severance payments. These cost cutting measures are expected to start saving the company $22 million annually, starting next year. This is positive for profitability and future dividends, buyback or investments.
That leaves the company with its Redbox kiosk business - the biggest contributor to Outerwall's revenues and earnings; Coinstar, a coins-for-dollars kiosk which has lost a some market share to banks, but which still generates substantial revenues and earnings; Redbox Instant, a streaming video business designed to compete with Netflix and Amazon (NASDAQ:AMZN) streaming services; ecoATM, an electronics recycling kiosk; and Sampleit kiosks, which allow people to sample new products.
The kiosk operator has held onto its position in the movie rental market partially due to its focus on offering new movies. Netflix (NASDAQ:NFLX) on the other hand has a streaming stranglehold and its strength is its TV series offerings. However, in a digital world the growth is mostly in streaming. It's also a higher margin business because there's no costs for kiosks or upkeep to them like Redbox. It seems as though Redbox kiosks will retain their strength, but gains in market share for streaming don't appear like they will change radically unless Redbox Instant makes some content changes.
Growth Opportunities
Redbox Instant - Despite the paragraph above, I do believe that Redbox Instant has potential. It is co-owned with Verizon, and offered through apps for smartphones, Sony (NYSE:SNE) Playstation 3 & 4, Xbox 360 & One (NASDAQ:MSFT), laptops, and smart televisions. There is one reason that I think it will gain market share even without changes to content offerings. For $8 per month, on Netflix, you get free streaming. For $8 per month on Redbox Instant, the customer can get the streaming content plus 4 DVDs per month from a kiosk. I believe that this is enough of an incentive for existing kiosk users to sign-up for Redbox Instant. I haven't seen advertisements for this services, but I think it would be marketed, it would produce subscriptions.
EcoATM - EcoATM kiosks pay cash for old cellular phones, mp3 players and tablets like iPads and Kindles. The EcoATM kiosk scans the deposited device to determine what it is, what condition it is in, and how much it is worth. Outerwall stated in its recent quarterly conference call that EcoATM "continued to perform above expectations." While I have not seen numbers on this business' profitability I think that because of the huge amount of electronic devices that have become outdated the past 10 years, you could see significant growth come from this business.
SampleIt - I do not know the margins on this business but depending on the items available, it seems like something that could prove a substantial addition to the bottom line. Again, this depends on what samples are offered.
The Buyback
Outerwall is expected to purchase $100 million worth of shares in Q4 and another $50 million in Q1 of next year. Depending on the price of the stock when it makes its remaining purchases, you could see 6-7% of shares retired.
The company has increased its credit facility and will likely use that to perform the share buyback. While that is not the best use of debt in terms of the health of the business, it is an effective way to increase shareholder value in the near term. After all, that is usually what activist shareholders do - extract value in the near term.
Moody's had the following to say about the use of financing to repurchase shares of stock.
The company exercised the accordion option under its credit facility to increase the size of its term loan by $200 million and provide an additional $150 million of revolver capacity... Outerwall will likely use the additional liquidity for share repurchases, which amounted to $95 million in the first nine months of 2013. The company expects to buy back an additional $100 million in Q4, bringing total share repurchases to $195 million for the year, which would result in share buybacks exceeding free cash flow generation in 2013. Moody's views the planned share buyback as a credit negative as it will lead to an increase in debt-to-EBITDA leverage and diminish liquidity over the near to intermediate term. However, the announced actions will have no immediate impact on the company's credit ratings as we expect that Outerwall will execute shareholder returns within its publicly stated net debt/EBITDA leverage target of 1.75x to 2.25x, which compares to about 2.0x to 2.5x gross debt to EBITDA incorporating Moody's standard adjustments.
What can you say about this? Well, simply, Moody's thinks that the use of the credit facility is not positive for the company, but is not bad enough to downgrade it.
The tapping of this loan will reduce company flexibility in the case that something bad happens in the next 18 months. But again, the use of the money will definitely extract value for shareholders. It is a double edged sword, but it makes sense to provide the investors with something.
The Valuation
Outerwall has a P/E of 11.23 and a forward P/E of 12.85, which are both low compared to projected annual EPS growth for the next five years of 20%. That provides the low PEG of .56. These numbers point to undervaluation.
The company has average margins. For a company that earns its revenue through self-operating kiosks, you might expect higher - gross margins are 30.4% and operating margins are 9.3%. These are areas that the recent cost-cutting seek to improve.
The company sports a relatively high long-term debt-to-equity ratio of 1.05. This is negative for the company in the long run, but can be addressed by the cost cutting.
One More Catalyst
The company has a very high short float of 32%. This could provide ammunition to drive the stock price much higher if the shorts are squeezed. The squeeze could be initiated by good news or simply by the buyback driving the shares outstanding down. While some may look at this as a bad sign, it is a great catalyst if the stock continues upwards.
The Chart
Aside from the stock dip and rally back in September and October, Outerwall has performed well in 2013. It started the year at $50 and has gone up over 31%. The chart currently looks like it is ready to move higher into 2014.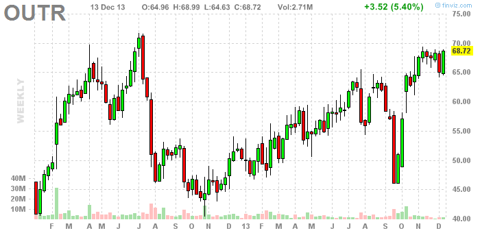 The Play
I am buying April call options if the price breaks above $70.
Disclaimer: We do not know your personal financial situation, so the information contained in this article represents an opinion, and should not be construed as personalized investment advice. Past performance is no guarantee of future results. Do your own research on individual issues.
Disclosure: I have no positions in any stocks mentioned, but may initiate a long position in OUTR over the next 72 hours. I wrote this article myself, and it expresses my own opinions. I am not receiving compensation for it (other than from Seeking Alpha). I have no business relationship with any company whose stock is mentioned in this article.