It's been a rough couple of months for Cisco (NASDAQ:CSCO), after a string of negative developments hammered the stock.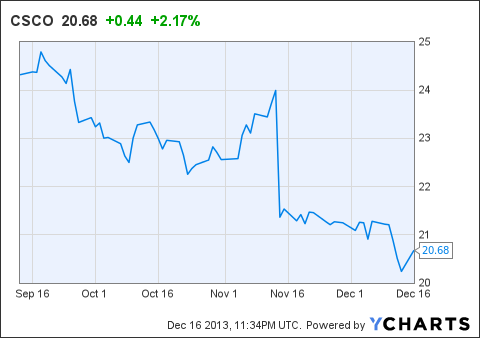 Most recently, to make matters even worse, the company cut its forecast for both earnings and revenues as well. Still, I am bullish long-term, and I think that there are some positives going forward for Cisco that are being covered up by all of the (not-unwarranted) negativity. Below are 3 reasons why shares are attractive at current levels.
Reason 1.) Lower expectations should now be baked-in
One positive going forward for shares is all this negative sentiment has made the out-of-favor tech company oversold, according to Forbes. This implies that shares might be less prone to the dramatic drops they've been experiencing lately.
After cutting guidance (and shares reacting accordingly) after a post-earnings drop, not much is expected from Cisco the next time around. It has a solid history of beating earnings expectations, including last quarter as well.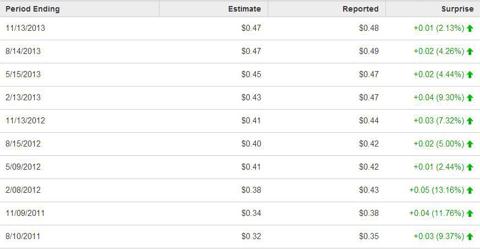 Click to enlarge
A solid beat next quarter might be a nice catalyst to re-route the current downward trend. Especially if revenues either meet or exceed the already gloomy expectations.
Reason 2.) A strong balance sheet and safe dividend
While its share price has dropped, Cisco's balance sheet still looks strong as ever.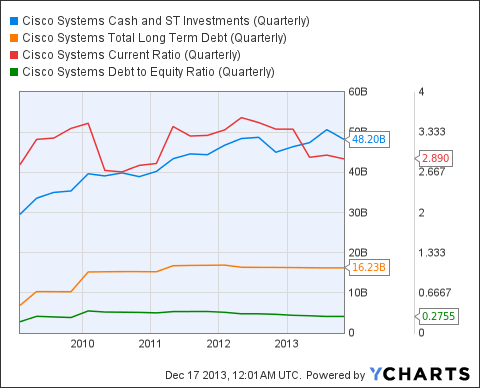 CSCO Cash and ST Investments (Quarterly) data by YCharts
The strong balance sheet supports the solid dividend, which now yields enough to make shares a nice income play. The drop in share price was a positive for the dividend yield, which shot up significantly.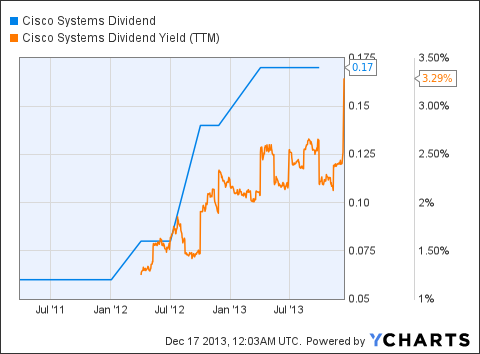 CSCO Dividend data by YCharts
While Cisco's revenues were terrible last quarter, it still beat earnings. As long as earnings are consistent and the dividend yield is attractive, I don't see the share price dropping much more as income-starved investors snap up shares.
Reason 3.) Recent credit upgrade affirms a strong balance sheet
S&P just upgraded Cisco's credit rating, lifting it to 'AA-' from 'A+', and it "has now been removed from CreditWatch with positive implications." The rating agency forecasts strong EBITDA and cash flows even despite current "challenging" market conditions, stating that "Cisco is likely to expand its shareholder return and acquisition strategies over the intermediate term."
Cisco's financial strength and flexibility, as well as its cash horde, give it some breathing room in the near-term, and also provides safety for shareholders as far as the dividend goes.
Addressing the "trust issues" in China
An 18% drop in revenues in China was a significant reason why emerging markets revenue dropped a whopping 21% last quarter. These big drops helped send shares straight downwards and they haven't recovered since. So what gives?
Cisco blamed the U.S. government spying scandal for its woes in China. CEO John Chambers addressed the issue, saying that his company was "in China for the long run," but he also acknowledged that it would be an uphill battle. Chambers also explained that whatever Cisco does to get back in the Chinese market's good graces, it "will be a series of quiet moves... the Chinese send messages very subtly."
He also acknowledged that Cisco's native Chinese rival, Huawei, would continue to pose a threat, stating that "I think there is a focus on China national pride and using indigenous innovation and their own technology companies.... Huawei has done a good job marketing over there."
Potential positive?
This leads to another potential reason Cisco's long-term prospects might be less dire than expected. If the company can capture back some of its Chinese customers, there is obviously a lot of growth potential there, even if Huawei continues to dominate. But what is Cisco really doing to repair its soiled relationship with the country? Besides making vague "quiet moves" that is.
Well, maybe I'm reaching here, but it looks like Cisco's new 'cloud fusion' project might be a major step forward in the trust department. Cisco says that it's new project will protect companies from NSA prying, which if true, is a product that is desperately needed to establish itself as 'anti-spy'.
Cloud Fusion is apparently a "hybrid cloud", which uses some public cloud services combined with private data centers. What does this all mean? Cloud Fusion software will allow users to utilize cloud software from one provider while storing data in a different spot (private data centers, for instance).
This prevents NSA spying, because Cisco won't be able to access corporate data, which also means it won't be able to comply with government snoops. This could be the company's solution to its current trust issues, and inventing an 'anti-NSA' image is a good idea going forward-- not only in China, but globally as well.
The bottom line
Cisco currently trades at just 11.25 times trailing earnings, and just under 10 times forward earnings. Shares are cheap. I think that there is a good margin of safety baked into the stock at this point, especially since it was already cheap before the slide downwards.
Despite an ugly quarter and cut forecasts, Cisco remains incredibly strong financially. This means that its increasing, high-yielding dividend is well covered. It also has a significant amount of cash as a cushion, which can be utilized for acquisitions and inorganic growth.
China and emerging markets will likely be a thorn in the company's side for awhile, but in the meantime the dividend will pay you to wait, and the company is looking for ways to re-establish the trust of its customers.
Disclosure: I am long CSCO. I wrote this article myself, and it expresses my own opinions. I am not receiving compensation for it (other than from Seeking Alpha). I have no business relationship with any company whose stock is mentioned in this article.