Introduction
AutoZone, Inc. (NYSE:AZO) is one of the top companies and investment vehicles of recent years. Its continuous performance can be viewed through metric after metric, including comparisons to other outperforming stocks and also market barometers. Consistent growth, attractive valuation, and notable management contribute to the equity's premier status.
Based in Memphis, TN, the corporation is a constituent of the S&P 500 (NYSEARCA:SPY). Obviously, this is not an under-the-radar stock, or one with illiquid shares. AutoZone is a large cap specialty retailer, as it supplies automotive parts and accessories to do-it-yourself ("DIY"); and do-it-for-me ("DIFM"), or commercial, clients.
Many of its DIY shoppers are people with lower incomes. SEC filings from years past have said that when they are pressed for money they fix their own cars. Thus the stock has exhibited anti-cyclical attributes: when the economy fades the company's sales can rise. However, nowadays, lower discretionary resources of customers are merely cited as a risk.
Buybacks
Berkshire Hathaway (BRK.A, BRK.B), run by arguably the greatest investor who ever lived, Warren Buffett, has a repurchase plan in place. There is a defined valuation component to the plan. Under the arrangement, shares of the diversified conglomerate can be repurchased when they trade at under 120% of book value, up from a previous 110% rule. Capital has only been returned to shareholders through it once under the expanded provision, almost exactly one year ago, in the form of a 9,200 share repurchase of Class A stock.
AutoZone's buyback plan is remarkably different, as it copiously retires stock nonstop. It uses all of its Free Cash Flow ("FCF"), runs up its accounts payable, and increases its debt in support of it. However, the company's investors certainly should not be likened to "sheeple" for adherence to financial activity that differs from a sage example. Partially because of repurchasing, the stock has only traded sideways and then up (two graphics are shown below). The following image illustrates the declining share count over one decade:
Click to enlarge
Again, a favored time to repurchase shares is when a stock is undervalued; such as when things slow down but prospects remain. There is an intimation of how undervaluation can enter the equation for AutoZone in the opening question of the company's recent Q1 Conference Call. Previous to this quarter, pressing questions involved the DIFM business, and an acceleration in commercial sales while opening of 125 new programs this quarter is material. In the Q&A section of the transcript, emphasis shifts to DIY, and Credit Suisse inquires:
…Could the business still see a mid-teens type of earnings growth or high single-digit EBIT growth if the DIY business stays under pressure next year?
Chairman and CEO William C. Rhodes responds:
…Our approach going in is we're going to grow square footage in the low single-digit range and then grow Commercial on accelerated rate, which we believe is a formula to drive mid-single-digit growth rate in EBIT. And then we're going to add our share repurchase on top of that, which will comfortably get us in the double digits…
So there you have it, if DIY lags, shares are still going to be bought back. Further, past growth is undeniable, and it is poised to continue in the future. The stock's overall performance is not arguable. With strong Q1 results announced days ago, the company has set a new 52 week high and pulled ahead of the bellwether S&P 500; and fellow wealth creator BRK.B, with less than one month remaining in 2013:

Click to enlarge
The results over the past five years are more obvious, AZO has really set itself apart.

Click to enlarge
Growth & Valuation
In the course of following and investing in AutoZone over time, different perspectives of varied market pundits have become familiar. One party to offer enjoyable commentary is David Trainer, CEO of his own investment firm, and also actually a Seeking Alpha contributor. I note that Mr. Trainer is based near AutoZone's headquarters; however, the company's strong results belie any implication of geographical, or local, bias. His emphasis on Net Operating Profit After Tax ("NOPAT") merits attention. He observes that the company has increased NOPAT each year since 1998. However, according to Rhodes, "Delivering strong EPS growth and ROIC growth each and every quarter is how we measure ourselves." A chart summarily shows how well the company has been executing in consideration of these metrics: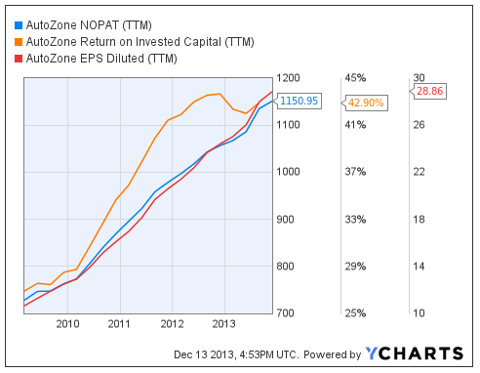 Click to enlarge
We see in the graphic below that since 2011, the company's TTM EV/EBIT multiple has tended to be over 10x and that it recently dropped to a relatively attractive 9x. Competitors O'Reilly Automotive (NASDAQ:ORLY) and Advance Auto Parts (NYSE:AAP) trade at higher multiples. For future valuation, a 10.5x multiple is reasonable - though Buffett has said in the past the he is willing to pay 7x for a growing business.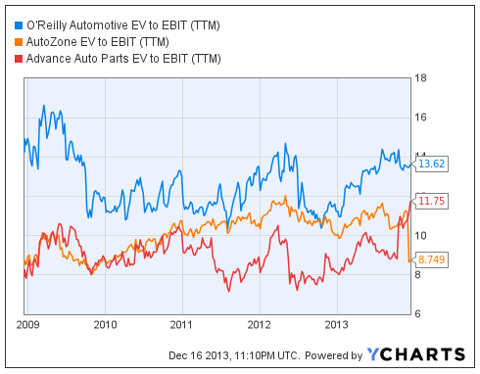 Click to enlarge
In the future, projected EBIT growth of 12% is cautious in light of the CEO's "Comfortably…in the double digits" statement. AutoZone has just reported $1,793,548,000 trailing 4Q EBIT. In combination with 12% growth, we get a projected EV [10.5 * (1.12 * $1,793,548,000)] = $21.1 billion. Using EV/Market Cap of 1.27, the estimated equity capitalization is $16.61 billion. Using 32,750,000 shares, which is probably high as buybacks are built into the conservative growth estimate, we get a price target of $507.18 and approximately 9% upside. This is in the context of underwhelming DIY operations in 2014.
Management
A portion of the success is attributable to AutoZone's management. Rhodes has been in charge since 2007. CFO William Giles, the other Bill who regularly appears on conference calls, is also seasoned. They are the types of persons who make difficult tasks look easy to everyone else. When reviewing transcripts it can take effort to discern if perhaps they are going through the motions, or if, in fact, they run the company so well that their replies adequately address all analysts' questions. As a shareholder, management is working for me, so, while there is no hurry to say that it is doing such a great job, it seems to be the case.
Top notch leadership is hard to find, and incentives are necessary to keep it. Rhodes should rise up from 123rd on the Forbes list of CEO compensation.
Some upper level leadership is in transition. Executive Vice President, General Counsel & Secretary, Harry Goldsmith is retiring after 20 years, in January 2014. The company has recently announced that Kristen Collier Wright is being promoted, effective January 5th, to Senior Vice President, General Counsel & Secretary, Customer Satisfaction, replacing Goldsmith, after two years with AutoZone. I view this as a healthy progression.
Risks & Criticisms
There have been some persistent critics of the company. Aside from ongoing operational issues, such as DIY or DIFM results, concerns expressed almost invariably involve (1) increasing debt, (2) insider selling, (3) negative shareholder equity and book value. The following chart addresses the first and third issues: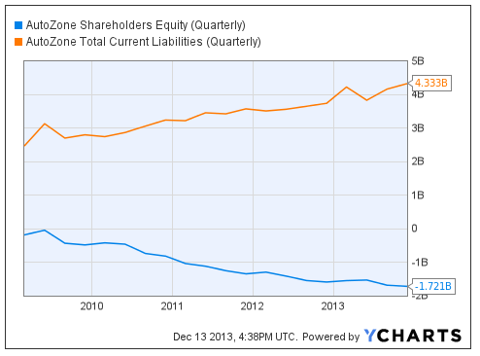 Click to enlarge
Regarding debt: AutoZone maintains an investment grade credit rating, BBB (stable outlook) with Standard & Poor's. It continuously maintains a target adjusted debt as a multiple of EBITDAR, and has reported finishing the first quarter with it equal to 2.5x. NOPAT results are also pertinent, as it is a measure of operating efficiency for leveraged companies. No reason for worry is evident.
Pertaining to insider selling, shares are worth over $400 and are up 250% in the past five years. It would simply be human nature to take profits. Incidentally, Goldsmith has regularly unloaded his stock, pocketing approximately $20 million in 2013 alone; while there is no available record of Wright selling a share.
The hits to the balance sheet resulting from steps taken to support the buyback plan may be the most troubling. However, in consideration with all the other positive data, the company remains a worthwhile, long-term investment. Another current graphic showing rising FCF, which again is returned to shareholders through buybacks; and relatively modest FCF yield, lowering the likelihood of a compressing valuation in the future, follows.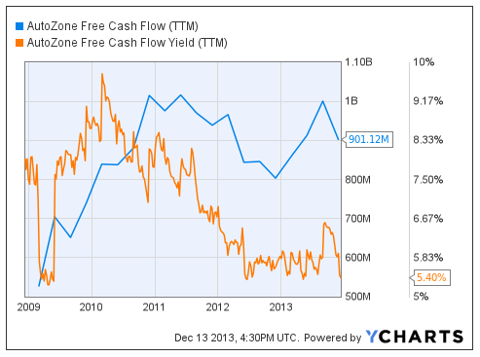 Click to enlarge
Conclusion
AutoZone has a history of appreciating capital, and its outperformance of sensible alternatives may continue. However, no stock is for everyone, and some EV/EBIT multiples discussed may be uncomfortably high.
Further, while time would be needed for Rhodes to be recognized as an all time great, how often can one say "Look at Berkshire Hathaway, it is not too shabby?"
Through AutoZone's history, when its share price has not appreciated it has stayed within a relatively narrow range. When it trades sideways, AutoZone stockholders can be confident that their pro rata stake in a profitable business is growing because equity is being bought back. Using conservative projections, we can estimate that everything is likely to continue until the share price is $507.
Disclosure: I am long AZO. I wrote this article myself, and it expresses my own opinions. I am not receiving compensation for it (other than from Seeking Alpha). I have no business relationship with any company whose stock is mentioned in this article.