Yesterday, we alerted our subscribers to Cleveland BioLabs, Inc. (NASDAQ:CBLI). The company announced earlier this week that it will hold a press conference today and while the stock has already seen some gains, it may be poised to move higher.
Cleveland BioLabs' stock has already seen some gains during the last two trading sessions, but I wanted to put it on everyone's watch list because after the company hosts its Press Conference on Radiation Countermeasure Developments for National Security and Oncologic Safety today (February 24, 2010) at 12:30 pm EST in New York, there is a feeling among analysts that the stock may begin trading at higher levels in the days and weeks ahead.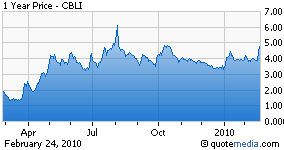 CBLI traded as high as $6 last July and continues to trade in a very nice range as you look at its chart.
One reason for optimism among speculators is the chatter that several countries, including the U.S., Russia and Israel are interested in the company's proprietary discoveries, which center around protection of normal tissues from exposure to radiation and other stresses. Given the growing concern about Iran's nuclear capabilities, multi-million dollar orders for their product from neighboring countries make sense.
This is an article that was published in Israel, which discusses the company:
http://www.ynet.co.il/english/articles/0,7340,L-3748014,00.html
There was another good write up about the company here:
Time To Dote On Cleveland BioLabs' Radiation Antidote?
Our staff is preparing a special report and interview which will run at BioMedReports within the next 24 hours.
Disclosure: Long CBLI