This week, Chicago Bridge and Iron (NYSE:
CBI
) announced 4th quarter and full year 2009 results that were pretty much in line with expectations. As one of the premiere energy infrastructure engineering and construction (E&C) companies, CBI holds lots of promise going into 2011 and beyond. Just look at their year-end '09 backlog of $7.2 billion worth of projects, which are waiting to be completed and billed. The current backlog is only 7% below record levels set at the end of 2007.
I advocate using current market weakness as an opportunity to add or to initially establish a position in CBI. The catalyst to higher share prices will be steady levels of new awards and improving earnings later in 2010, along with better visibility for 2011. For more details on CBI, review my
instablog
dated 2/2/10.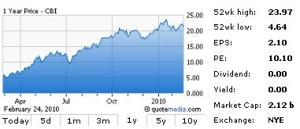 (Click chart to enlarge)
Founded in 1889, CBI designs and builds oil refineries, storage tanks, LNG terminals and other infrastructure projects. As overall energy consumption increases globally, the need for additional infrastructure and upgrades/expansion of existing facilities will continue to grow.
CBI is very active in the water and wastewater business along with power generation. Hidden inside CBI is nuclear power plant E&C expertise, as CBI constructed 75% of containment vessels currently operating in the US. With the economic downturn and temporarily depressed energy prices in 2009, many construction projects were put on hold. Some of these are starting to come out of mothballs, and CBI is getting a nice bump in business. Project awards over the past 6 months will generate revenue and earnings growth in late 2010 and 2011.
CBI's backlog of projects awarded has grown impressively from $4.2 billion at the end of June '09 to $7.2 bil at year-end. It is not uncommon in the E&C industry to operate on substantial lead times from contract award to completion and billing. To give some prospective on the significance of the current large backlog, below is a year-end comparison for the past few years, in billions:
2005 2006 2007 2008 2009
$3.1 $4.5 $7.7 $5.7 $7.2
New awards in 2009 totaled $6.1 bil, 90% of which are outside the US. This represents significant growth from 2008's $4.3 billion total of new awards. Only 25% of the total current project backlog is in the US. Over the past few years, the percentage of revenues derived from North America has been declining, in favor of projects in developing countries, such as New Guinea and Columbia.
EPS in 2009 was $1.79 and revenues totaled $4.5 billion.
Management offered their thoughts for 2010, and it is tepid. CBI issued guidance for EPS between $1.60 and $1.85 on revenues of $3.9 bil to $4.2 bil. The street consensus is anticipating EPS of $1.83 with revenues of $4.46 billion (see earnings transcripts
here
upon availability).
Management has been conservative with its guidance, exemplified by their exceeding street earnings consensus estimates every quarter in 2009 by 5% to 13%. The big impact of the recent torrent of new business will be in 2011. Individual broker EPS estimates for 2011 range upwards of $2.50, with the distinct possibility of being revised higher over time.
CBI is coming off of 2 years of earnings losses in 2007 and 2008, mainly due to cost over-runs and weather delays on a fixed rate contract to build the now-completed South Hook LNG terminal in England (final write-off in the 4th quarter '09 of $12 mil). This contract decimated both earnings and street confidence. Meeting '09 guidance for revenue and earnings, coupled with the recent success with new awards, is helping to rebuild investor faith in CBI's outstanding long term prospects.
CBI has an excellent balance sheet, with $326 mil in cash and debt of $120 mil. Stock capitalization is $2.1 bil with 99 million shares outstanding. Over the years, CBI has made several acquisitions to augment organic growth. Management may find a tempting stock-deal acquisition, or may desire higher levels of working capital to support increasing contract work, and a small secondary offering may be preferable.
As a mid- to late-cyclical company, with long lead times between booking an order and realizing profits, CBI should offer above average capital gains potential for patient investors. CBI also offers great exposure to international business as the vast majority of projects are not in the US.
The current share price weakness on management's lower-than-expected guidance should provide a buying opportunity in the $18 to $22 range, with a 24 month price target of $30, or 13 PE on $2.30 EPS estimates. A great place to start your due diligence would be their
investor's presentation
dated Feb 22, 2010 found on their website, with a specific focus on pages 5, 6, and 7 outlining the scope of CBI's international projects (site registration required).
Disclosure: Author long CBI and has been a shareholder since 1997.