Freeport-McMoRan (NYSE:FCX) is one of the largest gold and copper miners in the world. The company also engages in exploration activities for silver, molybdenum, cobalt as well as oil- and natural gas. Freeport also has diversified operations in terms of geography: It conducts mining operations in North- and South America, Indonesia and the Democratic Republic of Congo. Despite its diversified global mining footprint Freeport achieves the majority of its EBITDA in North America (51% of estimated 2014 EBITDA is expected to originate from this region) and results are mainly driven by copper, energy (oil- and natural gas) as well as molybdenum. Indonesia is expected to be second most important geographic region with an expected EBITDA contribution of 24% (Indonesian mine operations mainly contribute gold, silver and copper). South America, driving Freeport's copper production, is estimated to add 17% of 2014 projected EBITDA. Freeport made significant strides over the last years to diversify its mining footprint and increase its oil- and gas exposure in the US. However, mining still is the main EBITDA driver (more than 70% of EBITDA comes from Freeport's mining operations).
I have recently added Southern Copper (NYSE:SCCO) to my portfolio mainly because I believe copper plays are undervalued due to an uncertain economic outlook and short-term challenges in Asia, particularly China, as well as the US and Southern Europe. In my related article about Southern Copper I have asserted that copper consumption is predominantly driven by China and its Asian peers. Emerging markets in Asia and Latin America will be instrumental in driving copper demand in future decades. I believe copper-related exploration businesses are one of the most attractive in the commodity sector and companies like Freeport and Southern Copper will profit from both urbanization trends and population growth in emerging markets.
Share performance
Freeport is about flat over the last year but has regained its momentum back in July. The company has returned 27% since the beginning of July and added to its already impressive historical performance.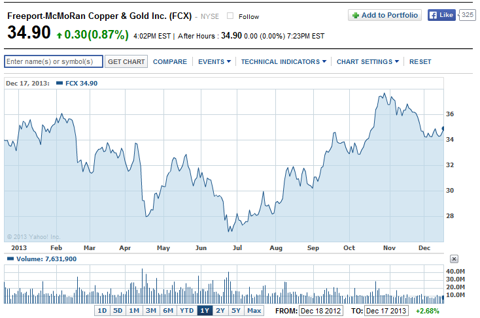 Freeport investors who acted anti-cyclically around 2009 and were buying in the midst of a market panic are up nearly 200% which clearly is a neat return. In fact, Freeport is the best-performing large-cap commodity miner in the peer group depicted below. When its comes to investing in commodity-related equities I specifically follow a contrarian strategy. Nearly every investor who bought back in 2008/2009, when uncertainty hit record levels, is sitting on massive profits. Contrarian strategies work and actually reflect Warren Buffett's investing maxim 'to be greedy when others are fearful'. The commodity sector now offers a mix of highly interesting investments that are both contrarian and cheap.
Barrick Gold (NYSE:ABX) could be such a contrarian investment for investors who believe in the economic resurgence of Asia and increasing gold prices in the long-run. The company faces extreme amounts of pessimism with respect to mine profitability and could be a bargain at 8.5x earnings. Freeport and Southern Copper are both highly attractive copper plays that could increase in value when secular growth trends in emerging markets manifest and global growth picks up (which I am sure it will). Southern Copper has gained 'only' 75% over the last five years but remains sort of an underdog in the sector. BHP Billiton (NYSE:BHP), Rio Tinto (NYSE:RIO) and Vale (NYSE:VALE) are all strong long-term Buys in my opinion because of their gigantic reserves especially in the area of iron ore. Vale is a particularly attractive commodity play because of its ridiculously low and depressed valuation.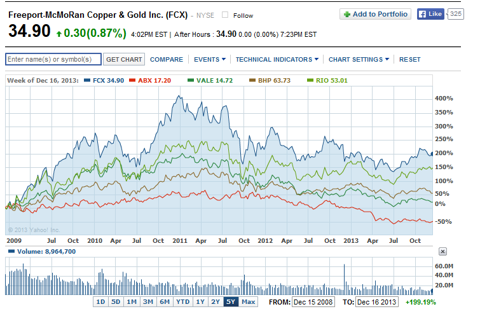 Peer group analysis
I was recently asked by a reader why I am using P/E comparisons as the main criterion for my investment decisions. The reason is simple: I want to compare similar companies via a market-based valuation method in order to determine where the market might err in its assessment about a firm's future earnings prospects. I am a contrarian investor which makes me to seek out companies that are either dirt cheap or everybody wants to stay away from (which usually is the exact same company). A low P/E ratio is often a sign that the market has driven the valuation of a company too low and I expect share prices to ultimately follow the concept of mean reversion (that is, to return to a long-term average). Also, focusing on long-term supply/demand dynamics and relative market valuation blends out all the noise, excitement and headlines (which are usually overly optimistic or overly pessimistic) that only distract from the things that matter. As a result, I found that concentrating on deeply discounted companies that often have globally diversified operations and access to a variety of markets and in-demand resources, pays off in the long-run.
Not surprisingly, I hold many of the cheapest companies in the sector in my portfolio. I have recently added Freeport to my retirement portfolio because the company is still cheap despite its share price increase over the last five years. Generally, I consider first-class, large-cap, strongly growing companies with a P/E ratio of 10 or less as bargain purchases. Freeport is investing heavily in new projects and it is still difficult to determine a normalized level of capital expenditures which are a substantial drag on Freeport's free cash flows. However, I believe that copper prices have stabilized and could get a boost once economic data signals better global GDP growth. Furthermore, Freeport is still cheap based on its earnings prospects.
Freeport currently trades at 10.75 times forward earnings which is quite low given the rise in Freeport's share price. Barrick Gold and Vale are two additional large-cap commodity players selling at unreasonable valuations and I am bullish on both of them (Barrick Gold thesis here, Vale here). The average P/E multiple of 10.39 is further proof that the basic materials sector is still trading at depressed multiples. The following two graphs depict the P/E and D/P ratios of the peer group consisting of Freeport, Southern Copper, BHP, Rio Tinto, Vale and Barrick Gold.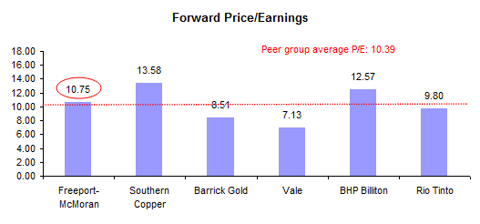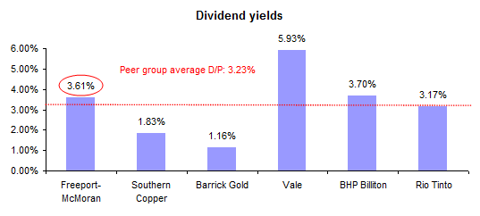 A summary table with updated valuation- and dividend metrics for the large-cap commodity peer group is presented below:

Conclusion
I have said that I follow a contrarian strategy and I am buying preferably unloved companies at a P/E multiple of around 10 or less. This strategy has served me well over the years since I am also avoiding the trading in and trading out of positions. A fundamentally good business that is run in a shareholder friendly way, will ultimately reward shareholders even if it takes time. Copper demand is a long-term, secular trend that is being driven by the construction and manufacturing sectors of the economy. The vast part of global population growth will take place in emerging markets in Asia and Latin America. Consequently, construction for residential and commercial purposes will grow stronger in those economies and copper consumption will be at the heart of it. Investors in Freeport can participate in such long-term trends that will also lift millions out of poverty in the process. I believe that Freeport, as well as the other prime commodity exploration companies in the article, can trade at 15x forward earnings in the long-run which is not an overly aggressive assumption. With Freeport currently trading at 10.75 forward earnings this would imply potential long-term upside potential of 40%. Long-term BUY.
Disclosure: I am long FCX, SCCO, ABX, BHP, RIO, VALE. I wrote this article myself, and it expresses my own opinions. I am not receiving compensation for it (other than from Seeking Alpha). I have no business relationship with any company whose stock is mentioned in this article.