Almost anyone who has ever invested in Facebook (NASDAQ:FB) probably understands the peaks and valleys that come with owning the stock. Sometimes the company does a brilliant job of executing on its long-term business strategy giving investors ample reason to buy the stock. But then there are times where you wake up the next morning and wonder whether Mark Zuckerberg dumped half his stock or something. Heck, surviving weeks of upward and downward moves in Facebook would probably take a month's supply of Pepto-Bismol.
The stock is up by around 1.95% and has been able to recoup all of the losses it has had since its Q3 earnings release. This was driven by its announcement of a video advertising strategy on Facebook, and plans of advertising on its sister network, Instagram. For now, shareholders are happy.
Evaluating its new video strategy
I personally like the video strategy a lot and I also believe that it will drive meaningful earnings growth. Advertisers are likely to reach a broader audience by advertising on Facebook's newsfeed than they could by buying Superbowl placement ads.
According to previous reports on the topic, Facebook is hoping to sell ads for around $1 million to $2.5 million per day. Without any additional overhead expense the company's attempt to venture into video ad placement could be extremely lucrative for company shareholders.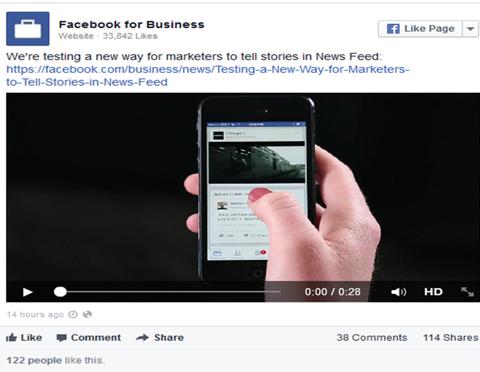 Click to enlarge
Source: Facebook
Looking specifically at the interface, the advertisement is played without the sound coming up, but if the person actually clicks on the video then the sound will come up. This feature helps to reduce the spam-like feel of traditional web-based advertising while it catches the attention of those who watch videos.
It seems like a fairly reasonable compromise, but it's certainly not anything new. Google's (NASDAQ:GOOG) own web property, YouTube, does the same exact thing. So it's not like Facebook was reinventing the wheel here.

Click to enlarge
Source: YouTube
However, on the downside, YouTube ads are a little more invasive because in certain instances you're not given the option to skip a video advertisement prior to watching a YouTube video. However, with Facebook you can at least avoid ads by continuing to scroll down a newsfeed. So the superiority of the ad-model is clearly apparent with Facebook's website, the only downside being that Facebook has a terrible history with public relations. Nothing goes well with Facebook PR, and nothing probably ever will. With Facebook, users are given a voice, and an audience. On YouTube no one pays attention to inbox messages, or comments made by other YouTube users, so it's unlikely that a person complaining about ads will be heard by a group of others who feel the same exact way.
What's funny is that while Facebook is all about connecting people, sometimes the company does a pretty bad job of connecting with its own users. This can be further emphasized by how Time Magazine created a guide on how to disable Facebook video ads. I'm sure Facebook will be able to counter disabling of Facebook ads, but even if it were to do that, Facebook needs to come up with more proactive strategies to counter public outrage each time it attempts to monetize the social network.
How much value can Facebook drive from video ads?
This is a tough question to answer… But given the already terrible track record Facebook has each time it attempts a new ad strategy, it's probably going to slowly increase the number of video ads that it places in the average user newsfeed. This implies that the number of video ads that Facebook displays will gradually increase over time.
Currently Facebook states that only 5% of posts in an average user's newsfeed will be an advertisement. Therefore to calculate the amount of revenue that Facebook is likely to generate we have to find out how much stuff people post on Facebook. Currently, Facebook users generate around 4.75 billion in shared content per day (includes status messages, shares, pictures, videos). When I divide 4.75 billion in shared content by the 728 million in daily active users, we find that the average user posts approximately 6.5 things per day.
I then follow up by multiplying the average daily posts, by the number of friends a person has, which equates to 845 things on an average user's newsfeed in a single day. This means that Facebook advertises in a user's newsfeed 45 times per day. Facebook can publish up to 45 video ads per day, but it is more likely that Facebook will post closer to 5 to 10 video ads per day, and leave the remaining 35-40 ad slots to be graphic ads. This gives Facebook the ability to generate close to $10 million to $20 million from video advertising per day, which approximates to $3.65 billion to $7.3 billion in revenue per year from the Facebook video ads alone.
Assuming advertisers like to advertise via video, and can generate meaningful business from this activity, Facebook may be able to add another $7.3 billion to its top line. Assuming Facebook is able to generate a 15% to 20% net profit margin, and Facebook will earn $1 billion to $1.5 billion in additional net profit.
Conclusion
Facebook ads are a very practical strategy for Facebook to pursue in order to push bottom and top line expansion. However, it's likely that social uproar will occur, or already has occurred, making it difficult for Facebook to easily increase the number of daily video slots per day. That being the case, investors should expect video ads to gradually drive both top line and bottom line expansion over a gradual period of time. The upside to this strategy comes from the fact that it's a higher margin advertising product that is sold at a higher mark-up with a similar cost structure. It's likely that Facebook will earn a much higher profit margin figure for the video ads than what I had estimated earlier.
For now, Facebook looks like a compelling growth investment, because it continues to execute on practical business strategies that will grow revenues and earnings. So therefore I legitimately believe that Facebook video ads are an upside catalyst that investors should eagerly look forward to.
Disclosure: I have no positions in any stocks mentioned, and no plans to initiate any positions within the next 72 hours. I wrote this article myself, and it expresses my own opinions. I am not receiving compensation for it (other than from Seeking Alpha). I have no business relationship with any company whose stock is mentioned in this article.