Medtronic (NYSE:MDT) is a global leader in medical device technology from concept to sale. Although it is dwarfed by Johnson & Johnson (NYSE:JNJ), General Electric (NYSE:GE), and Siemens AG (SI), it is the world's largest medical device focused company. It has produced steady top line growth for over a decade.
Overall the medtech industry should experience a CAGR of about 4.5% over the next five years. Although in-vitro diagnostics is likely to be the fastest growing segment in the coming years, this is a thriving industry expected to grow across the board.
In this post, I would like to outline the factors likely to allow Medtronic to grow at a modest, but steady rate over the next five years and beyond. In the near future, once the market produces more data on recent product launches, I'll cover the negatives. More specifically, the US excise tax on medical devices, pricing issues in Asia, CoreValve litigation, diabetes, and transcatheter valve competition.
Continuing, but tapering growth
Over the past decade Medtronic has managed to grow its top line by a CAGR of 8.76%. Per share earnings have also steadily increased at a slightly higher rate. I've included a chart below with quarterly periods to illustrate the company's rock steady earnings. Through through the great recession, earnings dipped dramatically for just one quarter near the beginning and again near the end, but spread over the long term it was merely a hiccup. Growth has slowed somewhat lately. Going back just three years to exclude the 2009 dip, EPS has risen at a CAGR of 7.54%.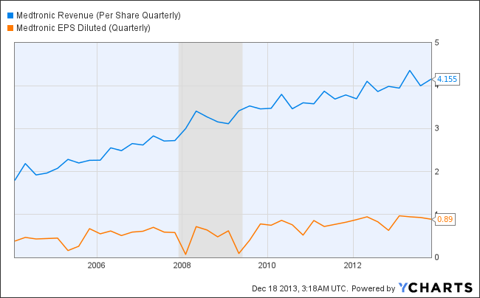 Click to enlarge
Analyst consensus provided by the Evaluate Group puts Medtronic overall growth at just 3% over the next five years. I feel that is a bit conservative, but I'll gladly accept the figure as a baseline with higher figures likely. Here are a selection of growth drivers that make Medtronic an excellent addition to a long-term investor's portfolio, even at today's prices.
Cardiac and Vascular Group
This is Medtronic's largest operating segment and certain to be a key growth driver going forward. Over the latest quarter, the segment generated 52% of overall sales, representing an increase of 2.9% on year. With the CoreValve expected to begin sales in 2014 this segment should continue to grow.
First and foremost, Medtronic will be bringing the CoreValve home sooner than expected. In October 2013 the company announced some highly positive CoreValve clinical data from a US pivotal trial that caused the FDA to waive an advisory panel. The device's approval for patients with conditions too severe for surgery appears in the bag. CoreValve sales to extreme, and high risk patients should begin over the next twelve months, and are expected to reach $570 million in 2018.
Medtronic's pacemakers continue to differentiate themselves from the market. Results of a 1,166 patient trial strongly suggest proprietary features of Medtronic's pacemakers significantly slow the progression to permanent atrial fibrillation. Pacing alone is expected to contribute 0.3-0.4% to the company's growth in the year to come.
Treatment of hypertension through renal denervation should begin adding sales from the EU and Australia before the end of 2014. The Symplicity Catheter System delivers a radio frequency through the walls of the renal artery. It leads the market in the EU where it has received the CE mark. A launch in both Japan and the US should begin in 2014-2015.
Diabetes Group
The MiniMed 530G was approved several months earlier than expected and the devices shipped before the end of October 2013. Supply constraints from transitioning manufacturing to Puerto Rico make estimates based on early sales a bit cloudy. Management expects the Diabetes segment to contribute a full percent to overall growth for FY 2014, which ends in April 2014. A second device, the MiniMed 640G should launch before April 2014.
Diabetes might be the company's best opportunity for growth going forward. Medtronic's Enlite CGM sensor was recently approved for use with the MiniMed 530G, which should put increased pressure on DexCom's (NASDAQ:DXCM) popular Seven Plus and G4 Platinum devices.
This another big step toward differentiating Medtronic products from the competition. The combined system is the first with a glucose level threshold suspend feature. If it can be shown that the minimal effort device results in lower overall health care costs, private insurance and government payers should be more willing to fork over the initially high prices they demand.
Worldwide medtech sales related to diabetic care reached $11.8 billion in 2012. It is hardly the fastest rising segment in the medtech industry, but it is expected to continue growing worldwide at a CAGR of about 3.4% over the next five years to $14.4 billion. At roughly $1.6 billion annually, Medtronic's diabetes segment has a lot of room to grow.
Acquisition strategy
Advanced energy was one of CEO, Omar Ishrank's, early acquisitions. It has contributed, in part, to 10% on year growth of the company's Surgical Technologies segment. Most importantly it proves that Ishrank is capable of driving the company through further acquisitions.
In August 2013, Medtronic completed another integrative acquisition with Cardiocom for $193 million. The company provides monitoring services of patients. Most likely the company intends to use the technology to increase value for not just patients, but health care providers. This is definitely an example of the whole being worth more than the sum of its parts. Providing a cost effective post implantation monitoring service should go a long way to differentiate Medtronic products from its competitors.
The company expects to generate over $25 billion of free cash flow over the next five years. Given its present current ability to generate cash and the slew of new or updated products, that's a figure I'm willing to accept. Into the long term, that will go a long way to feed the company's hunger for expansion, and improve shareholder value. Management has voiced a commitment to return 50% of free cash flow to shareholders, in the form of dividends and share buybacks.
Tune in next time for the bad news
As mentioned above this is intended to be an overview of selected factors that should allow Medtronic to continue growing at a CAGR of at least 3% over the next five years. It is by no means an exhaustive list of every new product and upgrade. In 2012, the company led the world with 619 first time, and supplementary approvals from the FDA alone. Reviewing each one would fill bookshelves, and I pity any sell-side analyst charged with the task.
I'm holding off on the negatives related to competition and government policy while I wait for some more data. Specifically, I want a better sense of the US CoreValve launch, and adoption of the MiniMed pumps with auto suspend features. Please, leave comments regarding aspects of this company you would like to see covered in greater detail. I'll do my best to cover them next time around.
Disclosure: I am long MDT. I wrote this article myself, and it expresses my own opinions. I am not receiving compensation for it (other than from Seeking Alpha). I have no business relationship with any company whose stock is mentioned in this article.