As an income-driven investor who doesn't mind the occasional higher-yielding dividend play, I've decided to shift my focus to the restaurant sector and highlight several of the reasons behind my decision to remain bullish on shares of Darden Restaurants (NYSE:DRI).
#1: Recent Performance & Trend Behavior
On Tuesday, shares of DRI, which currently possess a market cap of $6.81 billion, a forward P/E ratio of 16.42, and a dividend yield of 4.20% ($2.20), settled at a price of $52.33/share. Based on their closing price of $52.33/share, shares of DRI are trading 0.57% below their 20-day simple moving average, 0.91% above their 50-day simple moving average, and 5.39% above their 200-day simple moving average. These numbers indicate a mid-to-long-term uptrend for the stock which generally translates into a moderate buying mode for longer-term investors.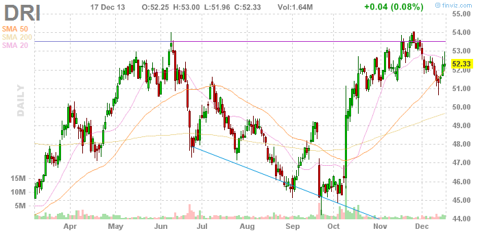 Click to enlarge
#2: 5-Year Dividend Behavior
Since January 7, 2009, the company has increased its quarterly distribution five times in the last five years, with the most recent increase having taken place in July of this year. The company's forward yield of 4.20% ($2.20) coupled with its ability to maintain its quarterly distribution over last five years, make this particular restaurant play a highly considerable option, especially for those who may be in the market for a higher-yielding stream of quarterly income.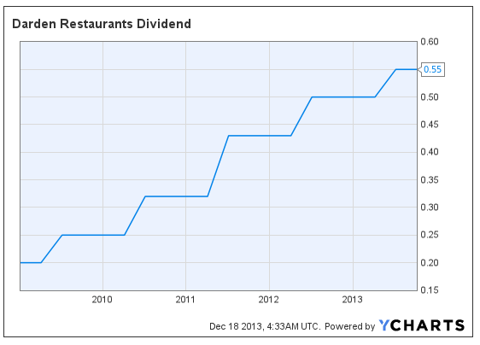 Click to enlarge
#3: Comparable Dividend Growth
Not only does the company's 4.20% dividend yield and 5-year dividend behavior make this particular stock a highly attractive option for most income-driven investors, its dividend growth over the last five years versus one of its sector-based peers is also something investors should almost certainly consider. From a comparable standpoint, DRI's dividend has grown a solid 175% over the past five years, whereas the dividend growth of its US-based peer Bob Evans Farms (NASDAQ:BOBE) has only increased 93.75% over the same period.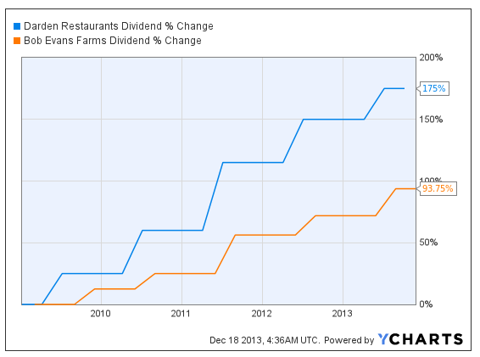 Click to enlarge
#4: Looking Ahead To FQ2 Earnings
If we begin to look ahead to the company's FQ2 earnings estimates, in which analysts are calling for DRI to earn $0.21/share in terms of EPS (which is $0.32/share lower than the company had reported during Q3) and $2.07 billion in terms of revenue (which is $0.09 billion lower than the company had reported during Q3), we can suspect most investors would like to see a substantial improvement in both categories as DRI missed FQ1 estimates by $0.17/share in terms of EPS and $0.04 billion in terms of revenue.
If the company can demonstrate an increase of at least 4.5% in its sales from continuing operations, a 3.0%-to-3.2% increase in Same-Restaurant Sales at both its Olive Garden and Red Lobster locations, a 1.75%-to-2.25% increase in Same-Restaurant Sales at its Longhorn Steakhouse restaurants, and a 0.75%-to-1.25% increase in Same-Restaurant Sales at its Capital Grille, Bahama Breeze, Seasons 52, Eddie V's, and Yard House restaurants, I see no reason why such quarterly EPS and Revenue estimates can't be met or even slightly exceeded when the company announces its FQ2 results on December 19.
#5. Barington's Push For A "Break-Up" Makes Sense
On Tuesday, December 17, Barington Capital (which presently owns a 2.8% stake in Darden Restaurants), escalates its activist posture towards Darden Restaurants by issuing an 84-page presentation stating its belief that Darden's "corporate centralization and resulting internal complexity have contributed to the Company's declining financial performance and eroding competitive position".
It should come as no surprise that Darden missed the boat in terms of FQ1 earnings and could certainly do the same in FQ2 if both net income and revenues fail to meet the above mentioned estimates.
So how does the conundrum of declining earnings growth get solved in the restaurant sector? According to Barington Capital, the answer is to simply split the company into two separate businesses.
For example, the fund believes there is an additional $71-$80/share in value that could be unlocked if the company were to split into "Darden-Mature" (Olive Garden and Red Lobster) and "Darden Higher-Growth" (Bahama Breeze, Longhorne Steakhouse, Seasons 32, Eddie V's, Yard House, and The Capital Grille) and the real estate assets, which Barington believes are valued at $4B, are divested.
I agree that a potential split (or break-up) would not only enhance shareholder value, but the potential for a special dividend could occur especially if Darden can sell off its real-estate assets for the estimated $4 billion dollars Barington recently noted.
Risk Factors (Most Recent 10-K)
According to the company's most recent 10-K there are a number of risk factors investors should consider before establishing a position Darden Restaurants. These risk factors include but are not limited to:
#1 - Darden Restaurants is subject to a number of risks relating to public policy changes and federal, state and local regulation of our business, including in the areas of health care reform, environmental matters, minimum wage, unionization, data privacy, menu labeling, immigration requirements and taxes, and an insufficient or ineffective response to government regulation may impact the company's cost structure, operational efficiencies and talent availability.
#2 - Any failure to maintain food safety throughout the supply chain may have an adverse effect on the company's business.
#3 - The company's failure to drive both short-term and long-term profitable sales growth through brand relevance, operating excellence, opening new restaurants of existing brands, and developing or acquiring new dining brands, could result in poor financial performance.
Conclusion
For those of you who may be considering a position in Darden Restaurants I'd keep a watchful eye on a number of things over the next 12-24 months as each could play a role in both the company's near-term and long-term growth.
For example, near-term investors should focus on the recent performance and trend behavior of the company while longer-term investors should focus on the company's upcoming FQ2 earnings as well as the company's ability to continuously increase its dividend on an annual basis as has been the case over the last several years.
Disclosure: I have no positions in any stocks mentioned, but may initiate a long position in DRI over the next 72 hours. I wrote this article myself, and it expresses my own opinions. I am not receiving compensation for it (other than from Seeking Alpha). I have no business relationship with any company whose stock is mentioned in this article.