The Home Depot (NYSE:HD), like many other companies during the last earnings season, presented solid quarterly results. The company booked revenues of $19.5 billion in Q3 2013 which reflects a 7% increase y-o-y. Comparable store sales, an important key performance indicator in the retail sector, grew 7.4% and US comparable store sales grew 8.2%. Net income for the third quarter 2013 came in at $1.4 billion compared to $947 million in the third quarter of 2012 (an increase of 48%). Diluted EPS stood at $0.95 vs. $0.63 last year (a plus of 51%). Quarterly results were primarily driven by an improving housing market in the United States.
Historical performance
Home Depot has remunerated shareholders well over the last twelve month as the market anticipated stronger y-o-y results. Shares are up 25% and have only been beaten by shares of Lowe's Companies (NYSE:LOW) which returned 30%.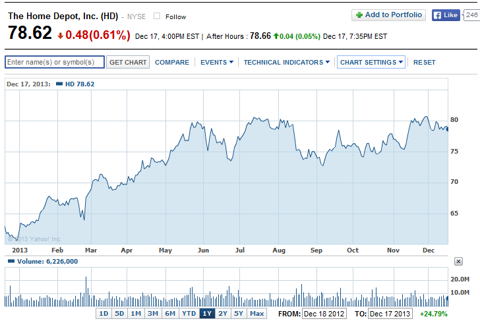 Home Depot and other home improvement stores are heavily dependent on a recovery in the housing market, consumer spending and the overall confidence in the economy. Clearly, confidence tanked in 2009 but has slowly and gradually recovered during the last five years although US GDP growth remains sluggish. In anticipation of higher expected consumer spending and a better economic climate, shares of retailers have climbed steadily and Home Depot marked a new 52-week High after another in 2013. Home Depot has gained 224% over the most recent five-year measurement period and hugely outperformed Lowe's Companies which gained 107% and Wal-Mart (NYSE:WMT) which returned a disappointing 39%.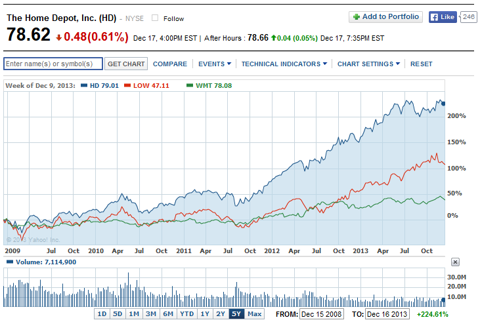 Background
A variety of indicators suggest that the US economy is expanding. Builder optimism, declining unemployment rates, low interest rates and inflation, expansionary monetary policy are all favorable factors that support economic growth. The US retail sector is particularly dependent on consumer confidence and job creation. The economy in turn is highly dependent on consumer spending, even more so than on business spending. US consumer spending accounts for more than 2/3 of the economy and lower unemployment, rising wages and recovering house prices should provide crucial tailwinds for retail companies in general. Bloomberg reported on an improving US economic climate and higher confidence with respect to consumer spending:
Consumer spending in the U.S. rose more than forecast in October, a sign the biggest part of the economy is gaining momentum from a firming employment.

Household purchases, which account for about 70 percent of the economy, climbed 0.3 percent after a 0.2 percent increase the prior month, the Commerce Department reported today in Washington. The median estimate in a Bloomberg survey of 73 economists called for a 0.2 percent rise. Incomes dropped 0.1 percent, reflecting swings in farm revenue caused by a lawsuit.

Rising home values and equity prices are giving a lift to households, helping offset the effects of a government shutdown in October and this year's higher tax rates. Today's report follows data this week showing household spending up 1.4 percent in the third quarter, the smallest advance since early 2009. Retailers reported a lackluster Black Friday start to the holiday shopping season.
Consumer spending is basically influenced by three factors: Employment situation and job security, earnings prospects and perceived wealth. The more confident an individual is in his job security and future earnings the more likely the person is to carry the dollars to the store. Perceived wealth basically relates to increases in home values and other asset prices such as stock portfolios. Economists call this the 'wealth effect' when investors feel more wealthy because of their paper gains and, hence, spend more money on consumer goods.
Retailers more than fairly valued
Despite solid underlying economic data I am cautious when it comes to investing in retail companies. While there are surely prospects of outsized EPS growth ahead when the economy operates under normalized conditions, it seems that Home Depot and other retailers already fetch high multiples.
Home Depot presently commands a multiple of nearly 18 times forward earnings while Lowe's Companies fetches an equally high earnings multiple of 17.60. Both companies already trade at a premium as investors expect above-average EPS growth in the future. Wal-Mart is the cheapest large-scale retail company although I believe the firm is about fairly valued now.
The following three charts and tables depict the P/E and dividend ratios of the peer group as well as a premium/discount table to facilitate valuation comparisons among the three retailers: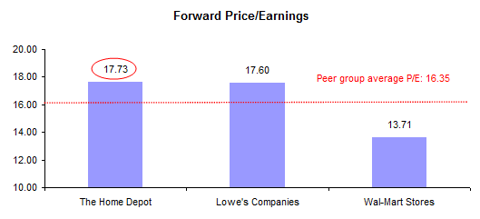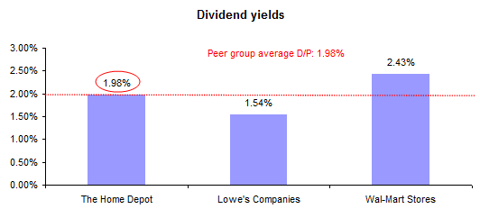 Bottom line
I am very confident in the recovery of the United States although I am not going to make specific predictions about US GDP growth or unemployment rates. Ultimately, money will flow to opportunity and I see plenty opportunity in the United States especially in the energy sector. Furthermore, the United States will likely profit from net immigration which is a huge positive for the long-term prospects of the US real estate sector. However, the multiples presented above suggest that both Lowe's Companies as well as Home Depot trade at rich earnings multiples that don't make it probable that investors get a true bargain here. Investors purchasing Home Depot now get an earnings yield of 5.6% and a dividend yield of less than 2%. Retail companies are not known for being generous when it comes to dividend payments. Even with good long-term prospects and a recovering housing market in the US, I would not recommend an investment in either of the home improvement stores. Home Depot requires a sizable upfront premium and its high P/E ratio suggests that the company is overvalued.
Disclosure: I have no positions in any stocks mentioned, and no plans to initiate any positions within the next 72 hours. I wrote this article myself, and it expresses my own opinions. I am not receiving compensation for it (other than from Seeking Alpha). I have no business relationship with any company whose stock is mentioned in this article.