Ford (NYSE:F) recently announced pricing details on the Lincoln Motor Company model MKC, a first for the luxury segment in the small SUV category. The MSRP of $33,995 is a strategic move for Ford as it greatly undercuts competition. As the table below shows, the closest vehicle in price is the Infiniti (OTCPK:NSANY) QX50 (formerly the Infiniti EX), at almost $1000 more on base price. After that, the differences are $2500 and up. Traditionally, SUVs are a big money maker so a discount of this size will likely serve to bring in customers, but probably not bolster the balance sheet too much.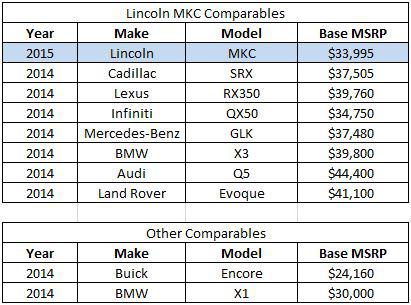 Key Features
The MKC will undoubtedly compare easily with the other small luxury SUVs with staples such as 10-way power leather seats, push-button start, auto-dimming rearview mirror, etc. It will also feature SYNC with myLincoln Touch, which presents a tricky opportunity for the company. Ford, climbing in rankings over the years due to better out-the-door quality and reliability, has taken a somewhat recent beating due to issues with the myFord Touch system. Hopefully the learning curve is steep on this technology because a failed system will drive away first time Lincoln buyers, a mistake which would be critical.
In keeping up with the competition, the MKC will be offered with two motor options. For the customer trying to stay on budget, the standard 2.0L Ecoboost will leave a great impression, at 240hp and 300lb-ft of torque. This compares nicely to the entry Mercedes-Benz (OTCPK:DDAIF) GLK (141-168hp, 258-295lb-ft), Audi (OTCPK:VLKAY) Q5 (178-222hp, 236-258lb-ft) and BMW (OTCPK:BAMXF) X3 (240hp, 260lb-ft).
Not to be deceptive, some of the other models, such as the Cadillac (NYSE:GM) SRX, only come with the higher end motor, in that case as 3.6L V6, pushing 308hp and 260lb-ft of torque. The Lincoln move for the higher end motor is an interesting play, not seen in any of the competitors. Instead of sticking in a super or turbocharged 3.0L V6, or larger naturally aspirated engine, they went with a twin-turbo 2.3L I4, producing 275hp, slightly shy of the 300hp range of the comparables. Going with a twin-turbo four cylinder is most likely a cheaper move for Ford, allowing them to pass this upgrade onto the customer for $1,140. Likewise, the BMW X3 upgrade from the 2.0L to the 3.0L engine comes at a base price increase of $5,100. To be fair, this comes as part of a trim upgrade. The Lincoln MKC will also require a trim upgrade for the bigger engine, and the $1,140 might only be a portion of the required costs.
There's a gamble in this engine choice that will most likely not be apparent to the customer at first. A larger, naturally aspirated engine costs more up front. The smaller twin-turbo Ecoboost trades off a lower entry cost with higher maintenance costs; more moving parts means more things that can break. Putting myLincoln Touch quality aside, positive reviews on performance and reliability of the 2.3L Ecoboost will allow customers to be drawn into dealerships with the lower base MSRP and up-sold to the more expensive trim.
Starting Small
When Ford initially began reviving the Lincoln brand, they aimed big, looking to steal sales from the German giants BMW and Mercedes-Benz. It seems they're backtracking a little bit now, with commercials for the MKZ taking on Lexus (NYSE:TM).
Continuing this could potentially be a great move, as the Lexus RX350 starts at almost $6,000 over the MKC. On the other hand, the Japanese automakers have been assaulting the domestic market with lowered prices, attributed to a weakened Yen. If Toyota, Nissan and Honda (NYSE:HMC) can match Ford's prices on the luxury lineups, it could spell big trouble for the luxury revival. The MKC should be able to rely on aesthetics and features to draw an audience, but if that fails, and the price incentive as well, I would count Lincoln growth out of the equation for Ford's valuation. So far Ford has been able to achieve high sales with higher prices so a strong offering by the MKC could be enough to make Lincoln a serious brand once again.
As a minor note to those touting that the revival of Lincoln is nigh, I'd wait a little longer. Yes, MKZ sales grew for the month by 117%. To that, I roughly quote my high school statistics teacher, who was probably quoting someone else, stating, "statistics don't lie; they just don't always tell the truth". To put that 117% growth in context, doubling nothing is easy. Monthly sales went from 1,335 to 2,854 for the vehicle and from 5,732 to 6,727 for the brand. The Lexus ES on the other hand had November sales of 6,300 while the brand topped out at 25,611. Growth is growth and the numbers displayed by Lincoln are an excellent start, but I'd wait for a more solid baseline before throwing these numbers into a forward P/E. As was mentioned earlier, the MKC is priced very aggressively and will most likely serve to build up brand name and recognition rather than to boost earnings.
The Mulally Effect
The MKC is expected to turn up in showrooms in the summer of 2014 (but don't let that fool you). If that happens, it could coincide with Alan Mulally leaving Ford for Microsoft (NASDAQ:MSFT) (if rumors are to be believed). The stock is already being hammered by these rumors but Ford is hoping to put them to rest with a statement by the beloved CEO. If that happens and the stock makes a partial or large recovery, an opportunity could be ready to present itself that autumn.
Lincoln is already such a small part of shareholders outlook, that positive results from the MKC will most likely result in negligible share growth (due in part to negligible EPS growth). Besides, the plan is 4 new models in 4 years, and the MKC is only the beginning of that.
On the other hand, a perfect storm of poor MKC sales and the departure of Alan Mulally could result in a severe selloff. These events would of course be exaggerated because the single Lincoln model will at that point be only a sunk cost that hardly figures into the profits and share price, and Alan Mulally's departure will already have had time to sink in with investors. While I believe that the MKC will sell very well, meaning that this scenario is unlikely, if it were to happen it could present itself as a great opportunity for a value investor. As it is, Ford is already selling at a discount to its closest competitors with a P/E of 11.88, versus 13.72 for Toyota, 17.66 for GM and 18.77 for Honda. That is, until you count Ford's debt, the effects of which can be seen when comparing price to book value, below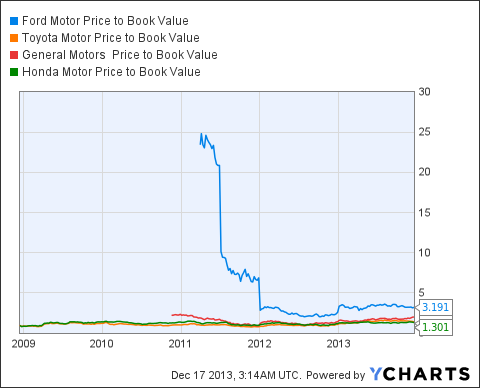 F Price to Book Value data by YCharts
While Ford certainly does not meet Graham's investing criteria, the company is on the right track, paying off debt, reinstating a dividend, and displaying solid 10 year EPS growth. A successful Lincoln brand could be the tipping point for the company and the stock, and if you believe in the MKC and strategy behind it, this could be the little nudge that the company needs.
Summary
The 2015 Lincoln MKC is the beginning of the four vehicles in four years plan. Setting the baseline MSRP well below the competitors is removing a barrier to entry into their luxury lineup. If this plan is a success, it will be the start of rebuilding a brand most commonly found merging onto highways at 25mpg and ushering vacationing families to and from the airport. This sporty SUV is a great answer to the stereotypes and hopefully to the patient shareholder as well.
Thanks for reading my article. If you have any questions or comments, please leave feedback below!
Disclosure: I am long F. I wrote this article myself, and it expresses my own opinions. I am not receiving compensation for it (other than from Seeking Alpha). I have no business relationship with any company whose stock is mentioned in this article.