The stock price of Gentherm (THRM) has put in a stellar performance through 2013 with a rise of 78% to a shade over 24$. With CEO Dan Stoker announcing good results for the 3rd quarter and a raft of initiatives expected to feed into the bottom line, Gentherm's long-term prospects appear to be bright. Markets remain jittery over the potential tapering of the bond buying program which could precipitate a near term correction. However, Gentherm's price action has been consolidating over recent weeks, presenting a potential breakout opportunity for growth stock investors.
Previously known as Amerigon, the company is a global developer and marketer of thermal management technologies for a range of applications including heating, cooling and temperature control, primarily serving automotive manufacturers. Gentherm has a worldwide presence with facilities in China, UK, Germany and Japan among others.
Taking Advantage Of Resurgent Auto Production
For hardened growth investors there's nothing more encouraging than current earnings per share increasing dramatically. Gentherm announced a 3rd quarter increase of 129% year on year with a 21% sales increase of $30.1 million to $171 million, representing a quarterly record.
CEO Dan Coker attributes this to good performance in all product sectors underpinned by US and Asian increases in automotive production.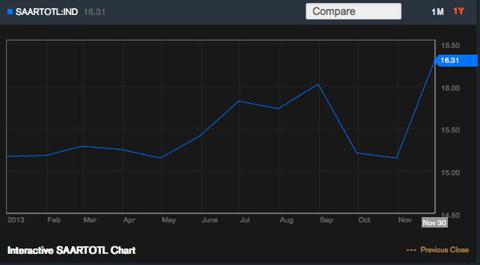 Source: www.bloomberg.com
With annualized US sales of 16.3 million peaking at their highest rate since February 2007, Gentherm's core businesses are well situated to take advantage. Additional revenue came from hard pressed European markets which increased 12% - the bulk of which derived from Gentherm's cable business.
The company expects 4th quarter revenues to be lower than the previous quarter as per last year's showing but still with an anticipated increase year on year. Analysts expect an increase of 66% but a surprise could be in the offing given strong auto demand.
Longer term figures show that the three year EPS growth rate is running at 35% with a ROE of 23.1%. Both are strong figures considering a management policy of maintaining prudent cash levels to offset decreased demand or surprising increases in production requirements. Debt is managed closely with debt to equity running at 25%.
Tight Margins Are A Cause For Concern
Big concerns surround pre-tax margins which remain tight at 7.7%. Management attributes this to investment in China where a new electronic manufacturing facility is coming on stream. Whether this will constrain future growth may be tempered by the potential upside of a fully operational facility taking advantage of a new market. The company estimates revenues of $25 million+ with huge capacity to deal with increasing demand should it materialize.
Supplying equipment to auto manufacturers is intrinsically linked to the appetite for new purchases in the commercial and private sector. With demand increasing in 2013 it's no surprise that companies in this space have benefited. Thermal technology manufacturer Delphi PLC (DLPH) saw EPS increase 15% last quarter with a management that is delivering an annual ROE of an impressive 61.5%.
Wabco Holdings (WBC), focused on manufacturing electronic products for automotive OEMs, reported a 23.5% EPS with a 15% increase in sales. Pre-tax margins outstrip Gentherm's at 14.1% and the company has a high ROE of 46.2%. Both companies (Wabco 5B and Delphi 18.5B) and Delphi are much larger and mature operations in comparison to Gentherm. Their respective management teams are putting shareholder equity to work but are struggling to maneuver round varied global conditions.
High exposure to European markets is serving to dampen earnings where Gentherm is capitalizing on a US and Asian automotive upturn. Furthermore, Gentherm focuses on Germany as a core European market where market conditions are more robust than elsewhere on the continent.
Diverse Markets And New Technology To Drive Future Growth
New products or changing industry conditions are often a catalyst for strong company growth. A new driver for Gentherm is the specialty cable business. Cables are routinely developed for core technologies and, as a consequence, new markets have opened up to supply these cables on a standalone basis without substantially increasing labour intensity. Changing consumer buying habits have also introduced climate technology to the mid-range market which Gentherm's management hopes to capitalize on in the next three years.
Perhaps the biggest area of future growth will emanate from the ongoing project with industry leaders including BMW and Ford to develop technology to filter waste heat from the exhaust into producing electricity used as power for a vehicle's internal systems. Given that almost 70% of combustion energy disappears from the exhaust pipe into the atmosphere, this technology could precipitate a huge increase in efficiency within mass market automobiles with Gentherm positioned to profit handsomely.
Increased Institutional Support
Growing institutional investment is a key indicator in the future growth of a company's stock price. Gentherm remains thinly traded with an average daily volume of 288,000 shares. However, with three consecutive quarters of increasing fund ownership and a 4% increase in funds owning stock in the last quarter, the share price is increasingly underpinned by a strong long-term investment group. Management currently owns a healthy 3.8% of stock which should add further confidence to existing and prospective investors.
Gentherm has been a strong performer in the automotive supplier space, benefiting from renewed strength in auto manufacturing. For Gentherm, all indications point to continued growth as production facilities are rolled out in China, new cost-effective markets are exploited and the potential for industry leading technology coming on stream augment the already impressive sales and earnings figures.
Disclosure: I have no positions in any stocks mentioned, and no plans to initiate any positions within the next 72 hours. I wrote this article myself, and it expresses my own opinions. I am not receiving compensation for it (other than from Seeking Alpha). I have no business relationship with any company whose stock is mentioned in this article.