Introduction
Viacom (NYSE:VIA) was selected as a company that may experience sharp price movement in the next 12 months. This article presents a company analysis, a technical analysis, and a fundamental analysis for Viacom. The article concludes by recommending a price target for the company's stock shares.
Company Analysis
According to the annual report Viacom is a leading global entertainment content company with audiences in over 160 countries and territories. The company creates compelling television programs, motion pictures, short-form videos, applications ("apps"), games, consumer products, social media, and other entertainment content. Viacom generates revenues through two operating segments: Media Networks and Filmed Entertainment. In 2013, these segments generated 69% and 31% of the company's revenues, respectively. Viacom's Media Network includes many TV channels, such as MTV, VH1, and Nickelodeon. The Filmed Entertainment segment includes Paramount Pictures and Paramount Classics, MTV Films, Nickelodeon Movies, and others. The distribution of television programming is done through television, DVDs, Blu-ray discs, digital platforms, and other platforms.
A large chunk of Viacom's revenues come from advertising and affiliate fees. The ad revenues depend on the number of viewers and demographics, which is measured by third party research companies, such as The Nielsen Company.
Strengths
Viacom is obviously a global market leader that does a geographically diverse business and has strong branding. In our opinion, one of the company's major strengths is the Nickelodeon channel, which is a global leader in television programming for children. The channel has a very solid and loyal customer base. We believe that the popular shows on the program (like "Sponge Bob" and "Dora the Explorer") are core segments that will continue to deliver revenues.
The company's Filmed Entertainment segment shows further strength. The company released several blockbusters in 2013: "World War Z"and "Star Trek into Darkness", and it is the creator of the "Paranormal Activity" series. More importantly, during the next fiscal year the company will generate revenues from movies such as DiCaprio's "The Wolf of Wall Street" and "Anchorman: The Legend Continues" (which was just released; and the movie's first revenue figures may move the share price). Let's not forget the amazing work done by DreamWorks Animation this year, which has included "Rise of the Guardians" and "Hansel and Gretel".
Weaknesses
One of the industry's challenges is the constantly evolving form of distribution. Nowadays, there are many small and independent platforms that deliver favorite shows to customers (for example Hulu or Netflix (NASDAQ:NFLX)), thereby allowing customers to skip television altogether. This is a long-term concern because the TV companies need to innovate and find new distribution channels in order to keep and attract customers.
Because MTV is a social TV platform, the channel fails to attract the target group at the same rate that other companies, like Facebook (NASDAQ:FB), attract customers. It looks like that channel did not really catch on to the whole media revolution that has been occurring over the last few years.
Threats
The threats vary from general issues, like media regulation and audience fragmentation, to more specific issues, such as competition from TV channels like Nickelodeon and MTV. Overall, the entertainment industry is known to be volatile with low customer-switching costs. The negative impact of such volatility is that it prevents the company from making capital expenditure investments; it also makes it difficult to forecast projections.
Opportunities
New shows, like "Doug Funny" and the "Return of Rugrats", represent fresh opportunities.
BET, a leading television network providing entertainment, music, news, and public affairs programming to African-American audiences, offers another potential growth opportunity.
MTV could also be another avenue for revenue growth. MTV used to play videos, but since videos are easy to watch on demand, MTV changed its programming mission from music to pop culture. The current focus is on reality shows, which may lead to better growth prospects.
Technical Analysis
Out of the many available technical indicators, Viacom's share price responded well to the simple EMA strategy. The back testing results shows that, depending on whether the company's current share price was above or below the 30-day EMA level for the last 12 months, trading the stock would have resulted in realizing a profit. The 30-day EMA is at 81.26 USD and the latest closing share price is 81.35 USD, which triggered a buy signal in our platform. In addition, the 10-day SMA is at 81.37 USD, which is another buy signal using the SMA (10) vs. EMA (30) crossover strategy. There is no indication that the company's stock is overbought; it is trading within the Bollinger Bands range and the MACD (12, 6, 9) is bullish.
We see a support range between 79.11-79.5 and resistance levels around 84.30-84.90. If the price breakout we forecast is at least 10-12%, the stock price will increase from current levels.
Based on this technical analysis, we issue a strong buy recommendation and expect the price to increase to 90.5 USD within the next three months.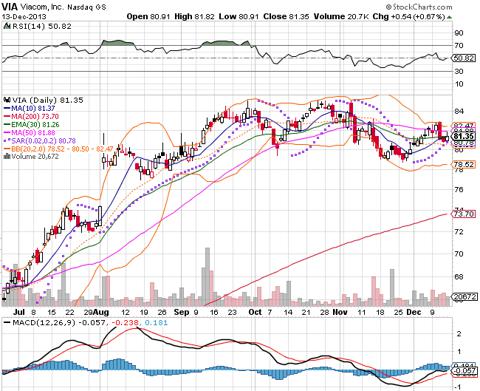 Fundamental Analysis
Financial Ratios
Viacom is definitely a company that is well managed. In fact, the company met six out of the seven criteria for companies with strong growth opportunities. Our in-house benchmark criteria model is a set of ratios that must be met in order to conclude that the company has excellent financial health and growth prospects.
Profitability
Viacom has a very healthy gross margin of 50.71%, which in fact has been growing each year after 2007 (yes, that includes the financial crisis years). More importantly, Viacom's recent quarterly report showed that the company is growing on stronger revenue, something that many companies lack nowadays. With operating margins at an all-time high, growth based on revenues will be much more important in 2014. More spectacular is the company's 27.81% operating margin, which is above the industry average of 22.61%.
Growth
The company shows consistent and above average earnings growth. It has been outperforming its peers for the last few years, reporting a three-year average earnings growth of 17.74%. Its latest quarterly earnings grew by 37% on a year-to-year basis.
Financial Strength
Other ratios that are above our adopted benchmarks are the remarkable 37.89% Return on Equity and the 12.67% Return on Invested Capital. The company's current ratio is 1.77, which is well above 1. The company started paying dividends in 2011 and its payout ratio is increasing each year (it is currently at 29.3%).
It seems that Viacom found the right mix of signals in order to attract investors. The only indicator that is slightly concerning is the high debt-to-equity ratio at 2.29 and Viacom's financial leverage at 4.59. It is not necessarily a bad thing to carry that level of debt. With interest rates at all-time lows, managers are pursuing projects by borrowing capital. Issuing debt is far more desirable than issuing equity, which can send a negative signal to existing and potential investors and, in fact, dilute the price of the shares. Below is a summary as reported on MSN Money:
| | | |
| --- | --- | --- |
| PROFIT MARGINS % | COMPANY | INDUSTRY |
| Gross Margin | 50.71 | 31.13 |
| Pre-Tax Margin | 25.51 | 22.26 |
| Net Profit Margin | 17.36 | 15.67 |
| FINANCIAL CONDITION | COMPANY | INDUSTRY |
| Debt/Equity Ratio | 2.29 | 0.53 |
| Current Ratio | 1.77 | 1.46 |
| Quick Ratio | 1.42 | 1.1 |
| Interest Coverage | 8.52 | 13.38 |
| Leverage Ratio | 4.59 | 2.16 |
| INVESTMENT RETURNS % | COMPANY | INDUSTRY |
| Return On Equity | 37.89 | 17.41 |
| Return On Assets | 10.4 | 8.18 |
| Return On Capital | 12.67 | 11.31 |
| MANAGEMENT EFFICIENCY | COMPANY | INDUSTRY |
| Income/Employee | 231,400.97 | 63,837.79 |
| Revenue/Employee | 1.33 Mil | 451,347.73 |
| Receivable Turnover | 5 | 5.5 |
| Inventory Turnover | 8.49 | 11.56 |
| Asset Turnover | 0.6 | 0.52 |
DCF Model
We employ a multistage DCF model, which aims to deliver an approximation of the fair value of the share price.
All of the above analyses gave us confidence to use a short-term growth of 11.1% (decreasing to a long-term growth of 2% within the next 10 years) in our Discount Cash Flow valuation model. In fact, this growth level is 25% shy of the 12.67% actual return on invested capital.
Based on the DCF model, the fair market price of Viacom stock is 118.66 USD. The company is currently trading at 80.81 USD. For this stock, we use a safety margin of a 25% discount, meaning that we will be looking to buy the stock at levels below 89 USD. Based on the above analysis, the signal generated by the DCF model is that Viacom is a strong buy.
Relative Analysis
Current Price: 81.35 USD
PRICE RATIOS
Viacom
Disney (NYSE:DIS)
Time Warner Cable (TWC)
Comcast Corporation (NASDAQ:CMCSA)
Target Price
Current P/E Ratio
16.69
20.58
20.24
20.41
$ 99.48
Price/Sales Ratio
2.91
2.8
1.77
2.06
$ 61.78
Price/Book Value
6.97
2.69
5.56
2.58
$ 42.13
Price/Cash Flow Ratio
13.04
13.35
7.01
8.57
$ 60.16
Average Price
$ 65.89
Using only the current P/E ratio, the company looks undervalued. However, taking into account the relatively higher P/S and P/B ratios, the company target price falls to 67.39 USD.
Conclusion
Based on the analysis above we believe that the company's financial health is excellent with the exception of the slightly elevated debt levels. In our opinion Viacom's share price is currently undervalued and represents an attractive buying opportunity. We estimate a short-term share price target of USD 90.50 and medium to long-term target of USD 118.66.
Disclosure: I have no positions in any stocks mentioned, but may initiate a long position in VIA over the next 72 hours. I wrote this article myself, and it expresses my own opinions. I am not receiving compensation for it (other than from Seeking Alpha). I have no business relationship with any company whose stock is mentioned in this article.