"Heineken USA's sales dipped nearly 11% last year, a reflection of a difficult economic climate for pricey imports as well as erratic and ineffective marketing on its flagship lager brand," according to an article yesterday in AdAge.com.

Meanwhile, Heineken NV's Dos Equis brand Mexican beer, which sells at a similar price point to Heineken lager, saw 2009 sales jump 20 percent, fueled in large part by a "marketing phenomenon" campaign to promote the beer, according to AdAge.

Talk about subjective! It's like attributing the outcome of a political race to which candidate smiled the most during the campaign.

Granted, this article does come from AdAge, which is of course primarily interested in the "marketing" of a product; but we would posit that demographics is playing a far larger role in beer sales than any advertising campaign.

The article did note that the increased sales of Dos Equis were also fueled in part by "increasing distribution."

More beer equals more sales? In this case perhaps, as marketing studies have indicated that Hispanics have a distinct preference for beers from their home countries. Interestingly, Heineken USA also saw a 14 percent gain in sales of its Mexican "Tecate Light" brand.

As for Heineken, we believe it's a "Baby Boomer" beer. And as the Boomers get older they are drinking less and less beer.

We also believe that Generations X and Y (those of drinking age, of course) have a much more refined palate for beer than the Boomers, and that they have displayed a distinct preference for microbrews and flavorful imports (no offense to Heineken, but its flavor is pretty much on par with a high-end Budweiser).

The Boston Beer Company (NYSE:SAM), brewer of the Sam Adams line of beer, and what would be the largest microbrewery–though no longer officially a microbrewery–in the U.S., reports earnings on March 10. We believe the company will continue its trend of reporting growing sales on the back of increased beer production and shipment. In the third quarter, SAM reported 8.6 percent revenue growth and raised its full-year earnings per share guidance to between $2.05 and $2.35, marking the second raised guidance for the year.

Overall, U.S. microbreweries shipped 5 percent more beer in 2009 than in 2008. This compares to the big (and we'd say "Baby Boomer") brewers, such as Anheuser-Busch inBev (NYSE:BUD) and Molson Coors (NYSE:TAP), which experienced declines of 2.1 percent and 1.9 percent respectively.

We'd like to point out that Boston Beer does not rely on massive advertising campaigns to promote its beer, as its beer apparently speaks for itself.

And we've got to ask the big "Baby Boomer" brewers if they really think the members of Generation X and Y are paying any attention to their multi-multi-multi-million dollar advertising campaigns. Are Generation Xers and Yers rushing out to buy Bud Light because some guy in a blue Elvis-like suit slays a giant Octopus and serves it as "calamari" at a beach party? Sales growth data would suggest not.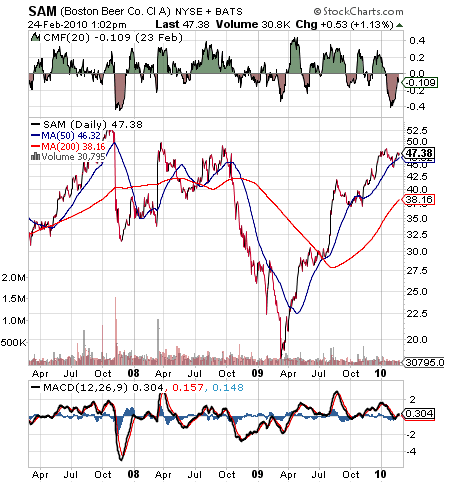 Disclosure: No positions, but SAM is featured in our model portfolio.