Haemonetics Corp. (HAE) recently received US Food and Drug Administration (FDA) approval for its expanded nomogram to collect red blood cells on the Cymbal Automated Blood Collection System from a larger universe of female donors.
Cymbal is a battery operated instrument that automates blood collection from volunteer donors. This improves process control and helps alleviate blood shortages.
We think that the new approval will expand Haemonetics' customer base and fuel its top-line growth. It has been estimated that the FDA approval will expand utilization of the Cymbal technology by 3-6% among female donors.
Haemonetics recently reported third quarter fiscal 2010 results. Earnings per share was 71 cents, compared to the Zacks Consensus Estimate of 72 cents and 63 cents, a year ago.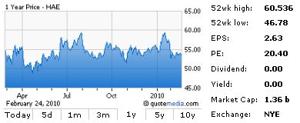 Click to enlarge

Total sales in the third quarter increased 6.3% year over year to $165.2 million. Growth was registered across all major business segments. Plasma disposables revenue increased 10.4% year over year to $59.2 million.
Platelet disposables revenue increased 9.2% year over year to $39.8 million. Red Cell disposables revenues declined 7.9% year over year to $12.0 million.
Haemonetics Corp. is the market leader in developing and manufacturing blood collection and processing technology. Haemonetics operates in a very competitive environment, which includes big players like Baxter International Inc. (NYSE:BAX), Abbott Laboratories (NYSE:ABT) and Medtronic Inc. (NYSE:MDT).

Currently, we have a 'Neutral' recommendation on Haemonetics.
Disclosure: No positions