The merger between North America's largest concert promoter, Live Nation (NYSE:LYV), and the largest ticket seller, Ticketmaster (TKTM), has drawn the ire of consumer advocate groups in the United States and abroad. The merger of these two industry giants, it is feared, will lead to a virtual monopoly over the business of live music. As we all know, this sort of monopoly would be terrible for consumers and lead to higher prices and a lack of viable alternatives. The merger drew loud criticisms from anti-trust watchdogs, music lovers and even artists such as Bruce Springsteen. Despite antitrust hurdles in the U.K. and the US, the merger was approved in late January by the Department of Justice with little fanfare and just a few mandatory concessions.
Just a few weeks after the merger with Ticketmaster was approved, Bloomberg is reporting that Live Nation is starting to experiment with a new "dynamic" ticket pricing scheme that is similar to the way airlines price seats. Tickets will be divided into 10 or more different pricing levels based on expected demand, rather than the one to four levels that are common now. The obvious target of the new pricing operations would be ticket resellers or "scalpers" who take a profit from buying in-demand tickets for face value and then selling them on the secondary market, presumably for a higher price. Airlines that use this sort of pricing mechanism do not have to contend with a secondary market. Clearly, Live Nation sees this situation as profit left on the table and this new system aims to wring out that extra money.
The guinea pig for this scenario will be classic rock band The Eagles. The best tickets will be the most expensive and will demand a higher price than the current pricing, but the less desirable seats will sell for less than they would have otherwise. The article touts the cheapest tickets will sell for just $32 (presumably before fees), the lowest price for an Eagles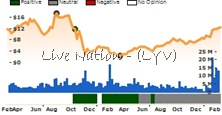 concert since 1980.
Industry's 'Gain'

Tickets went on sale Feb. 8 and more than half sold for less than $52, the lowest price on other stops, according to Robbins. He declined to say how many seats were involved in the public sale and said the system needs additional testing.

The $32 seats in Sacramento use a paperless system that limits ticket transfers and further shuts out resellers.

"We're pricing the tickets, not just at what the market will bear, but according to people's budgets," Robbins said. Demand will determine the revenue at future concerts using dynamic pricing, according to Robbins.

Getting more people in the door addresses a longstanding problem in the live concert business: empty seats. Live Nation CEO Michael Rapino told Congress last year 40 percent of seats go unsold. Ancillary sales average $12 to $14 per concertgoer, Rapino said then. More ticket sales also add to commissions.

"If you can put somebody in there for $20 where it would have been empty, it's a gain for the industry," said Harriss. — Bloomberg.com 2/24/2010
The new pricing mechanism is being heralded as a win-win for consumers and the industry, as the industry is now centralized around one company. We have our doubts that this is more than an effort to reduce the prevalence of a secondary market and thus further diminish competition to Live Nation. At least at this point, it seems that there is nothing illegal with Live Nation targeting ticket brokers in an effort to increase commissions. However, if they succeed in squeezing the secondary market into oblivion it will further reduce competition to the industry behemoth.
It may sound like concert tickets are being priced to better accommodate the market, but we believe that this will result in higher prices over time. In an industry that claims 40% of seats go unsold, it would appear that the prices in general are already too high. Concert ticket sales have grown in importance to the music industry over the last few years as album sales have slumped. Live Nation needs to walk a very fine line in order to not alienate music fans.
Investors will get their first look at the combined company's results on Thursday after the close of the market. The merger is expected to save the company $40 million annually through synergies. Consensus analysts' estimates are calling for a loss of 53 cents per share on revenue of $811 million. At Ockham, we currently have a Fairly Valued rating on Live Nation.