Introduction
In this article, I'll have a closer look at FedEx Corp. (NYSE:FDX) which has just released its financial results for the second quarter of the financial year 2014. I will provide my view on the financial results and the company's balance sheet, where after I will discuss the outlook for the company. This will result in my investment thesis at the end of this article.
My view on the financial results
In the second quarter of FY 2014, FedEx reported a revenue of $11.4B, which is a 3% increase compared to the same quarter last year. Most segments are relatively stable, but one notices there's a huge increase in the FedEx Ground segment, which increased by 10%. The expenses increased slower than the revenues which caused the operating income to increase by an excellent 15% to $827M (vs. $718M last year).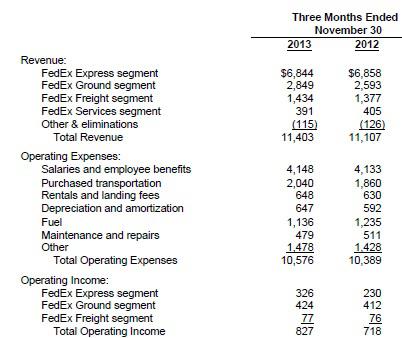 The tax rate for FedEx remains relatively stable at 36.5%, and the company paid $292M in income taxes which resulted in a net income of exactly $500M, which is a 14% increase compared to last year and results in a quarterly EPS of $1.57.
As most of my readers know, I always like to have a look at the cash flow statements of companies, as I think these statements offer a better indication on the quality of the underlying business. So when we move over to the cash flow statements, we see the company recorded an operating cash flow of $1.6B which it entirely spent on capital expenditures, which caused the company to be (barely) free cash flow negative. However, this result was influenced by the $1B change in working capital, and without this change, FedEx would have seen a free cash flow of approximately $1B.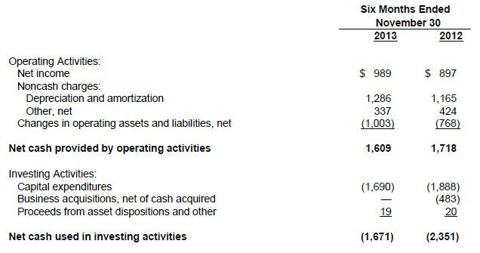 Click to enlarge
(Click to enlarge)
The management team is also showing some shareholder love, as it repurchased another 7.2M shares in the second quarter, bringing the total to 10 million shares (3.1% of the outstanding shares) which were acquired at an average price of $121/share. As the company has extended its share repurchase program, I expect these buybacks to continue and this will ultimately benefit the shareholders.
My view on the balance sheet
Moving over to the balance sheet, the company enjoyed a very healthy working capital position totaling $5.5B of which $3.9B was being held in cash. The current ratio is a very healthy 2.01, which means the company has sufficient current assets to cover its current liabilities. As the working capital status looks excellent, I expect FedEx to continue to aggressively repurchase its own shares for cancellation, and I expect the company to end the financial year 2014 with approximately 295 million outstanding shares (which is approximately 4.5% lower than today). This will obviously enhance the earnings and cash flow per share.

The book value (based on 309.4M outstanding shares after repurchasing 7.2 million shares in the second quarter of this year) was $56.67, which means the company is currently trading at almost 2.5 times its book value.
Outlook
The share repurchases will have a positive effect of approximately $0.04 per share for the FY 2014 financial results, and I expect this effect to be larger in FY 2015 as FedEx' total share count will be lower than 300 million shares by the end of this financial year.
The big question is whether or not the company will be free cash flow positive, as the management team has reiterated the capital expenditure guidance of $4B during FY 2014. Based on the first six months of this year, I'm expecting an operating cash flow of $4.8B, so even though the company will increase capex spending by 50% in H2 2014, I still think FedEx will end the year in a free cash flow positive territory.
Investment thesis
FedEx isn't exactly cheap right now, especially if you know most of the operational cash flow will be re-invested which reduces the amount of free cash flow. However, investors in FedEx should have a longer-term vision, as revenues are expected to increase by 25% over the next five years. If the management team is able to keep the operating margins stable (or even marginally increase them), shareholders are in for an attractive ride, especially as the company keeps reducing its share count.
At this moment, I wouldn't want to pay $139/share, but I do realize that FedEx offers a very interesting investment case. As most of my readers know, I prefer to write put options instead of just buying the stock. In FedEx' case, I'm particularly looking at writing a P120 July 2014 for an option premium of $4.00 or a P 100 January 2015 for an option premium of $3.00. If I don't get the shares assigned, these option premiums result in an annualized yield of respectively 5.72% and 2.77%.
FedEx Corp. is a buy for people with a longer-term investment horizon (3-5 years).
Disclosure: I have no positions in any stocks mentioned, and no plans to initiate any positions within the next 72 hours. I wrote this article myself, and it expresses my own opinions. I am not receiving compensation for it (other than from Seeking Alpha). I have no business relationship with any company whose stock is mentioned in this article. I have no position in FedEx but might write an out of the money put option, as explained in this article.