Culp, Inc. (NYSE:CFI) is a micro-cap manufacturer of mattress and upholstery fabrics. For reasons that have eluded my detection efforts, the stock price went from $6 (and low volatility) in November, to $12 in January, to $17 a couple of days ago. Half the stock is owned by institutional investors.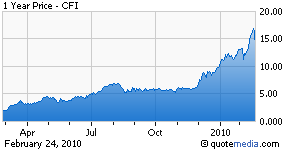 Today, someone decided to take some profits in a big way. A 30,000-share sell at the open (about 1/4 of a normal day's trading volume) dropped the price from 15.83 to 14.02. That triggered so many stops that the NYSE couldn't find enough buyers (the spread was 15 ask, 13 bid!), and actually shut down trading on the ticker for five minutes. When trading resumed, another 300,000 shares changed hands, going as low as 12.90. Altogether, one million shares have been traded this morning. By comparison, the average daily volume for the last three months is 139,000; last year, only about 100,000 per week!
An hour after this fiasco, the news came across the ticker that Raymond James was downgrading the stock from "strong buy" to "market perform." Would someone please tell the insiders at RJ to put LIMIT orders on their accursed, front-running sells, so they don't shut down the whole market?
Disclosure: No position (stopped out)