Yesterday, AECOM Technology (NYSE:ACM) hosted their investor day in New York. While the company shied away from increasing their 2014 guidance, there were several incremental positives as compared to their last quarter earnings call which indicates that wall-street is missing on cyclical recovery and significantly underestimating the company's earnings potential.
US is coming back
One of the big positive from the company's investor day presentation was its positive commentary on the US trends - both in private and Federal business. US account for almost half of the company's revenue and AECOM guided for a flat 2014 topline in the US back in its November earnings call. The company's commentary was much positive on its investor day and it disclosed increased orders both in the private and Federal end market.
The company has so far won $1 billion in new award in December quarter for non residential buildings' work with New York, LA, Miami - all geographies showing positive trends. Clarity over Federal Government budget is helping AECOM's federal business as well and the company won over $730 million in operations and maintenance order for its MSS segment last Friday. These data points, like our channel checks earlier, indicates that recovery is taking hold in the US which is yet to get factored in the sell side and buy side models.
Other Geographies
The company is seeing accelerating trends in Europe while growth in Asia and Middle East continues to be strong. Also, helping Asia growth are the company's acquisition in Taiwan and Southeast Asia which are performing better than expected.
Only sour point for the company is Australia which remains challenging. However the good thing is that Australia's profitability is expected to remain at similar level as lower restructuring expenses this year (guidance $13.5 mn midpoint versus $18 mn last year) and improved utilization are expected to offset topline deterioration.
Real Estate Savings will began to take hold in 2014
The company gave some more clarity on some of its cost cutting initiatives and guided for $23 million run rate savings from real estate consolidation in 2014 versus just $4 mn savings last year. The annual saving from real estate consolidation is expected to reach $38 million in 2015. On the e-procurement side the company expects to reach $15 million run rate savings by 2016. The company however didn't quantified savings from improved utilizations which I believe will be very meaningful going into the next year.
Sell Side is way too conservative…
Here's a Thomson Reuters snapshot of the consensus estimates for the current fiscal.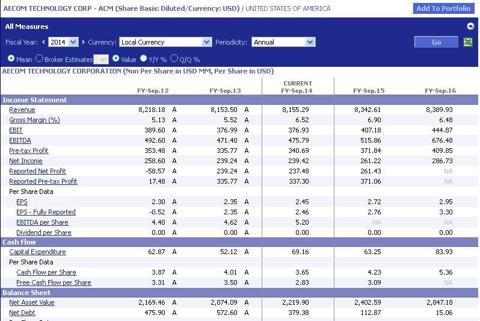 Sell side is expecting $340.69 mn in pre-tax profit for the current year versus the last year's $335.77 mn. This is even less than $19 mn in incremental real estate consolidation savings this year. Now consider this:
The US is growing, so its profitability will increase
EMEA is growing, so its profitability will increase
APAC- ex Australia is growing, so its profitability will increase
Australia's topline is declining but management has guided to flat profitability due to reduced restructuring expense and improved utilization
The company is expected to have at least $19 mn more in incremental savings in the next year
In addition there will be significant savings from improved utilization and to the smaller extent from e-procurement
So, at the minimum the company should post $335.77 + $19 mn = $354.77 in pre-tax profit. This equates to $2.55 in EPS assuming no share buy backs. Sell side is currently at $2.45 while the company's guidance is at $2.35-$2.45. Thus both sell side expectations and AECOM's guidance seems overly conservative.
Now add the US, EMEA and APAC-ex Australia growth and cost-savings from improved utilization plus share buy backs - the company can post significantly higher EPS than even $2.55 in FY2014. But somehow sell side continues to miss it.
… and so is the buy side
Sell side is not the only culprit in this case. Buy side investors are equally ignoring the company's cyclical recovery prospects and assigning it a PE valuation which is at a significant discount to its peers. A cyclical company gets its peak multiple at the bottom of the cycle. In AECOM's case it is getting a trough multiple at the bottom of the cycle. The company's EPS hasn't declined over the last few years thanks to its inorganic growth but that doesn't change the fact that it is at the bottom of the cycle now - a fact everyone is misunderstanding. Here's a look at the company's relative valuation with respect to its E&C peers.
| | | | |
| --- | --- | --- | --- |
|   | Price | FY14 EPS | P/E (FY2014) |
| Chicago Bride and Iron (NYSE:CBI) | 78.26 | 5.21 | 15.0 |
| Fluor (NYSE:FLR) | 75.8 | 4.39 | 17.3 |
| Foster Wheeler (FWLT) | 31.84 | 1.96 | 16.2 |
| Jacobs Engineering (NYSE:JEC) | 58.22 | 3.71 | 15.7 |
| KBR (NYSE:KBR) | 29.76 | 2.83 | 10.5 |
| McDermott (NYSE:MDR) | 8.12 | 0.42 | 19.3 |
| Tetra Tech (NASDAQ:TTEK) | 26.97 | 1.75 | 15.4 |
| | 50.75 | 4.16 | 12.2 |
| Granite (NYSE:GVA) | 31.81 | 1.87 | 17.01 |
| AECOM | 27.84 | 2.45 | 11.4 |
There is no reason this stock should trade below $35 - a price it was trading at in August this year before the poor Australian trends spoiled the party. The positive trends in the US which is the largest geography with above average margins should more than offset any Australian concerns. I expect earnings beat and positive commentary on the next earnings call will be a positive catalyst for the stock and the stock can reach $35 going into the earnings season or just after AECOM reports next quarter earnings. I also expect significant buy backs this quarter and an increase in guidance in the next earnings call. The stock is likely to reach over $40 by the middle of this 2014 as the company starts seeing easier comps and return to organic growth. I expect its stock price to be in high 40s in 2015 based on $3.00 plus FY2015 EPS and a 15x multiple.
Disclosure: I am long ACM.
Business relationship disclosure: GS Analytics is a financial research firm providing customized research services to U.S. hedge funds. This article was written by one of our Research Analysts. We did not receive compensation for this article (other than from Seeking Alpha), and we have no business relationship with any company whose stock is mentioned in this article.
Additional disclosure: The analyst who wrote this article is long Aecom. GS Analytics Pvt. Ltd. or any other employee/shareholder have no position in the company. We are recommending ACM as a long candidate to our clients.