Introduction
In this article, I'll have a closer look at General Mills (NYSE:GIS), which is one of the main producers of branded and unbranded food products. I will provide my view on the company's recently-released financial results and its balance sheet, where after I will discuss the outlook for General Mills. This will result in my investment thesis at the end of this article.
My view on the financials
As the company's financial year ends in May, General Mills has reported the financial results for the second quarter of its financial year 2014. During this quarter, General Mills reports a revenue of $4.88B which is roughly in line with the revenue of the same quarter last year. However, the company did an excellent job to keep its costs under control as the cost of goods sold decreased by 0.8% and the General and Administrative (G&A) expenses by 2.2%. This resulted in a 5% increase in operating profit to $870M. And it doesn't end here. As GIS was also able to reduce its interest bill by another $7M, the earnings before income taxes increased by 6.4% to $801.4M.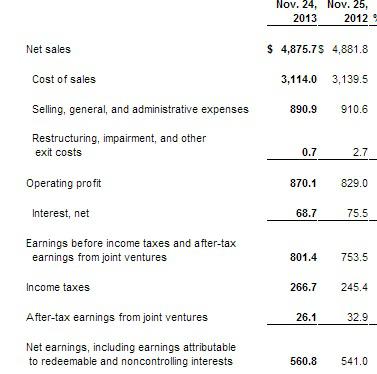 As General Mills' average tax rate for the quarter was 33.3%, the company reported a net profit of $549.9M which is a 1.5% increase compared to the same quarter last year. This results in an EPS of $0.87/share for the quarter, and a very nice $1.58 for the first semester of financial year 2014.
However, as I explained numerous times in my previous articles, I also like to have a look at the cash flow statements of companies, as these statements usually give a much better indication on the quality of the underlying business.
So when you look at the cash flow statement of General Mills, you see the company generated approximately $1B in operating cash flow (despite a negative working capital effect of $340M) in the first six months of the year. As General Mills invested $318M during the same period, its free cash flow was a very healthy $680M (and would have been $1.02B if the change in working capital didn't occur).
As the management team seems to care about its shareholders and paid $1.35B in dividends and share repurchases (the company repurchased 18M shares at an average price of $48/share), the company had to borrow extra money to pay for these treats. However, the share repurchase program was almost doubled compared to last year, and this will ultimately benefit the shareholders in the longer term.
My view on the balance sheet
Let's now move over to the balance sheet. As of at the end of November this year, General Mills still had a working capital deficit of $214M, but this is already much better than the deficit of $1B just six months ago thanks to a $600M reduction in current portion of long term debt. The current ratio is obviously lower than one (which means the company's current assets are insufficient to cover its current liabilities), but I'm not really worried as the company shows it is able to re-finance debt at a decent price. And a normalized and annualized free cash flow of $2B obviously underpins the strength of the company.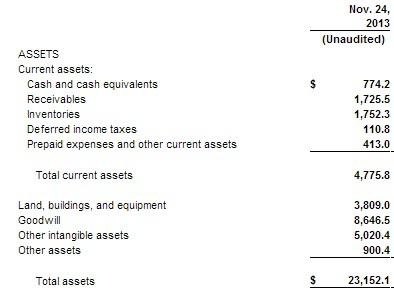 At the end of the first semester of FY 2014, the book value per share was approximately $10.61 (based on 625M outstanding shares). This means the company is trading at just shy of five times its book value, which is quite expensive.
Outlook
The General Mills management is offering a full year guidance with an expected EPS of $2.87-2.90 for the entire year, and I'm personally expecting roughly the same number in free cash flow.
It's good that General Mills shows a lot of shareholder love, but I would prefer the company to use more of its free cash flow to actually reduce its total amount of debt, instead of borrowing more money to pay for the share repurchases. If the company is able to stay at a steady free cash flow rate of $2B per year, I would prefer the company to pay down its debt instead of buying tens of millions of its own shares. The current dividend policy costs the company $950M per year, and I would prefer it if the management team would use $750M of the remaining free cash flow to reduce its debt and stick with an annualized budget of $300M for share repurchases (which would be approximately 1% of the outstanding shares per year).
Investment Thesis
General Mills isn't expensive based on a free cash flow valuation, but I personally don't agree with the company's management team to borrow more money to reward its shareholders. The company's Debt/EBITDA ratio is higher than 2 and I hope the management would aim to bring this ratio back to under 1.5 within the next few years.
That being said, GIS still trades at an attractive valuation and could be bought at a weakness in the share price. I am keeping an eye on writing a put option on General Mills depending on the movement of the share price today. I'm particularly looking at a P40 January 2015 but will wait to see the updated option premiums before taking action.
Disclosure: I have no positions in any stocks mentioned, and no plans to initiate any positions within the next 72 hours. I wrote this article myself, and it expresses my own opinions. I am not receiving compensation for it (other than from Seeking Alpha). I have no business relationship with any company whose stock is mentioned in this article. I might write an out of the money put option depending on the share price today.