Ares Capital (NASDAQ:ARCC) is a strong component in three of my suggested BDC portfolios: 'Risk Averse', 'General' and my personal favorite 'Total Return'. The Federal Reserve is set to make an announcement later today that could rattle the markets and especially interest rate sensitive stocks such as BDCs. I consider ARCC a buy and one of the best positioned for rising interest rates as discussed in "ARCC: December 2013 Report". ARCC has recently raised equity capital twice this quarter and I believe this is a strong indication of future portfolio and dividend growth. ARCC is still under priced from the last issuance and could dip further after the Fed's statement. Investors that would like to establish a position in ARCC should take advantage of this opportunity.
Most of ARCC's investments are first and second lien senior secured loans (64%) with lower yields than most subordinated types and 14% of its portfolio is equity participation that pays little to no yield but has the potential for upside to ARCC's net asset value ("NAV") per share. However the other 22% of its portfolio is the Senior Secured Loan Program (Pending:SSLP) that represents ARCC's collaboration with GE in senior secured loans of 44 middle market companies.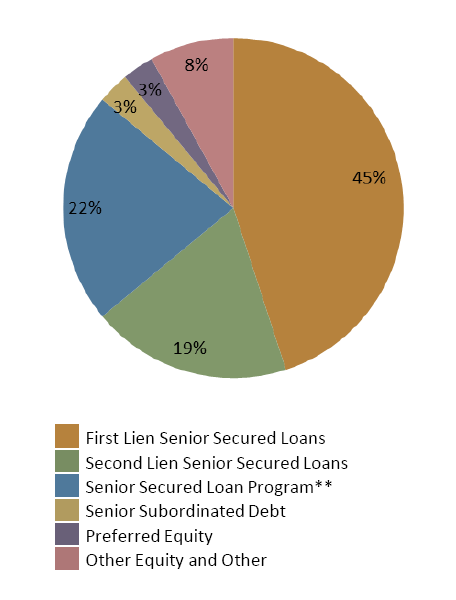 The SSLP fund supplied around 35% of ARCC's interest income for the quarter as well as almost another $20 million in capital structuring service, sourcing and other fees. In total these investments accounted for over 32% of its income in Q3 2013 and have an effective yield of 15.3% for ARCC compared to its combined overall portfolio yield of 10.5% using fair value of investments. However the underlying investments in the SSLP fund have a weighted average yield of 7.5% which is low compared to most of ARCC's and other BDCs investments, implying higher investment quality. How does ARCC receive twice the yield from the same investments? The fund is basically operating as off balance sheet leverage to enhance its returns.
GE contributes 80% of the capital for this program receiving a priority first lien while earning a floating interest rate. ARCC provides the other 20% of funding and is second in line to GE and is considered subordinated debt. I believe this exclusive relationship with GE provides a competitive advantage giving the company higher returns in the low yield market with less demand. BDCs such as Prospect Capital (NASDAQ:PSEC) and Triangle Capital (NYSE:TCAP) have average portfolio yields of 13% and 14% and are less inclined to invest in loans yielding 7% to 8%.
The second lien nature of this fund is a potential risk but the underlying quality of assets is higher and given the amount income derived from these investments to support dividends I believe it is an adequate driver of future profits. I consider the assets as levered but it is only on 22% of the portfolio and ARCC tries to keep its leverage ratio between 0.50 and 0.70 with equity issuances twice this quarter to keep leverage low. Most of the loans in the fund are at variable rates and both ARCC and GE will benefit as rates begin to rise.
The following table shows the impacts to income and expenses as interest rates change. The increases in interest expense are from the $937 million of borrowing on revolving facilities that was most likely paid off through proceeds from the recent issuance of $600 million of 4.875% fixed rate senior notes due 2018 as well the $501 million in equity raised.

In my "ARCC: December 2013 Report" I provide updated earnings impacts from rising rates along with overall dividend coverage and growth considerations. Investors should only use this information as a starting point for due diligence. See the following for more information:
Disclosure: I am long ARCC, PSEC. I wrote this article myself, and it expresses my own opinions. I am not receiving compensation for it (other than from Seeking Alpha). I have no business relationship with any company whose stock is mentioned in this article.