BlackBerry (NASDAQ:BBRY) will publish its quarterly earnings this Friday before the opening bell. Nobody knows if it will be a terrific earning release or the beginning of a new start for the company. John Chen will try to persuade investors that BlackBerry's come back has started with a focus on "prosumer", enterprise services and software. But the bears will closely look at the cash burn and hardware revenues. However, I didn't write this article to speculate on BlackBerry's next earning release. I'm going to talk about the business valuation with two hypotheses.
First, BlackBerry's revenues come from hardware sales, which are sales of legacy devices (BB7), playbook tablets and new BB10 devices, and, services. Services include old BES revenues, BES10, subscriber revenues from legacy devices, which will decrease quarter over quarter in the future, and finally, QNX. In the future, we could also add BBM to service revenues because the company plans to monetize the service by selling ads through BBM Channel.
Valuation
For the business valuation, I will make two hypotheses. First one, John Chen will focus on enterprise service through BES10 and software through BBM and QNX, as he said in its open letter to investors. Second one, he will continue the hardware business without trying to make money directly on it, BlackBerry will offer BB10 devices close to the cost price. In fact, the company would sell BB10 devices as an incentive to buy BES10 servers. For the consumer market, they would apply the same logic in order to gain back market share thanks to lower price. I'm going to explain why I take such a hypothesis for the hardware business.
To assess the fair value of BlackBerry as a whole, I have decided to do the sum of the parts valuation. For the service segment, I apply a multiple of 12 and an EBIT margin of 20%, which is close to competitors such as IBM (NYSE:IBM), SAP (NYSE:SAP) or Cisco (NASDAQ:CSCO). I also take into account the fact that BlackBerry hardware business is currently at risk. Therefore I use a multiple of 6 to figure out this risk. I wouldn't say the hardware division is worth zero (I assume 1% operating margin, close to the cost price) because BlackBerry still sells a couple of million devices each quarter. Despite the low take off of BB10, I still believe it will gain traction among consumers in the future. However, the company needs to better price its phone and invests smarter in marketing to promote the brand. I guess the Z10 drop in price and BBM cross platform could help.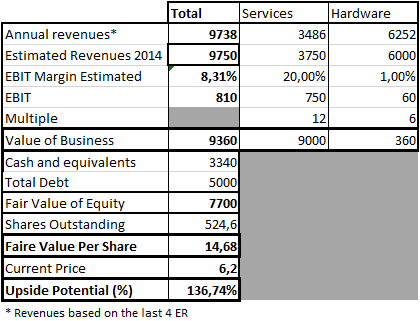 For the last 4 quarterly earnings released ("Annual revenues"), I compute the revenues breakdown for services and hardware. For the year 2014, I assume an increase in service revenues to $ 3.75 billion thanks to a successful implementation of BES10 in the corporate world with the strategy of selling BB10 devices as an incentive. I assume that the revenues generated by enterprise service will exceed the decrease in subscriber revenues. I also assume a conservative hardware sales of $ 6 billion.

To improve the quality of this analysis, I built a matrix to understand how the firm value per share is affected by changing the Multiple and Service Revenues. Finally, I find a fair value per share of $ 14.68, which represents a huge potential increase if John Chen's strategy is successful.
Risks
BlackBerry faces strong competition in the smartphone market and may not be able to make a comeback in the future. John Chen's turnaround strategy to focus on enterprise service could be more difficult to implement and take more time to materialize in terms of revenues. These factors could negatively affect BlackBerry share price in the short term.
Conclusion
I'm confident John Chen will turn around the company in the next year. BlackBerry is still far from death, they have valuable assets and more than $ 3 billion on cash. At these levels, the company is too cheap to ignore. We will have more information about BlackBerry's future in the next ER.
Disclosure: I am long BBRY. I wrote this article myself, and it expresses my own opinions. I am not receiving compensation for it (other than from Seeking Alpha). I have no business relationship with any company whose stock is mentioned in this article.