I recently reviewed the status of Auxilium's (NASDAQ:AUXL) Xiaflex for the treatment of Peyronie's disease, and concluded with the following: "there is a high chance that the FDA will issue a Complete Response Letter for Xiaflex". The FDA thought otherwise. On December 6, the FDA approved Xiaflex for the treatment of Peyronie's disease with a palpable plaque and at least 30% penile curvature, with a boxed warning and REMS including an Elements to Assure Safe Use (ETASU; mandates certification of physicians and pharmacists).
In order to answer the question "what's next for Auxilium?", I had the pleasure of catching up with Dr. Eric Schmidt, a managing director and senior research analyst at Cowen. Dr. Schmidt has been recognized in polls conducted by Alpha Magazine, Institutional Investor, Reuters, and The Wall Street Journal. Prior to joining Cowen and Company in 1998 he was a vice president covering the biotechnology sector for UBS Securities. He holds a BA in chemistry from the University of Pennsylvania and a Ph.D. in biochemistry from the Massachusetts Institute of Technology.
Ben Yoffe: Dr. Schmidt, now that the FDA approved Xiaflex for the treatment of Peyronie's disease, how much revenue contribution is expected?
Dr. Schmidt: There are no approved drugs for Peyronie's disease. In addition, data on the number of men with Peyronie's disease are scant, and the condition may be under reported. Hence market expectations for the opportunity are fairly wide ranging. Peak sales could be anywhere in the $50-300MM range.
Yoffe: Xiaflex has also been the first drug to get a green light from the FDA to treat Dupuytren's contracture and is commercially available in the U.S. Based on sales so far, what are your projections?
Dr. Schmidt: Xiaflex's sales trajectory has been disappointing in Dupuytren's contracture owing to reimbursement and other financial considerations, and the entrenched position that surgical intervention holds in this indication. We estimate peak sales of just over $100MM.
Yoffe: The company recently received an unfavorable ruling in a patent infringement case, where the court of Delaware ruled that Upsher Smith's Vogelxo gel does not infringe the patents held for Auxilium's biggest revenue driver Testim. Moreover, Auxilium filed a Citizen Petition requesting that, in the event of FDA approval of Vogelxo, the FDA refrain from designating Vogelxo as therapeutically equivalent to Testim, and require that the label state that the product is not interchangeable with other transdermal testosterone gels. As a result, do you see an impact on the competitive landscape?
Dr. Schmidt: We are still awaiting word from the FDA on whether Upsher Smith's Vogelxo will receive an AB-rating that designates it as interchangeable with Testim. We think there is a very low probability that Vogelxo will be deemed interchangeable (and therefore substitutable). We believe that because Vogelxo uses a different skin penetration enhancer, it will not be deemed interchangeable with Testim or any other marketed testosterone gel. Vogelxo was approved under a 505(b)(2) route, and there is little precedent for such products being deemed interchangeable. But if it is, Testim could be rapidly cannibalized. More likely, Vogelxo will be deemed a separate product that will need to scratch and claw for share in an already competitive market. As the fifth such competitor, its impact on Testim is likely to be modest.
Yoffe: According to the Q3 results, Testim sales reflected a loss of market share. Do you expect Testim sales to continue declining owing to losing market share to current competition?
Dr. Schmidt: We think that is the most likely scenario. The testosterone gel market has become increasingly competitive, and with more and more new entrants, the older brands are likely to lose share. That said, we model Testim sales in steady decline - Sales of $205MM in 2013 and $150MM in 2018.
Yoffe: The company is currently undergoing preparations for a U.S. launch of Stendra. How large do you believe the Erectile Dysfunction market is for Stendra?
Dr. Schmidt: Several drugs for Erectile dysfunction (e.g. Viagra, Cialis) achieve annual sales of well over $1B. Hence the market for these drugs is very large. However, as anyone who watches sports on TV knows, these drugs are heavily promoted to the public. Auxilium will not have the resources to promote Strendra in such a manner. It will use a targeted salesforce to market Stendra's potential speed of onset advantages to specialist urologists. We would view sales of $100MM or greater as a huge success.
Yoffe: What are your expectations from Actient product contributions?
Dr. Schmidt: Testopel, an implantable testosterone pellets for men with low testosterone, is easily the most interesting of the Actient product lines. Testopel sales have been growing rapidly, as this product is unique within the testosterone replacement therapy market. We expect sales will eventually eclipse $100M.
Yoffe: Are there any other developments that Auxilium is currently working on?
Dr. Schmidt: We are interested in Xiaflex's development as a treatment for Frozen shoulder, cellulite, and lipomas. All three new Xiaflex indications are in Phase II development. There will be a bit more data in lipoma over the next few weeks, but the new trials in Frozen Shoulder and Cellulite are just starting up. Currently, none of these indications is a real focus for investors.
Yoffe: How is the financial condition of the company?
Dr. Schmidt: Auxilium has significant debt (>$500MM) on its balance sheet, but the company is already cash flow positive, and its profitability could escalate rapidly over the next few years. That said, we don't expect any additional fundraising any time soon.
Yoffe: In closing, what is your rating and price target for AUXL?
Dr. Schmidt: We rate AUXL shares an "Outperform" and have a $22 price target. In summary, sales of Testim and Xiaflex for Dupuytren's contracture have disappointed for much of the past 12 months. However, the acquisition of Actient and lead product Testopel has transformed Auxilium into a cash flow positive specialty urology company. A second indication for Xiaflex, Peyronie's disease, provides potential upside with synergies in marketing, as does the recent acquisition of Strendra for erectile dysfunction.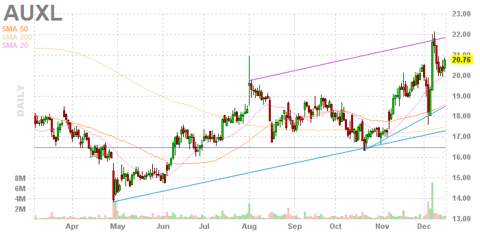 Disclosure: I have no positions in any stocks mentioned, and no plans to initiate any positions within the next 72 hours. I wrote this article myself, and it expresses my own opinions. I am not receiving compensation for it (other than from Seeking Alpha). I have no business relationship with any company whose stock is mentioned in this article.