On Tuesday, December 10, American Midstream Partners, LP (NYSE:AMID) announced that it had agreed to acquire Blackwater Midstream, a developer and operator of terminal storage facilities, from an affiliate of Arc Light Capital for $60M.
It should be noted that the acquisition includes Blackwater's three operating terminals, which have 1.3M barrels of storage capacity for a variety of products including chemical, agricultural and petroleum liquid products; the revenues are fee-based and almost entirely derived from take-or-pay lease contracts.
The good news is that the acquisition is expected to be immediately accretive to American Midstream Partners current distribution. The bad news is the fact that American Midstream Partners, LP intends on funding the deal through a secondary offering of 2,400,000 shares that was also announced on December 10, 2013 (filing).
In the wake of Tuesday's positive news, I wanted to highlight a number of reasons why I'm staying fairly bullish on shares of AMID.
Partnership Overview
Based in Denver, Colorado American Midstream Partners, LP engages in gathering, treating, processing, and transporting natural gas in the Gulf Coast and Southeast regions of the United States.
Its primary assets are located in Alabama, Louisiana, Mississippi, Tennessee, and Texas, which provide infrastructure that link producers and suppliers of natural gas to various natural gas markets, including various interstate and intrastate pipelines, as well as utility, industrial, and other commercial customers.
18-Month Distribution Behavior
Since August 3, 2012, the company has increased its quarterly distribution once over the last 18 months, which had most recently taken place in November of this year.
The partnership's forward yield of 7.31% ($1.81) coupled with its ability to maintain its quarterly distribution over the last two years, make this particular gas utility play a highly considerable option, especially for those who may be in the market for a higher-yielding stream of quarterly income.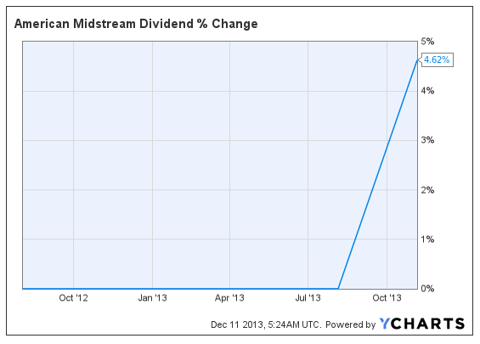 Click to enlarge
If, over the next several years, American Midstream Partners can successfully enhance its distributable cash flows, there's a very good chance that investors may see significant increases in the partnership's quarterly distribution. With that said, I think there is a strong possibility AMID's quarterly dividend reach or even exceed $0.475/share over the next 12-18 months, especially since the Blackwater acquisition is immediately accretive to the partnership's current distribution.
Looking Ahead to Q4
Looking ahead to the partnership's Q4 results, in which analysts are calling for AMID to post a loss $0.45/share in terms of EPS (which is $0.02/share worse than the partnership had reported during Q3) and $89.74 million in terms of revenue (which is $60 million higher than the partnership had reported during Q3).
I think that if the partnership can demonstrate increases in the gross margins associated with its gathering and processing segment (to the tune of at least 3.0% on a year-over-year basis) and increases in the gross margin associated with its transmission segment (to the tune of at least 5.5% or higher on a year-over-year basis), I see no reason why such estimates can't be met or even exceeded.
Risk Factors (Most Recent 10-K)
According to the partnership's most recent 10-K there are a number of risk factors potential investors should consider before establishing a position in American Midstream Partners, LP. These risk factors include but are not limited to the following:
A Decrease in the Demand of Natural Gas or NGLs
A decrease in the demand for natural gas, NGLs or condensate by the petrochemical, refining or heating industries, could adversely affect the profitability of the partnership's midstream business. Various factors impact the demand for natural gas, NGLs and condensate, including general economic conditions, extended periods of ethane rejection, increased competition from petroleum-based products due to pricing differences, adverse weather conditions, availability of natural gas processing and transportation capacity and government regulations affecting prices and production levels of natural gas, NGLs and condensate.
Ineffective Hedging Activity Could Expose the Partnership to Greater Commodity-Related Risks
American Midstream Partners has entered into derivative transactions related to only a portion of the equity volumes of NGLs to which we take title. As a result, we will continue to have direct commodity price risk to the un-hedged portion of our NGL equity volumes. We currently have no hedges in place beyond December 2013.
The partnership's actual future volumes may be significantly higher or lower than it had estimated at the time it entered into the derivative transactions for that period. If the actual amount is higher than it had estimated, it would have much greater commodity price risk than what was initially intended. If the actual amount is lower than the amount that is subject to its derivative financial instruments, it could be forced to satisfy all or a portion of our derivative transactions without the benefit of the cash flow from the sale of the underlying physical commodity, resulting in a reduction of the partnership's liquidity.
Conclusion
For those of you who may be considering a position in American Midstream Partners, LP I'd keep a watchful eye on a number of things over the next 12-24 months as each could play a role in both the company's near-term and long-term growth.
For example, near-term investors should focus on the recent performance and trend behavior of the partnership while longer-term investors should focus on how much of an impact American Midstream's acquisition of Blackwater will have on its long-term operating results.
Disclosure: I have no positions in any stocks mentioned, but may initiate a long position in AMID over the next 72 hours. I wrote this article myself, and it expresses my own opinions. I am not receiving compensation for it (other than from Seeking Alpha). I have no business relationship with any company whose stock is mentioned in this article.