More than a month before the start of 2014, chip giant Intel (NASDAQ:INTC) surprised investors by issuing a very weak forecast for 2014. After 2012 and 2013 didn't turn out to be the years that Intel bulls were hoping for, 2014 was supposed to be the year. Obviously, investors were disappointed by the forecast, sending shares lower, and they are still down a bit from that point. It's been a couple of bad years for Intel now, and investors looking for a turnaround still have some hope. Remember, this was an initial forecast, and it will likely be revised at least once during 2014. I don't think even the greatest of predictors will know how PC sales or chip shipments will be a year from now. There are a couple of key issues facing Intel in 2014 after what's happened in recent years. So here is an important question for Intel investors in 2014. If you can only have one of the following items, which would it be? Today, I'll break down the four most important items I see for shareholders, and analyze their importance for the struggling chip giant.
Item 1 - Revenue growth:
It all starts at the top, and by that I mean revenues. This number is perhaps the most important number in my mind. Coming out of the financial crisis, Intel showed strong revenue growth. In 2009, the company had revenues of more than $35.1 billion. Two years later, that figure was up to just under $54 billion. But as the chart below shows, things stalled out in 2012, and have not recovered since. A weak PC market is the primary reason for Intel's troubles, as the company is late to the mobile revolution. Intel will now try to play catch up in the tablet and smartphone space.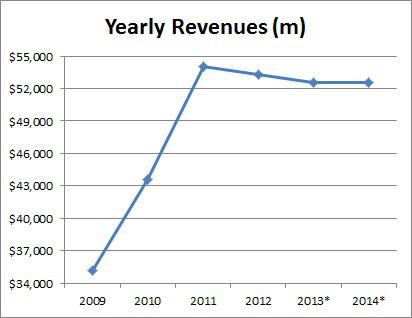 *2013 number based on first nine month results and midpoint of Q4 guidance. 2014 number based on Intel's forecast for flat revenues.
Revenue forecasts for Intel have been coming down for some time. Intel's original forecast for 2012 was for revenue growth in the high single digits, percentage wise. 2012 revenues actually declined. 2013 was supposed to show low single digit growth, but again, there is expected to be a decline. So it is no surprise that with multiple disappointments and guidance takedowns, analysts have been reducing their 2014 forecasts for quite a while. The following table shows a history of Intel's average revenue and earnings estimates for 2014 going back to April of this year. The yellow line below is the day Intel held its Investor Day, where it guided to flat revenue growth in 2014.

*Growth numbers based on 2013 estimate at that time, which is constantly changing until 2013 results are final.
The latest numbers above, as of Tuesday, have the 2014 average revenue and earnings per share estimates at their lowest points. Yes, since the middle of April, analysts have reduced their 2014 revenue forecast by nearly $3 billion dollars. As I recently pointed out, someone has to be wrong. First, analysts are still looking for 1.2% revenue growth in 2014, meaning they believe Intel's forecast was very conservative and that the company potentially sandbagged guidance to set up beats. Second, as I explained above, Intel's initial forecast probably won't hold true throughout the year.
Since Intel has admitted it was late to the mobile revolution/party, the company is now playing catch up. PC sales are declining, and Intel is trying to get into more tablets and smartphones. In fact, the company's tablet campaign hopes to change the landscape over the next year or two. Intel may need to provide more subsidies at first to get into this highly competitive space, because the company cannot rely on PC sales forever. Ultimately, Intel will look to break the Apple (NASDAQ:AAPL) and ARM Holdings (NASDAQ:ARMH) juggernaut, but it will take some time. Apple went from selling zero iPads in fiscal 2009 to more than 71 million in fiscal 2013. Intel probably won't break into Apple in the next year, but a few years down the road this could be a huge coup.
So how important to investors is revenue growth? Very important in my opinion, as everything else can be based off revenues. My theory is that Intel is priced for zero revenue growth at $23 a share. For every percentage of revenue growth above that in 2014, add a dollar to share price. If Intel can get to 2% revenue growth, which seems very optimistic right now, you have a $25 stock. If Intel can get 4% revenue growth, Intel shares could trade for $27. If revenues decline again, well, you can do the math. Remember, I'm isolating revenue growth from earnings growth in this section, so I will have a couple of competing valuation metrics. The point of this article is to separate what single item is most important for Intel, and right now, I think it is revenue growth.
Item 2 - Earnings per share growth:
For some investors, it is all about the bottom line. Sure, revenues are great, but if you are not making any money, does it really matter? Most investors will point to Amazon (NASDAQ:AMZN) for this argument! Intel is a very profitable company, and I don't mean to be very negative here, but the net income picture is not pretty. The problem for a company like Intel is that when revenues don't meet your targets, it is sometimes hard to cut enough expenses to hold profits steady. Additionally, when you have a very competitive space, like Intel is in, you sometimes need to spend to stay competitive. The following table shows Intel's net income from 2009 to 2012, along with the yearly diluted share count and diluted earnings per share number. The net income and shares numbers are in millions.

In 2012, Intel's net income plunged by more than $1.9 billion, a fall of roughly 15%. However, Intel was able to lower its diluted share count by 4.64%, thanks to the buyback, which I'll get to later. As a result, earnings per share were only down by 10.83%. That's still a tremendous fall for a company of this size, and yes, Apple had a bad fiscal 2013 in terms of earnings per share (down 10% overall or 7.9% if you exclude the extra week in the year). Intel's earnings per share are expected to be even lower in 2013, and as I showed above, flat in 2014. Apple's earnings are expected to rebound in its current fiscal year.
The current expectation for 2013 earnings per share for Intel is $1.89. Intel does not provide earnings per share guidance, so we'll stick with analyst estimates for this argument. That would be a fall of another $0.24 per share from 2012 levels, which were down tremendously to begin with. However, Intel's share count is coming down further, as it was down 1.66% over the first nine months of 2013. So the net income fall will be even greater over the two year period. That is how one problem can snowball into many for the company, as net income figures will be much worse, and that hurts cash flow. Based on current estimates and the first nine months of 2013 share count, Intel's buyback since 2010 has boosted earnings per share by twenty cents. That doesn't include the fact that if there was no buyback, the share count would have risen and earnings per share would have been pressured even more! Imagine what the picture would be like if Intel's earnings per share this year were forecast to be $1.69 or maybe even $1.60. Ouch.
Why do so many people focus on earnings per share? Well, it leads to one of the biggest valuation metrics, and that is price to earnings. The following table shows Intel's growth and valuation numbers for 2014 against some other names in the space for their fiscal years. As in my last comparison, I'll pit Intel against Apple, Microsoft (NASDAQ:MSFT), Cisco Systems (NASDAQ:CSCO), and Qualcomm (NASDAQ:QCOM).

*EPS growth and P/E numbers are non-GAAP.
Earnings per share are crucial because they go to that P/E number in the end. If you have two absolutely identical companies, and one trades for 10 times earnings and one trades for 15, which are you more likely to buy? Intel's buyback propping up earnings per share by 20 cents or more in recent years has kept the valuation at a more reasonable amount. Looking at the numbers above, what would Intel look like if it currently traded for 15 times earnings? It would look really expensive with low or no growth, especially against Apple or even against a GAAP-comparable Qualcomm that actually is growing.
So where does Intel go in 2014 based on its earnings per share? Well, the stock currently trades for about 13 times expected 2014 earnings per share. I think that 12 to 14 times range is probably where we will see Intel trading in 2014. The following table shows what those values look like for each level of earnings.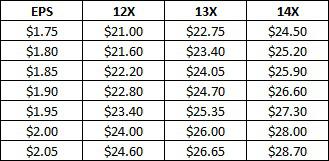 Intel closed Tuesday at $24.65. That means that the lowest valuation in my table above would represent a fall of 14.8% for Intel shares, and the highest valuation would represent a rise of 16.4%. As a point of reference, the mean and median price targets for Intel among wall street analysts are $24.45 and $24.00, respectively.
Item 3 - Raising the dividend:
There are some investors out there that don't think overall results are that important. Whether Intel comes in at $1.89 or $1.90 for earnings next year, these investors could really care less. What do they care about then? Well, the quarterly dividend. Yes, some don't care what happens to the company, as long as they get the check (or electronic deposit) four times a year!
2013 was a very interesting, and perhaps disappointing, year for Intel dividend fans. Intel had paid out 22.5 cents a share for four quarters in a row, leading many (including myself) to think a raise was coming during the third quarter of this year. Well, as you can see from the chart below, a raise has not come yet. Intel has paid out the same dividend now for six quarters in a row. The total dividend payout in Q3 this year was actually less than in the prior year period since the share count was slightly lower. The dates below are payment dates.
Those expecting a dividend raise have been surprised that it hasn't come yet. There is one important point I've made in the past, and that is that Intel had gotten off-cycle. For a while, the company would raise the dividend for the first payout of the year, and thus all four payments during the year would match. When the company raised the dividend mid-year in 2011, the cycle broke. I am still on the record that I will defend Intel not raising the dividend until we see the first payment in 2014 because I want to see if Intel is getting back on the cycle. However, I've also said that if the company doesn't raise it then, I will come out with some harsh, and probably well deserved, criticism.
In 2014, I will be looking for Intel to raise the dividend. Yes, Intel already has a very high annual dividend yield, the highest in large cap tech land as I showed above. However, this is a company that has struggled mightily in the past few years, and I think the company should reward shareholders for sticking with it. Additionally, as I'll show in the next section, the buyback has been cut so investors aren't getting back much on that front either. Even a dividend raise of a penny a quarter would only cost the company an additional $200 million roughly in annual dividend payouts. You can't tell me that a company with more than $50 billion in annual revenues and several billion in cash on its balance sheet can't do that. I did reduce my dividend raise prediction for Intel, but I still think a penny or two increase is needed. Not only would a dividend raise fuel confidence about the business, but I think some dividend investors that fled after the non-raise will start to return.
Item 4 - Accelerating the buyback:
The final item I will discuss today is Intel's buyback program. I already showed above how the buyback has significantly reduced Intel's share count, which has helped to soften the blow of falling net income. If this buyback plan were not in place, Intel's earnings per share would be much lower. According to the latest 10-Q filing, Intel has bought back 4.3 billion shares at a cost of $91 billion since the program began in 1990. The current plan that Intel started in 2005, and since amended, was for $45 billion and had $3.7 billion left at the end of the latest quarter.
However, Intel's buyback rate has significantly slowed down this year, following a huge slowdown in 2012. According to the cash flow statement in the above linked 10-Q, Intel has used $1.9 billion in cash during the first nine months of this year to buyback stock. In the same time period in 2012, that number was $4.1 billion. The $1.9 billion figure includes restricted stock unit withholdings, so the actual buyback was about $1.6 billion. See page 23 of the above 10-Q for an explanation of this. The chart below shows the slowdown in Intel's buyback.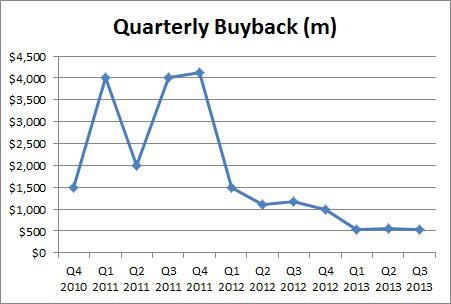 Intel's buyback is something important for investors in 2014 as well. First, does Intel speed the buyback up a little? Even an extra $100 million or $200 million per quarter would be significant, as it would help to further reduce the share count and improve earnings per share. It would also help add some support to Intel shares. Remember, thanks to executive options and other items, Intel needs to buy back a given number of shares each year (which will vary) just to keep the share count from rising. Once it gets over that number, then the share count will start going down. The second key part is that if Intel starts to spend more on the buyback, it could be a sign that the company believes the business is improving, and that the stock is undervalued.
One other key point for the buyback is that this current program is coming to an end. With under $4 billion remaining at the end of Q3, the plan could end in the next year or two, depending on the rate of repurchases. Apple, Cisco, and Microsoft have all announced either new buybacks this year or expansions to their current programs. Intel should be the next one to do so, and the earlier, the better.
Final thoughts:
So here is my question for Intel investors. If you can only have one of these four items, which would it be? Yes, Intel could end up with a combination of all four, but it is also possible that if revenues struggle for a third straight year you could get nothing! You can make a case that these items tie into each other, but you could also have a situation where Intel sacrifices some margin for added revenues. You could easily have a situation where it comes down to an increased dividend or buyback. Which would you choose?
After two straight disappointing years, and a disappointing forecast for 2014, Intel has some work to do. How competitive the chip giant will actually be in the tablet/smartphone space remains to be seen. I'm having this article tagged as "Long Ideas" because I do believe in the long term future of Intel. However, as I've detailed in many articles, I believe Intel is a short candidate at the moment because it has some bumps in the road coming. 2014 could be extremely bumpy. Today, I've presented four key issues when it comes to Intel. I believe that revenue growth is the most important after the last two years, but I feel that others may not agree with that stance. I look forward to hearing your thoughts in the comments below.
Source Information: You can see all of Intel's past results via 10-Q and 10-K filings on this page.
Disclosure: I have no positions in any stocks mentioned, and no plans to initiate any positions within the next 72 hours. I wrote this article myself, and it expresses my own opinions. I am not receiving compensation for it (other than from Seeking Alpha). I have no business relationship with any company whose stock is mentioned in this article.
Additional disclosure: Investors are always reminded that before making any investment, you should do your own proper due diligence on any name directly or indirectly mentioned in this article. Investors should also consider seeking advice from a broker or financial adviser before making any investment decisions. Any material in this article should be considered general information, and not relied on as a formal investment recommendation.