In the first article of this two-part series, I discussed that the oft-discussed coming weakness in the ultra-deepwater segment of the market will be most felt at the lower end of the market and not so much by the modern, high-specification rigs that make up the higher end of the market. However, there are more types of rigs out there than ultra-deepwater floaters (semi-submersibles and drillships). For example, most of the larger offshore drilling companies operate a fleet of jack-up rigs in addition to their deepwater and ultra-deepwater floater units. So, if the impending difficulties in the floater market will be felt primarily at the low end, what about the jack-up market? How does it look?
In fact, the jackup market looks remarkably similar to the ultra-deepwater one, with customers expressing a marked preference for modern, high-specification units. This has resulted in a bifurcation of dayrates for these rigs, with modern high-specification units commanding significantly higher dayrates than older units. This is similar to the trend that has been present in the floater market for some time now.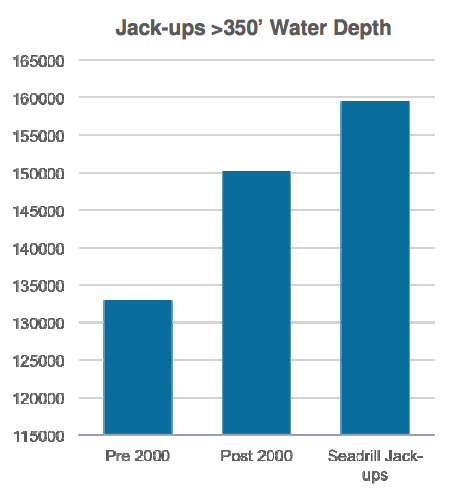 Source: Seadrill
Admittedly, this chart is somewhat Seadrill (NYSE:SDRL)-centric as it was pulled directly from the company's presentation at the Pareto Oil and Offshore Conference on September 4 but it still quite effectively illustrates that the oil and gas companies that contract out offshore drilling rigs prefer newer rigs to older ones strongly enough that they are willing to pay significantly higher dayrates to obtain the services of such rigs. This presentation was given on September 4, so a case could certainly be made that the market has changed since then. However, Seadrill states in its third quarter 2013 results report that not only is this trend continuing but that it is actually becoming stronger.
According to Seadrill, exploration and production companies are becoming concerned about their ability to contract these rigs and so have been pushing dayrates higher as these companies compete against each other to secure the rigs that they need. Additionally, exploration and production companies have been contracting these high-specification jackups for longer periods of time than they did in the past. This also shows concern on the part of E&P companies about their ability to contract out such rigs and so the longer contract ensures that the E&P company will have the rig when the company needs it. With a shorter contract, the customer would need to find another rig to contract once the short contract is over and the companies appear concerned about their ability to do this.
Further evidence that demand for high-specification rigs continues to grow in excess of supply can be found in recent actions taken by some rig contractors. For example, Mexico has recently become a big market for jackup rigs as the country seeks to increase its oil production and modernize its shallow water fleet. The entry of Mexico into the market for shallow-water rigs has increased demand for these rigs as the traditional (and still primary) source of demand for these rigs has been Southeast Asia and the Middle East.
In response to Mexico's entry into the market, Seadrill was forced to terminate discussions for the use of some of its shallow-water rigs so that these same rigs can be put to work on long-term contracts in Mexico. As evidence that there is limited capacity in the jack-up rig market, look to the fact that many of these customers were forced to postpone their offshore development plans once Seadrill cancelled discussions since they were not able to find another rig.
In the first part of this series, I shared a chart that showed the worldwide utilization of ultra-deepwater floaters broken down by rig age. Here is the same chart for jack-ups, broken down by rig capability. As a general rule, the less capable the rig, the older it is.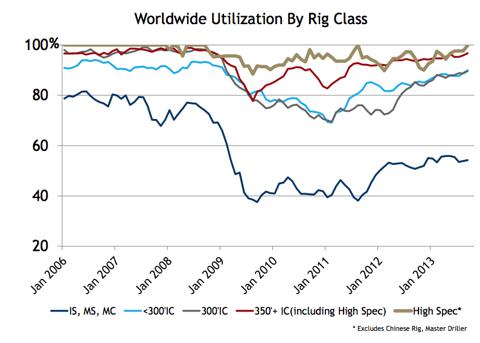 Source: The Rowan Companies (NYSE:RDC)
As the chart shows, the newest and most capable jack-up rigs were nearly all contracted out to customers and working at the beginning of the year. This is, in fact, still the case. Seadrill stated in its aforementioned earnings report that the worldwide premium (built post-2005 and capable of operating in at least 350' of water) jack-up rigs have enjoyed utilization rates of over 95% for four straight quarters (as of September 2013). This matches the data on the chart and tells us that the market, at least for these rigs, is showing no signs of weakening.
The supply of jack-up rigs in general is shrinking, largely due to the age of the worldwide jack-up fleet. Today, there are 18 jack-up rigs worldwide that are forty years old or older. That number will progressively increase going forward until there are, ten years from now, 288 jackup rigs worldwide that are forty of more years old.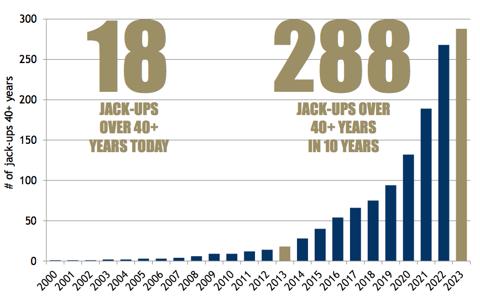 Source: The Rowan Companies
Due to the expense of maintaining and upgrading these rigs and the already discussed customer preference for modern rigs, the offshore contractors that own these rigs have begun to scrap them. Seadrill notes in its third quarter earnings report that more jackup rigs have been scrapped due to age in the past two years than in the previous ten. This rate of scrapping is likely to increase going forward. The worldwide global rig fleet numbers approximately 505 rigs. Therefore, within the next ten years, well over half of today's jackup rig fleet will be forty years old or more. With customers preferring modern rigs and the market expanding outward from its historical base of Southeast Asia and the Persian Gulf, it should be relatively easy to see how the supply of jackup rigs is likely to be constrained.
There has been significant investment into replacing the aging jackup fleet over the past few years which is one reason why there are 114 jackup rigs under construction as of the beginning of December. However, despite the construction boom, there have not yet been enough rigs built to replace all of the aging ones. From the inception of the industry until the late 1980s, there were a total of 310 jackup rigs built, with many being completed in the early 1980s. Most of these rigs are still in service today and are ready for retirement for the reasons discussed earlier in this article. However, there have only been 278 jackups built in the current cycle, which began around 2006. 158 of these rigs have already been completed and have left the various shipyards that build these rigs since the start of the build cycle.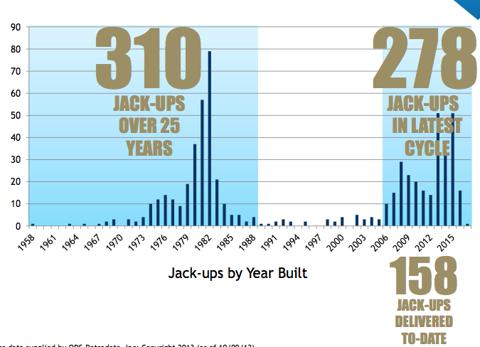 Source: The Rowan Companies with Data from ODS-Petrodata
It is worth noting that not only have insufficient jackups been built to replace all of the ones that will likely need to be retired over the next few years, but not all of the jack-ups that have been built are the high-specification units that are being greatly demanded by oil companies. In fact, a relative minority have been these units. Of the 114 jackup rigs that are currently under construction, only 32 are high-specification units. This limited number of high-specification units relative to demand means that oil companies will likely be forced to adapt their production schedules based on the availability of rigs, which we are already seeing. This is indicative of a sellers' market, not a buyers' one.
However, as in the ultra-deepwater market, there will be winners and losers in the shallow water market. Those companies with the oldest jackup rigs and insufficient new rigs coming online to replace their old ones could be on the losing side of this market. Hercules Offshore (NASDAQ:HERO), for example, only has three rigs that can operate in at least 350' of water and only two of these can be considered premium rigs. Ensco (NYSE:ESV) and Noble (NYSE:NE) have the oldest jackup fleets among the major offshore contractors but both companies also operate in other environments than shallow water. On the other side of the market are companies such as Seadrill, Maersk (OTCPK:AMKAF), and Rowan (although Rowan also has a number of older rigs). Vantage Drilling (NYSEMKT:VTG) also has one of the youngest jack-up fleets, but that company is also focused primarily on the ultra-deepwater market.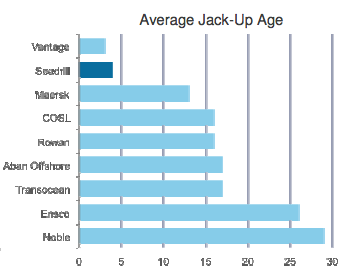 Source: Seadrill
Disclosure: I am long SDRL. I wrote this article myself, and it expresses my own opinions. I am not receiving compensation for it (other than from Seeking Alpha). I have no business relationship with any company whose stock is mentioned in this article.