I have put together a list of 4 stocks that I believe could outperform the market in 2014. The 4 stocks have unappreciated valuations and major catalysts and I'm looking for them to at least double if not provide a triple or more throughout 2014. Like all investments, the higher the expected return, the higher the risk to your money. I'll put the stocks in order from the safest to the riskiest.
RF Micro Devices (RFMD):
RF Micro Devices is a global leader in the design and manufacture of high-performance radio frequency solutions. RFMD's products enable worldwide mobility, provide enhanced connectivity, and support advanced functionality in the mobile device, wireless infrastructure, wireless local area network (WLAN or Wi-Fi), cable television/broadband, Smart Energy/advanced metering infrastructure (AMI), and aerospace and defense markets. RFMD is recognized for its diverse portfolio of semiconductor technologies and RF systems expertise and is a preferred supplier to the world's leading mobile device, customer premises, and communications equipment providers.
Reasons to be Bullish on RF Micro Devices:
1. Cash Flow: RF Micro Devices is expecting to see its highest cash flows in the quarter ending December 31, 2013.
2. Margin Expansion: Gross margin expansion should continue throughout 2014, even in a seasonal Q1 which is rarely seen in the semiconductor industry.
3. Valuation: The company trades at 8.25 times my 2015 earnings estimate of $0.62 and trades at 1.1 times 2015 revenue estimates. These are historic low valuations for this once high flying semiconductor.
4. RF Micro Devices has a proven CFO in place leading its positive gross margin expansion initiative and its major cost saving program that seeks to drive efficiencies throughout its businesses. Overseen by the Board of Directors, no stone will be left unturned in the process. This will undoubtedly bring positive earnings surprises.
Catalysts to look forward to in 2014:
1. Consolidation: RF Micro Device's competitor Avago (NASDAQ:AVGO) acquired LSI Corp (NYSE:LSI) for a 41% premium this week and we believe that RFMD could be ripe for acquisition. With its gross margin expansion and cost savings initiative it would definitely be attractive to one of following key players: Qualcomm Inc. (NASDAQ:QCOM), Intel Corp (NASDAQ:INTC), Broadcom Corp (BRCM) and Skyworks Solutions Inc. (NASDAQ:SWKS) as consolidation is a must in this crowded RF space.
2. Apple Inc. (NASDAQ:AAPL): RFMD's largest customer, Apple is rumored to be landing China Mobile Ltd. (NYSE:CHL) in the next few weeks supplying it with iPhones for its 750 million subscribers. This event could single handedly take the shares of RFMD through $6.50 per share on the week of an announcement.
3. RFMD has been talking up its dollar content expansion into a number of handsets as it claims to supply all the major handset makers. Proof of this dollar content upside could be seen thru strong quarterly results.
Chart: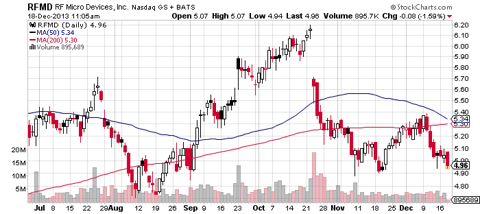 Looking at the daily chart, we can see that RF Micro Devices is making a short term bottom here at $4.90 and the next move up should take it to $5.70 where we should see some short term consolidation. We need to look at a weekly chart to see the bigger picture.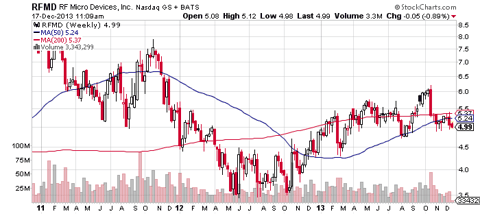 Click to enlarge
On the weekly chart we can see that RF Micro Devices made a triple bottom between May and October 2012, the stock is in a consolidation phase at the moment, but the upcoming Golden Cross when the 50 day moving average crosses above the 200 day moving average could be the catalyst (along with news out of the company) that propels the stock higher and challenges former highs at $8.00 and makes new highs at $10.00.
Perion Network (NASDAQ:PERI):
Perion Network is a digital media company that operates as a search affiliate and application developer. Search accounts for over 70% of its revenues. Perion's primary applications are Incredimail, Smilebox and SweetIm. Perion is in the process of merging with Conduit, a privately held search giant.
Reasons to be Bullish on Perion:
1. Perion trades at 1.32 times post acquisition revenues of $525 million (Conduit: $400 million and Perion: $125 million). When it delivers its first consolidated quarter in early March, 2014 it will give investors an opportunity to see the synergies and the performance of the combined entity.
2. Perion is estimated to generate EBITDA of $165 million in CY 2014 or $2.36 per share. At a conservative valuation of 10 times its $2.36 earnings, you have a $23.65 stock.
3. Search Partners: Perion has strong contracts with Google (NASDAQ:GOOG), Yahoo (NASDAQ:YHOO), Bing and Ask.com.
4. Growth: Perion is expected to grow conservatively at 25% in 2014.
5. Analyst Coverage: Benchmark has Buy rating and a $19 price target and Needham has a Buy rating and a $15 price target.
Catalysts to look forward to in 2014:
1. The closing of the merger with Conduit in January, 2104.
2. Earnings Call: Perion will report its first consolidated quarter in March which will give investors their first opportunity to see the synergies and the operational performance of the combined entity.
3. Analyst Coverage: With revenues of half of billion dollars, we have the potential for more sell side coverage from much larger wire houses like Morgan Stanley, UBS, and RBC etc...
Chart: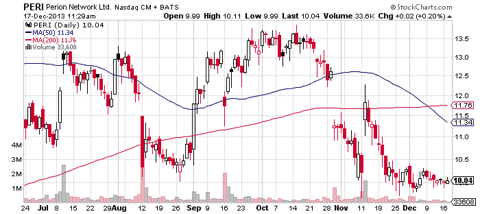 Click to enlarge
Looking at the daily chart, we can see that Perion is making a bottom here at $10 as the volume and volatility has dried up. It has strong support here and is the place to accumulate shares before its move higher.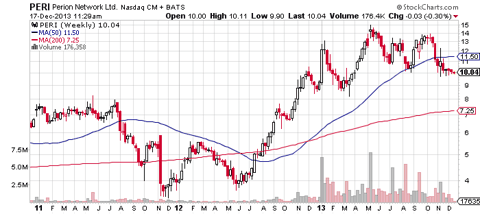 Click to enlarge
The weekly chart shows that Perion is in the second leg of its move off the bottom at $3. When a stock makes a long term move higher, it normally does so in 3 waves. The first wave took Perion from $3 to $15, we are currently in the second sideways, consolidation wave and a break above $15 will be the beginning of the third wave and should see Perion make a move to $22 - $25.
China Techfaith Wireless (NASDAQ:CNTF):
China TechFaith has three primary businesses. It is a leading global mobile solutions provider for the global mobile handsets market (previously called the Original Developed Product (NYSE:ODP) business). It is a leading developer of specialized mobile phones for differentiated market segments, including the rapidly growing smartphone market targeting wireless mobile phone network operators and end users; it also serves sports enthusiasts with a tailored line under the Jungle brand and the teen market under licensed brands. Under China Techfaith's 17FOX brand (previously "17VEE"), it has built a leading intellectual property (NYSE:IP) based motion gaming business ranging from Bluetooth-enabled motion gaming controllers and software to a planned proprietary set-top motion game box.
Reasons to be Bullish on China Techfaith Wireless:
1. Cash position: China Techfaith has an astonishing $268 million in cash on its balance sheet vs. its $73 million market capitalization. This equates to $5.05 per share in cash vs. the $1.40 per share it trades at today.
2. Real Estate Portfolio: China Techfaith is in the process of building 23 properties in China. Here are the CFO's comments on the last conference call:
"We continue to make further progress in the third quarter on the developments of properties in the portfolio we have detailed on prior calls, this is an important area for us with the potential to create increased value for TechFaith and all of our shareholders. Currently TechFaith has a total of 23 buildings and most of which are still in the process of construction. 17 of the buildings are located in Beijing, three of the buildings are in Guangzhou, two of the buildings are in Shenyang, and one of the buildings is in Shanghai."
3. China Techfaith has traded this low in previous years, only to redefine itself and attract new investors. Unlike in previous years, this time you have a mountain of cash and a real estate portfolio that could be larger than its cash position by the end of 2014.
4. Intellectual Property : China Techfaith claims to own all the IP for motion gaming consoles in China. In addition, it has extensive cellular handset IP and is currently pursuing Samsung for IP infringement in the Chinese courts.
5. The CEO owns over 50% of the shares leaving it with a smaller float which could prove favorable on any signs of good news.
Catalysts to look forward to in 2014:
1. A favorable court ruling, or a favorable agreement with Samsung in its litigation will validate China Techfaith's IP claims and could result in a one off payment or royalty stream.
2. Gaming: Sony, Microsoft (NASDAQ:MSFT) and Nintendo are all rumored to be gearing up to enter China with their gaming consoles after China recently relaxed it gaming laws. China Techfaith has on numerous conference calls boldly stated that it owns all the IP on motion gaming consoles in China and that it would pursue its IP claims when it presents itself - this could be the news that would see China Techfaith's stock open at its cash position ($5.05). In addition we could see new game releases, or announcements of partnerships with game makers.
3. Handsets: China Techfaith could sign new handset contracts with service providers outside of China.
4. News of the China Techfaith leasing or selling one of its buildings for strong rental income or strong profit.
5. Buyback: China Techfaith could finally begin to buy back its stock, putting its cash to tangible use in the eyes of US investors.
Chart: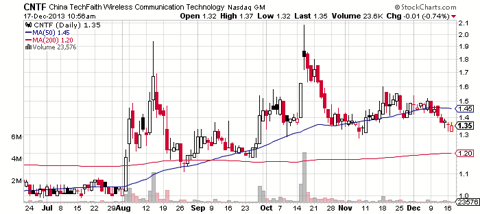 Click to enlarge
Since a breakout in August, China Techfaith has been making a series of higher bottoms. I believe that we are in the process of seeing another bottom here and I'm looking for the stock to trade up to $2.00 with the potential to spike up to $2.30 on positive news.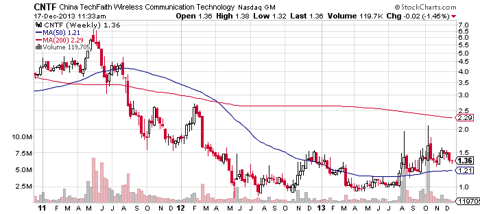 Click to enlarge
China Techfaith made a long term rounding bottom from May 2012 to August 2013. The breakout in August signaled that China Techfaith's trend was now to the upside and we should see a continuation of this trend through 2014 and it should be trading up against resistance at $4.00 - $4.50 by year end 2014.
Acura Pharmaceuticals (NASDAQ:ACUR):
Acura Pharmaceuticals is a specialty pharmaceutical company that makes drugs that are formulated to discourage abuse. Using its proprietary technologies, Impede and Aversion, it currently has two products on the market a decongestant called Nexafed and its abuse-deterring technology is used in Pfizer (NYSE:PFE) Inc.'s painkiller Oxecta.
Nexafed contains pseudoephedrine, an ingredient in crystal meth. Acura says the drug contains inactive ingredients that turn into a thick gel if anyone tries to extract the pseudoephedrine. That means the chemical won't crystallize and can't be made into crystal meth.
Oxecta is an immediate-release drug that contains oxycodone, the active ingredient in OxyContin. It uses Acura's Aversion technology to discourage abuse: if the drug is exposed to water or alcohol, the oxycodone becomes trapped in a gel mixture, making it difficult to get into a needle. If inhaled, it creates a burning, irritating sensation in the nose.
Reasons to be Bullish on Acura Pharmaceuticals:
1. According to estimates from the Centers for Disease Control and Prevention, 100 people die every day from prescription drug abuse in the United States. According to a study out of the University of Washington, the economic cost of the nonmedical use of prescription drugs in the US is over $50 billion annually. These statistics have brought it to the attention of the FDA and congress.
2. Acura trades at a $73 million market capitalization and it possesses two technologies that are already in commercial use with its Nexafed in 2900 drug stores and it's Oxecta that has a partnership with Pfizer. The company sports $20 million in cash and has enough cash to last over 1 year at its current run rate. You're paying $63 million for a company that has strong FDA support behind the scenes and has multiple drugs in its pipeline.
Catalysts to look forward to in 2014:
1. Pharmacies: Nexafed is currently sold in only 2,900 out of the 65,000 pharmacies in the US. This leaves room for tremendous growth as it gets stocked in more pharmacies. Recently Acura signed an agreement with Rite Aid which will sell it in all its pharmacies and I'm looking to hear more deals being signed in the near term with the likes of Wal-Mart (NYSE:WMT), CVS (NYSE:CVS), Publix, or Duane Reade.
2. With two products successfully brought to market I am looking for big pharmaceutical companies to come knocking on Acura's door to bring other drugs to market using Acura's proprietary technologies. Such deals will usually bring in $10 - $30 million in upfront payments which will be important to Acura cash position.
3. FDA wants to protect the public from prescription drug abuse and as a result could come out with a ruling that would favor use of Acura's proprietary technologies. I believe that Acura is a pure play in the FDA tackling prescription drug abuse.
4. Acura met with the FDA on December 5th and I'm hoping the FDA will now be more inclined to give Acura room to move forward on its clinical trial for its hydrocodone drug.
5. Oxecta: After sitting on its hands, Pfizer is now actively engaged in promoting Oxecta and as a result we should see an increase in sales in the coming quarters.
Chart: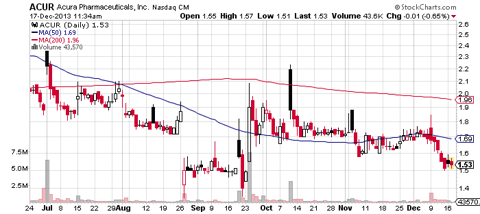 Click to enlarge
Acura is trading near support at $1.50 and looks to be making a bottom here. News out of the company could be the catalyst that finally breaks the stocks out above the 50 day moving average at $1.69. The first line of resistance after this would be the 200 day moving average at $1.96.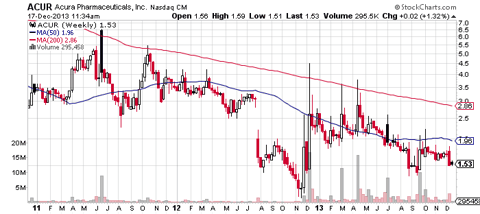 Click to enlarge
Looking at the weekly chart we can see that last year it traded as high as $4.50. With a couple of drugs on the market and the FDA wanting to tackle prescription drug abuse, I believe that Acura could return to this level especially if we see volume come into the stock which could happen with positive news out of the company.
Disclosure: I am long RFMD, ACUR, PERI, CNTF. I wrote this article myself, and it expresses my own opinions. I am not receiving compensation for it. I have no business relationship with any company whose stock is mentioned in this article.