YTD, Frontier Communications (NYSE:FTR) has been an outperformer among the rural telecoms. Unlike some of its peers, Frontier's dividend payout ratio, using FCF not EPS, is relatively modest at about 50%. In addition, the company has also been working aggressively to tackle its considerable debt pile, paying off or refinancing much of its larger debt maturities through 2017. Like many names in its sector, Frontier offers a compelling quarterly dividend of $0.10 per share, or $0.40 annually, and yields roughly 8.40%.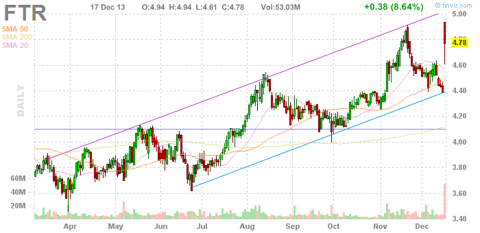 Click to enlarge
AT&T Deal Overview
On December 17, Frontier announced that it was buying AT&T's (NYSE:T) Connecticut based wireline business and statewide fiber network assets for $2.0B in cash. The market has reacted very positively to the transaction, sending shares nearly 10% higher on the news.
Included in the transaction are AT&T's U-verse video and satellite TV customers in Connecticut. Frontier is set to acquire about 415,000 data, 900,000 voice, and 180,000 video residential connections from AT&T along with approximately 2,700 employees. The company noted that it already had existing systems in place in the state as its current headquarters is in Stamford, Connecticut.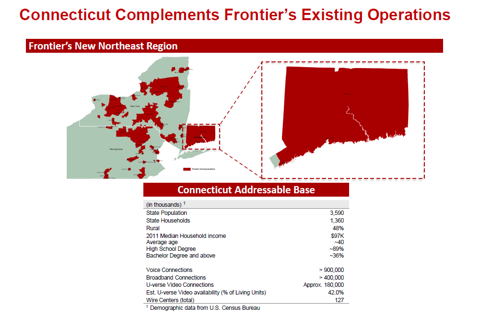 Click to enlarge
Frontier is to use debt to finance the acquisition
Unlike with its 2010 acquisition of Verizon (NYSE:VZ) wireline assets, plans to issue public market debt financing to fund this transaction. As many investors in Frontier know, the company's stock was greatly diluted during the previous purchase, eventually leading to a dividend cut in 2011.
According to the presentation released alongside the announcement, Frontier should be issuing this debt sometime during Q2 to Q3 2014. Meanwhile, JP Morgan has committed the required financing providing Frontier the capital to complete the transaction. The company expects final State and FCC approvals to come in by Q4 2014.
Is Frontier Communications getting a good price?
This is a very large transaction for Frontier at about 18% of its current enterprise value. The company has noted that it is likely to achieve significant cost synergies and savings in the acquired assets. The current estimate is for $75M in immediate annual run-rate synergies, which are basically redundancies with current AT&T costs, with another $125M in future costs savings. These savings are to be achieved through integration capex spending, currently estimated to cost from $225M to $275M through 2015.
The acquired assets currently generate roughly $413M in annual EBITDA. This implies a 4.84x purchase multiple given the $2.0B price tag. This is a fairly steep price multiple given these assets are likely to post negative to no growth without significant investments. However, when adding back the expected $125M in annual cost savings, annual EBITDA increases to $538M while the multiple is reduced to a much more modest 3.72x.
As shown below, the acquired assets are to increase Frontier's annual revenues 26% to $6.06B, annual EBITDA 18% to $2.65B, and annual capex spending 22% to roughly $808M.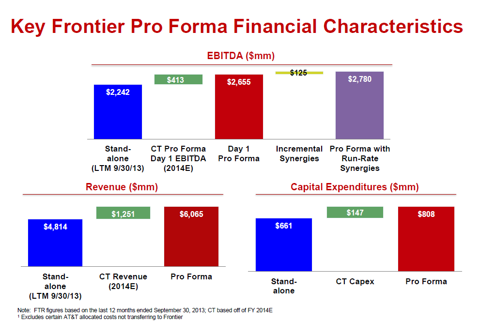 Click to enlarge
Increased FCF to improve payout ratio
The safety of Frontier's dividend is extremely important for the stock as the company's share price has tended to trade inline with its dividend. Do note that Frontier's share price crashed in late 2011 as it became apparent that a dividend cut was extremely likely due to its worsening payout ratio.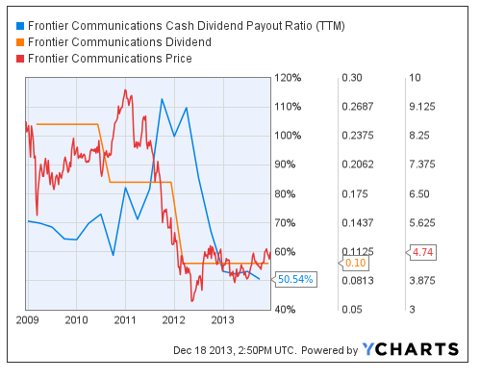 Click to enlarge
The company has noted that the acquisition will be accretive to its free cash flow, or FCF, metrics per share from year one. Initial projections point towards a 5% improvement to Frontier's FCF payout ratio. This should viewed as a positive for the company as the dividend is its primary method of returning capital to its shareholders.
Final Thoughts and Conclusion
Overall, it appears that Frontier is getting a fair price for these assets. Adjusting for the anticipated cost savings, Frontier is paying less than 4.0x EBITDA. By using debt to fund the acquisition, Frontier also avoids some of the hiccups of the prior Verizon transaction. Given Frontier's improving credit ratings, it should receive a relatively good interest rate on its forthcoming debt offerings.
Frontier's acquisition of AT&T's Connecticut wireline assets can be seen as a win/win for both companies. Frontier gets a cash flow rich asset in a high net worth area, diversifying its revenue stream, and adding to its core competencies. AT&T gets rid of a declining legacy asset as well as some cash to funnel either to its cellular expansion plans or towards share buybacks.
Disclaimer: The opinions in this article are for informational purposes only and should not be construed as a recommendation to buy or sell the stocks mentioned. Please do your own due diligence before making any investment decision.
Disclosure: I have no positions in any stocks mentioned, and no plans to initiate any positions within the next 72 hours. I wrote this article myself, and it expresses my own opinions. I am not receiving compensation for it (other than from Seeking Alpha). I have no business relationship with any company whose stock is mentioned in this article.