As America's energy boom continues there are more and more ways for companies to utilize corporate structures in order to create value for shareholders. In messages we have received from readers it seems that there is a lot of frustration with MLPs these days due to their raising capital via the secondary market. In all fairness to these names, we wanted to do a quick run through on some of the deals and why they were necessary, as well as point out some deals that have been done by C-Corps that are also capital raising techniques that the market seems to overlook.
At the end of the day, whether a partnership is selling new units or a C-Corp is dropping down assets, both entities are diluting their ownership interest in their current assets in an attempt to raise capital to invest in other assets (which typically provide higher returns).
Chart of the Day:
Looking at the JP Morgan Alerian MLP ETN, it is obvious that the sector has stalled out recently. It sure does appear that support has been found around current levels however and if the management teams running these MLPs are in fact correct, the capital raises of the past year or two shall begin to grow the distributions soon (especially if energy prices remain strong for those who are producers and not infrastructure plays).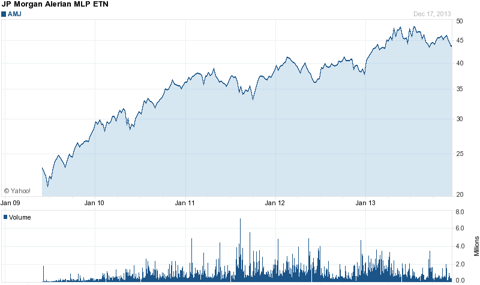 Source: Yahoo Finance
Commodity prices this morning are as follows:
Gold: $1,232.80/ounce, up by $2.70/ounce
Silver: $19.95/ounce, up by $0.11/ounce
Oil: $97.44/barrel, up by $0.22/barrel
RBOB Gas: $2.6609/gallon, up by $0.0137/gallon
Natural Gas: $4.316/MMbtu, up by $0.029/MMbtu
Copper: $3.3555/pound, down by $0.0115/pound
Platinum: $1,350.40/ounce, up by $5.80/ounce
MLPs Continue to Raise Capital
We have received many messages from readers who seem to be fed up with their MLP investments as of late. We feel their frustration, but think that the anger is a bit misplaced. Our frustration with the sector is in the recent performance, however all of these partnerships had tremendous runs prior to the most recent corrections and one can bet that the recent taper talk has played a part in investors exiting positions.
One point which has come up in many of our conversations is that the MLPs are raising capital at a very fast clip these days. We must admit that there do seem to be an awful lot of secondaries taking place these days, but when one looks at what is taking place in the MLP space the capital is needed to continue the buildout in infrastructure that is required to allow for production growth from America's new shale plays. Now this explains the increase in secondaries for the infrastructure plays, such as MarkWest Energy Partners, LP (NYSE:MWE) which announced a secondary late yesterday (see press release here), but not necessarily the other players.
MarkWest was one of the big winners in the sector in 2013 before hitting a rough patch. The units have held in pretty well considering some of the headwinds the partnership has faced. We like this name heading forward, especially with their exposure to the Utica which should continue to see volume growth as producers ramp up production and begin switching to pad drilling.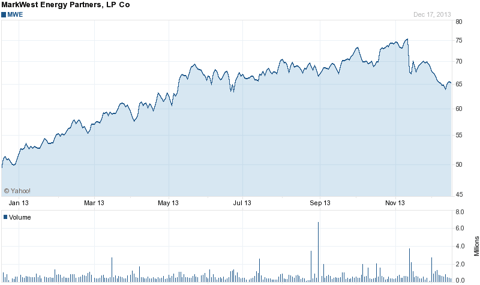 Source: Yahoo Finance
Well our largest holding in the MLP space is in EV Energy Partners, LP (NASDAQ:EVEP) which has been one of the worst performers in our portfolio this year. It appeared that the partnership would not need to raise capital by selling units this year but with natural gas prices lagging and the sale of the Utica assets taking longer than anyone expected unitholders were forced to swallow a 5 million unit sale. We dislike the fact that the units were sold at what we believe is a fire sale price, but the capital was needed to build infrastructure in the Utica to get natural gas and NGLs to market. These infrastructure plays should lead to significant cash flows down the road and could even lead to a spin-off once the business has been firmly established and has predictable cash flows.
Other Assets In Play
Even as the MLPs raise more capital, so too do the other energy companies. In the cases of many of the C-Corps out there, they raise money simply by creating MLPs and recapitalizing their balance sheets. Chesapeake Energy (NYSE:CHK) has done this quite successfully numerous times as it created separate entities that focused on certain shale plays and even infrastructure plays. Chesapeake is not the only name that has looked at how to maximize shareholder value this way, so too has Devon Energy (NYSE:DVN).
Devon will merge assets with Crosstex Energy (XTXI) to form a new MLP that will be controlled by the Devon and run by Crosstex. The deal, announced in late October, was a bit of a twist as most companies have already lined up MLPs to drop assets down into. With this deal Devon now has an affiliated MLP and a vehicle to utilize in order to be tax efficient and shareholder friendly. This is a merger, but more importantly it is a way for Devon to free up capital now and also raise capital later down the road.
Disclosure: I am long EVEP. I wrote this article myself, and it expresses my own opinions. I am not receiving compensation for it (other than from Seeking Alpha). I have no business relationship with any company whose stock is mentioned in this article.