I'm going to go back to a few funds that I have written about previously since nobody seems to understand where to find value in high yielding equity Based closed-end funds (CEFs) these days.
What's funny is that value, which I define as funds with excellent Net Asset Value (NAV) total return performance combined with unappreciated market pricing, sits right under the noses of investors who would seem to rather own the larger and more popular funds from these fund sponsors. With that in mind, I'd like to make some swap suggestions out of some of these more popular funds and into better value funds. Let's start with the Allianz/PIMCO funds.
Sell NFJ, Buy NIE
I'm sorry, but the AllianzGI NFJ Dividend, Interest & Premium fund (NYSE:NFJ), $18.15 market price, $18.55 NAV, is a very average performing fund at the NAV level, despite its popularity with investors which has brought its market price up to just about par with its NAV. NFJ's selling point, I guess, is its fairly large 9.9% market yield which it can offer because it sells a high percentage of options against its global stock portfolio but frankly, there are other option income funds that are just as defensive, have similar yields and trade at much wider discounts than NFJ's -2.2% discount as of December 17th, 2014.
I really don't understand the big draw of NFJ when a very similar fund from the same fund family, the AllianzGI Equity Covertible & Income fund (NYSE:NIE), has had much better NAV performance and sits at one of the widest discounts of any equity CEF at -13.4%. How much better has NIE's NAV been? Here is a two-year graph of the two fund's NAVs - XNIEX (blue line) and XNFJX (red line).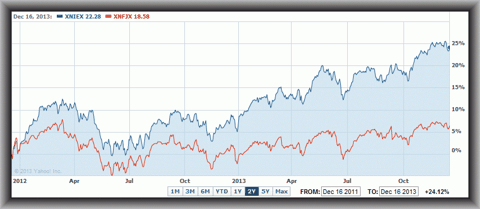 Click to enlarge
Now, these graphs don't include distributions along the way and NFJ's 9.9% current market price yield is significantly higher than NIE's at 5.8%. But even if you added back their distributions, NIE has trounced NFJ at the NAV level, which is the true apples-to-apples performance of the funds.
The reason why NIE will continue to outperform NFJ in a bull market is because NFJ sells a higher notional value of options against its global stock portfolio, whereas NIE sells much less against its mostly US based stock portfolio. Both funds also include convertible securities in their portfolios. The end result is that NIE can capture more market upside and that is shown in its NAV performance YTD, up 20.7%, which for an option-income fund with about 30% of its portfolio in convertible funds is very good.
I am just constantly amazed that a fund like NIE, which is merging with another Allianz/PIMCO to form a larger equity and convertible fund in 2014, can trade at $19.24 when its NAV is not $20, not $20.50, not $21, not $21.50 and not even $22! NIE's NAV sits at $22.21 and yet it's the best performing Allianz/PIMCO equity fund at the NAV level. Oh, and a final kicker. NIE will probably raise its distribution when the merger is finalized in the 1st quarter of 2014. Note: Both NFJ and NIE will go ex-dividend on December 24th.
Sell GGT, Buy GRX
On November 11th, I wrote about the Gabelli leveraged equity funds and suggested investors take a look at a few of their funds that could be declaring special distributions in the 4th quarter and even raising distributions in 2014. You can read that article here.
That is exactly what happened and two funds, the Gabelli Equity Trust (NYSE:GAB) and the Gabelli Global Multi-Media Trust (NYSE:GGT), went from discounts at the time to hefty premiums in the span of a couple weeks as investors gobbled up the funds on the news. Now, I like GAB and GGT in a bull market and both funds have been two of the strongest equity CEFs in 2013, but there comes a time when both fund's market prices have gotten ahead of themselves and there are better valued funds to swap into.
Let's first take a look at GGT's YTD Premium/Discount chart showing the fund's meteoric rise right after the distribution raise on November 21st shown on the far right.

Click to enlarge
This puts GGT's market price at a whopping 12.4% premium over its NAV, its highest in history. BTW, GGT's current yield is NOT 10.95% as shown on CEF Connect. I don't know if that is part of the reason for GGT's rise, but GGT's current yield is really only 7.5% based on the new $0.22/share quarterly distribution and $11.69 market price as of 12/17/2013. GGT concentrates its leveraged stock portfolio in media companies like Liberty Media (NASDAQ:LMCA), DirectTV (DTV) and Yahoo (NASDAQ:YHOO), so you also have to make an investment decision that media stocks will continue to do well in 2014.
Gabelli's most popular fund, GAB, also skyrocketed after the November 21st declaration of distribution raises. This is shown in the far right of GAB's YTD Premium/Discount graph.

Click to enlarge
Now GAB is prone to trading at a premium, unlike GGT, but I still feel both funds have gotten ahead of themselves and short covering could be part of the reason. It could also be that investors are also wrongly assuming GAB's new distribution yield is 10.85% as shown on CEF Connect.
GAB, like GGT, had a special one-time distribution for the 4th quarter which is where those uber high yield calculations are coming from. But GAB, like GGT, raised its future distributions only slightly going forward, which means GAB's true market yield is only 8.1%, not 10.85% as of 12/17/2013.
On the other hand, CEF Connect has the Gabelli HealthCare and WellnessRX fund (NYSE:GRX) at only a 2.25% distribution rate as of 12/17/2013, which is also wrong. GRX actually raised its distribution the most of all the Gabelli funds when declared on November 21st, going from $0.10/share per quarter to $0.12/share per quarter. That 20% increase I fully expected and I thought Gabelli could have gone even higher.
Unlike, GGT and GAB, GRX has since plummeted. Part of that is because GRX had a very large $0.51/share capital gain distribution in the 4th quarter but it may also be because investors are assuming that GRX has a lowered distribution yield according to CEF Connect. That is wrong, because GRX's true market yield is 4.9%, not 2.25% as of 12/17/2013. That may not be as high as GGT or GAB, but GRX at a -10.7% discount is much better valued and I would be swapping into GRX.
Keep in mind that GRX, as a leveraged CEF, can have as much NAV upside as GGT or GAB in a bull market though that will depend heavily on the sectors that the fund's invest in. GRX is a healthcare focused fund though the fund concentrates its stock investments in more than just big pharma and healthcare provider names.
GRX is also about the growing trend toward wellness in America and the fund invests in companies that are on the forefront of that trend. These companies tend to be smaller and have been involved in more mergers and acquisitions over the last couple years than just about any sector. This shows up in GRX's large capital gain distributions each year and I'm hoping Gabelli continues to raise GRX's distribution to better distribute those gains during the year as opposed to a lump sum distribution at the end of the year.
Conclusion
I never thought I would see the day when the Eaton Vance Tax-Managed Global Diversified Equity Income fund (NYSE:EXG) would trade at a narrower discount than the Eaton Vance Tax-Managed Buy/Write Income fund (NYSE:ETB), but here we are.
Now, I'm not as gung ho on this swap since EXG is a much different fund than ETB and the discounts aren't that much different, but historically, ETB has traded at a much higher valuation than EXG. Right now though, ETB at a $14.71 market price and a $15.97 NAV, trades at a -7.8% discount compared to EXG at a $9.95 market price, $10.78 NAV, which converts to a -7.7% discount.
If we have another booming stock year in 2014 like 2013 and the equity markets overseas outperform the US markets than yes, EXG might be a better fund to hold onto. But if the global markets stall or are up even just more moderately in 2014 than 2013, then you're going to want to swap out of EXG and into ETB despite EXG's higher 9.8% market yield compared to ETB's 8.5% market yield. Note: both EXG and ETB go ex-dividend on December 20th.
Disclosure: I am long GRX, NIE, ETB, EXG, GAB. I wrote this article myself, and it expresses my own opinions. I am not receiving compensation for it (other than from Seeking Alpha). I have no business relationship with any company whose stock is mentioned in this article.
Additional disclosure: Short NFJ, GGT