I would like to make a rebuttal of the SA article that declared the unworthiness of BlackBerry (NASDAQ:BBRY). Mr. Kofi Bopah's "Stockholm Syndrome" assessment for BBRY bulls and loyalists is downright unfair. His numbers are on point - BlackBerry did screw up for the last few years. Mismanagement has caused BlackBerry's market valuation to lose almost $80 billion from its 2008 high. Does this really mean that BlackBerry's current valuation of $3.19 billion is here to stay forever?
Yes, there are a lot of people who lost significant amount of money trading the stock and many more investors who shorted BBRY gained a lot of money too from BlackBerry's misfortunes. Such is the nature of the stock market, some giants are turned to midgets and some dwarves grow to gigantic proportions based on decisions and assumptions. However, nothing is permanent and some shrunken giants actually do grow back to their former sizes. One such miracle comeback is Sybase.
I'm exactly pointing a comparison to Sybase because the new war chief at BlackBerry is the man behind the amazing turnaround of Sybase. Chen's experience gives him a strong starting point to map out a new enterprise-centric plan for BlackBerry.
John Chen Can Bring Back BlackBerry's Mojo
BlackBerry's new CEO, John Chen, and other people like me understand that BBRY is much more than just BBM or handsets. Mr. Bopah's misguided disparaging comments on the value of BlackBerry Messaging are wasted effort on his part. BBM is NOT the company's new comeback platform to compete with Apple (NASDAQ:AAPL) and the Android OS of Google (NASDAQ:GOOG). Chen's expertise is in selling big-money mobile data services to corporate clients which is in line with BlackBerry's strong presence in the enterprise market.
Furthermore, despite the crash of BlackBerry's share price and rapid decline in number of handsets sold, its number of active subscribers still increased. In fact, BlackBerry has MORE subscribers this year when it is trading at $6.08 than when it was at $140-ish in 2008 - around 79 million this year compared to the 14 million in 2008.
The great losses it incurred are due to unsold inventory of handsets and the market punished BBRY for it to the tune of shrinking the company's market value by around $80 billion. On the other hand, the 79 million of subscribers that BlackBerry has now is a strong evidence that corporate buyers and governments are still buying or holding on to their BBRY handsets.
The cross-platform and BYOD-compatibility of the new BlackBerry Enterprise Service 10.2 gives BlackBerry further leverage in maintaining its leadership in the Enterprise Mobile Management market.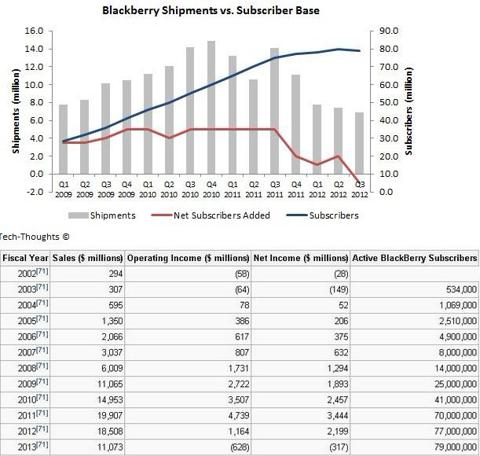 BlackBerry Messaging is Viable
The decision to allow BBM to be cross-platform compatible with iOS and Android OS devices is, as its best, a viral propaganda exercise to help the company penetrate the non-BlackBerry handset users. The messenger is indeed saturated but BBM's ultra-secure and free unlimited messaging is compelling enough for the corporate and ordinary users.
BlackBerry engineers, should the management requires them to, can even increase BBM's appeal by coding in a SnapChat-like feature like what Facebook (NASDAQ:FB) did with the new Instagram Direct. BBM's already high-security level can further be strengthened from a user-enabled feature that lets messages be automatically deleted.
Monetizing BBM is not yet official and may not actually be implemented. BlackBerry is not going into target advertising. In my humble opinion, Chen is more focused on expanding the company's enterprise business. The company is a bit cash-strapped at the moment and he is not stupid to waste money now on making BBM a vehicle for advertisements.
Conclusion
BlackBerry long-term holders are not rabid and certainly are not being held hostage. They choose to hold on to BBRY because they firmly believe that the company, with the help of its new CEO John Chen, can make the stock regain most of its lost former glory.
In fact, now that the stock is so cheap, it's a good time to buy more BBRY. The patent portfolio alone of BlackBerry is maybe worth around $2 to 3 billion already. The $3 billion market valuation is too low. Again, buy more BBRY if you dare go against Mr. Kofi's "worthless" valuation of BlackBerry. A 20% equity dissolution in the future is palatable if BBRY hits $30 or more.
Disclosure: I have no positions in any stocks mentioned, and no plans to initiate any positions within the next 72 hours. I wrote this article myself, and it expresses my own opinions. I am not receiving compensation for it (other than from Seeking Alpha). I have no business relationship with any company whose stock is mentioned in this article.