This is my favorite time of year... not because of the holidays, vacation, or even new year. It's because it's Fantasy Football playoff time. What does this mean for your stock portfolio? More than you may think...
I am a very big football fan, playing both fantasy sports and running a sports card business on eBay (NASDAQ:EBAY). I know first hand how much I and other people spend on football each year, and the possible profits.
As the Fantasy Sports Trade Association predicts, more than 33M people in the USA (13% of population) play fantasy sports and spend $111 on average. They also say that football represents 90% of fantasy sports, meaning roughly 30M people play fantasy football, spending an estimated $3.3B. How can investor benefit from this?
By looking at the numbers posted by the Fantasy Sports Trade Association, we can see that $17, on average, is paid to the fantasy providers (money that the company does not pay back, such as transaction fees and charges). This means that the main fantasy providers, ESPN (NYSE:DIS) and Yahoo! (NASDAQ:YHOO), should make roughly $560M in fees a year (this does not include premium advertisements, which Yahoo! has been doing a lot of).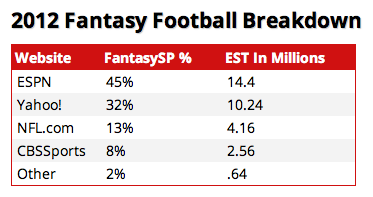 I believe that the best way to play the fantasy market is through Yahoo!, as they have a much smaller market cap (and earnings) than Disney. If Yahoo! earns $17 a player, that is equivlant to roughly $174M in revenue. Now, take into consideration that the market will grow nearly 10% a year until 2017, and we're looking at roughly a $280M revenue per year business for Yahoo! in 2017. These numbers do not include increased advertisement revenue, or an increase in market share:
"We have seen 100% growth in daily active users over last quarter, and a 50% increase over last season. And with our leadership position in Fantasy Sports, our users have a voracious appetite for our products, spending more than 23 billion minutes playing every year. We've been hard at work making significant product updates."

-Marissa Myer, Q3 Earnings Transcript
Analysts estimate that Yahoo! currently makes roughly $100M - $200M a year from their sports subsidary - this is in line with my estimate. Valuing their high growth fantasy business at 4 times sales (P/S), we can see an $800M sports subsidary. This is just a fraction of the possibilites at Yahoo! and its subsidaries.
As a continuation of my previous article, Yahoo! has a flood of possibilities that I believe are still underlooked.
Alibaba Group (24% stake)
Alibaba.com is one of the largest online retailers in the world, with over 2 million supplier storefronts. As an adjustment to my previous article, investment banks are now valuing Alibaba at as high as $120B, increasing the value of Yahoo!'s stake to a possible $28.8B. If Yahoo! was to sell all of its shares during the IPO at a $100B valuation, its stake would still be worth $24B, or 60% of Yahoo!'s $40B market cap.
Yahoo! Japan (35% stake)
Since Yahoo! Japan is a public company on its own right, it makes it extremely easy to value Yahoo!'s stake. With the shares trading with a market cap of 3.2 Trillion yen, or $31.4B in USD, Yahoo!'s 35% stake is worth approximately $11B.
Yahoo's Core Business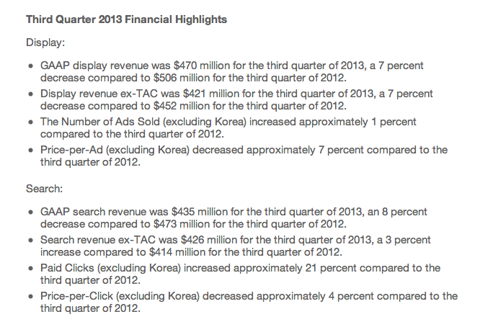 Total GAAP revenue from Yahoo!'s core business in Q3 was $905M. On an annualized basis, Yahoo!'s core business makes $3.6B in revenue a year. On a conservative ration of three times sales (P/S), Yahoo!'s core business is worth $10.8B.
When you add the parts, Yahoo! is worth an estimated $46.6B, or 17% above the current market cap. While some may want a brake from Yahoo!'s recent run up, I believe that there is still plenty of potential. Yahoo! has the ability to expand its Sports segment, including offering research and increasing advertisements. If a turnaround occurs in their core business, as we have long awaited, the stock is surely to head towards the prices it has previously traded at.
While I only used a $100B evaluation for Alibaba, it can be seen as both too high or too low to some (and Alibaba is the source of roughly 50 - 60 percent of Yahoo!'s value). The ball is in your court: my call is a buy, but some may call a different play and see a red flag in the near future.
Disclosure: I have no positions in any stocks mentioned, and no plans to initiate any positions within the next 72 hours. I wrote this article myself, and it expresses my own opinions. I am not receiving compensation for it (other than from Seeking Alpha). I have no business relationship with any company whose stock is mentioned in this article.