This pretty much says all you need to know. It's a story about Toyota (TM). But it's not so much about the recall fiasco, as much as it is an indictment on the analyst community covering the company:
Eighteen equity analysts cover Toyota stock, which is traded on Wall Street (as American Depository Receipts, under the ticker TM) as well as in Tokyo. And as of the middle of January, no fewer than 16 recommended it to their clients, calling it either an "outperform" or a "buy."

Just one rated it an underperform.
This should not come as a surprise. Numerous studies, including studies done for The Wall Street Journal itself, have shown that the stocks that analysts like the most are the stocks that tend to perform the worst.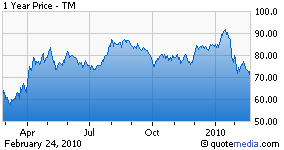 There's another tendency that analysts have that I would watch for in the days and weeks ahead. I've written about it before, but it's worth restating for those unfamiliar with the study. It has nothing to do with the performance of the stock or the company. Instead, it has to do with the analysts themselves. It's cheating. This may be the pessimist in me talking now, but there is a basis for it, as this widely known research paper shows:
We document widespread changes to the historical I/B/E/S analyst stock recommendations database. Across seven I/B/E/S downloads, obtained between 2000 and 2007, we find that between 6,580 (1.6%) and 97,582 (21.7%) of matched observations are different from one download to the next. The changes include alterations of recommendations, additions and deletions of records, and removal of analyst names. These changes are nonrandom, clustering by analyst reputation, broker size and status, and recommendation boldness, and affect trading signal classifications and back-tests of three stylized facts: profitability of trading signals, profitability of consensus recommendation changes, and persistence in individual analyst stock-picking ability.
Anyway, I would not be surprised at all if we started seeing a rewriting of history here. If past behavior holds, you'll soon see changes in the IBES analyst stock recommendation database for Toyota. My bet is that a few weeks or months from now, you'll find that the analyst rating databases will show that there were a lot more bears on Toyota than there actually are.