First step in approaching commodities as an investment is to understand that "commodities" do not comprise a homogeneous asset class. Too many strategists when discussing the subject demonstrate their lack of understanding of commodities by treating them as a single asset class. Commodities include a number of natural resources that may or may not be closely related. The economic drivers for Agri-Commodities are far different from those for oil or copper.
Agri-Commodities, unlike other commodities such as copper or iron ore, is comprised of a diverse set of sub markets. Individual Agri-Commodities demonstrate considerable independence, but are also fundamentally interconnected. An obvious example is beef and corn. The production of cattle and the growing of corn do not interact or intersect immediately. However, producing adequate beef for the world would be difficult without the corn to feed cattle to market weight. Therefore, beef production influences the price of corn while at the same time the price of corn influences beef prices.
A less apparent connection may also exist as that between soybeans and cotton. In that case some producers have the ability to switch land from one to other. Low cotton prices encourage those farmers to switch to planting soybeans. That action will have an impact on the price of soybeans which in turn influences beef prices as soymeal is a source of animal feed as well as oil.
To approach any Agri-Commodity related investment several forces must be considered. If an investment is indirectly related, such as an equity, which Agri-Commodities are the most important. Second, what is the price trend for each of those commodities. Third, what are and what will be the fundamentals for the commodities. Fourth, how do related commodities, such as soybeans and palm oil, influence the supply/demand situation in each other.
In the following chart sixteen Agri-Commodities are ranked by price trend strength. That measure is calculated using the slope of a regression line for prices relative to a mid point. As it measures past price action, it is often a negative indicator of future price developments due to the nature of Agri-Commodities. In Agri-Commodities, low prices today normally lead to higher prices in the future, and vice versa.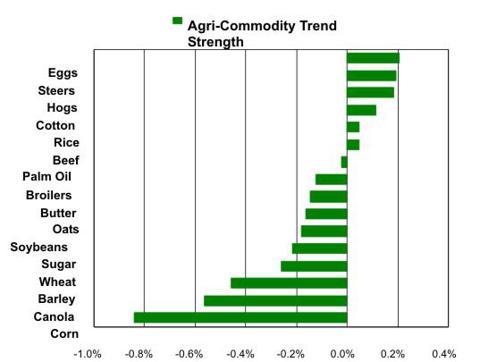 Found in the top sector of the chart are animal proteins, cattle and hogs. In the case of beef, the fundamentals suggest some persistence of currently high price levels. Beef is not produced in a factory, as some journalists seem to think. Takes roughly nine months for a calf to be born, and many months of feed to bring that animal to market weight. Beef and cattle prices strength should persist into the second half of 2014. Longer term animal proteins will be in a persistently inadequate supply situation globally. A beneficiary of this is JBS SA (OTCQX:JBSAY), the largest animal protein company in the world. While based in Brazil, three quarters of its sales are in the U.S. through Pilgrim's Pride (NYSE:PPC) and Swift.
Near the bottom are four important Agri-Grains, corn, canola, wheat and soybeans. Corn is perhaps to be the more interesting in the coming year. Prices for Agri-Commodities have consequences, they influence future production.
In 2012, with corn over $8, the price trend strength was extremely high. Farmers responded to that high price by aggressively planting corn and the weather cooperated. As a consequence, corn prices collapsed to near $4. With low prices, as reflected by the abysmal price trend strength of corn, farmers in the U.S. will likely reduce their planting of corn in Spring 2014 by a significant amount. Prices a year from now are likely to be higher for corn. We would not want to be short December 2014 corn.
As demonstrated by the weekly export numbers from the USDA, demand for Agri-Grains around the world is exceptionally strong. As we have previously written, grow it and the world will eat it. With strong demand a given, the supply response of corn next year is of importance. 2014 should be a year of rising corn prices which will add support to the prices of other grains. Price of corn also attracts investors to the sector.
Given the bountiful 2013 North American harvest, 2014 is to be a year when the Agri-Industries will benefit from strong volume movement with a positive price trend for Agri-Grains. That combination also sets up a good cash flow situation for farmers that will spill over into their 2015 spending. Thus, we are looking at two good years for Agri-Industries, and a positive long-term view based on global demand growth. Beneficiaries of this situation include, but are not limited to, Archer Daniels (ADM), Bunge (NYSE:BG), Agrium (AGU), AGCO (NYSE:AGCO), Deere(NYSE:DE), and Wilmar (OTCPK:WLMIY).
Disclosure: I have no positions in any stocks mentioned, and no plans to initiate any positions within the next 72 hours. I wrote this article myself, and it expresses my own opinions. I am not receiving compensation for it (other than from Seeking Alpha). I have no business relationship with any company whose stock is mentioned in this article.