China Unicom (NYSE:CHU) may the big winner in China's emerging smartphone market. While China Unicom has only 111.6 million 3G customers compared to 169.5 for its larger rival China Mobile (NYSE:CHL), China Unicom profit has been rising quickly while China Mobile's has faltered.
In terms of total subscribers, China Unicom's 272.8 million falls far short of China Mobile's 755.2 million. So why does China Unicom have a much greater share of 3G users than China Mobile? The key has been China Unicom's emphasis on an industry standard 3G protocol versus China Mobile's home grown TD-SCDMA version.
China Mobile seeks to change all that not by changing its 3G protocol but by Qualcomm's introduction of TD-SCDMA chip sets soon to be incorporated on many of the most popular smartphones and by offering Apple's very attractive iPhones which will now also run on China Mobile's network. Emphasis on growing its higher speed network has already seen China Mobile eat into China Unicom's market share.
China Unicom, China Mobile and rival China Telecom (NYSE:CHA) form an oligopoly in the Chinese telephone industry and all are moving towards 4G networks to expand. China Mobile plans an aggressive roll out of TD-LTE to see if it can extend its lead in subscribers to a great share of high speed subscribers.
TD-LTE is a home grown 4G protocol unique to China while most carriers outside of the country use a more mature standard known as FDD-LTE. TD-LTE will be expensive to build and is incompatible with existing networks in China exposing all carriers to extra capital costs.
China Unicom seemed to want to meet China Mobile head-on and build its own TD-LTE network. Smaller China Telecom is going to join the fray by leasing bandwidth on China Mobile's network. This strategy makes sense. With only 69 million 3G subscribers of a total of 169 million mobile customers, the capital costs of an expansion into 4G are a high risk.
If China eventually lines up with standards used worldwide, China Telecom can quietly drop the lease. SA Author Doug Young wrote a column on his blog describing the issue and arguing China Unicom may be making a big mistake. Doug updated that blog today with news that China Unicom has scaled back its TD-LTE plans and will go with FDD-LTE as soon as those licenses are available.
The initial launch of China Mobile's 4G service will attract subscribers at the high end and likely give it a short term boost. Cell phone number portability is not currently provided in China although expected in 2015. Those China Mobile subscribers who wanted an iPhone, for example, may have deferred their purchase of a new phone waiting for the eventual iPhone availability on China Mobile rather than moving to another network, perhaps creating some pent up demand.
At the same time, the current lack of cell phone number portability may limit China Mobile's success in attracting subscribers on its new 4G network or on the strength of its imminent launch of iPhones on its network. Certainly those using China Telecom will have no reason to move given that it will provide 4G services on the China Mobile platform.
The iPhone may not be as big a draw as many think. A recent survey of over 200,000 Chinese found that the vast majority thought even the less costly iPhone 5C was too expensive. It is possible that only the wealthiest of Chinese will be tempted by the new iPhones and whether they will switch to China Mobile or stay with China Unicom remains to be seen.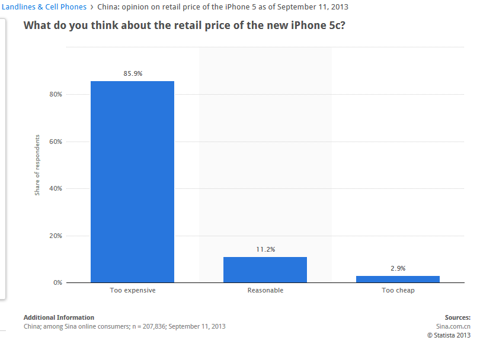 The moves by China Unicom to roll out its own more limited TD-LTE service are clearly defensive short term, but their decision to move to FDD-LTE longer term is smart. They will match the service on China Mobile for the time being and likely retain their subscriber base, with some drag on profits, but will emerge a winner longer term by adopting the international standard. For travelers, the international standard ensures their phones will work outside of China simply by changing SIM cards.
At the same time, China Telecom's strategy is a sleeper. The largest provider of landlines in China, China Telecom entered the mobile business in earnest in 2008 with the $15 billion purchase of China Unicom's CDMA business. By now offering 4G services on bandwidth leased from China Mobile, it can attract mobile customers across its vast network without the massive capital costs the other operators are facing.
The playing field is changing rapidly and competition in China's telecommunications industry is heating up. At this point, it looks like China Unicom has a viable plan to keep growing in high end services.
I have no position in any of the Chinese telecommunications stocks at this time, but may trade any of them at any time.
Disclosure: I have no positions in any stocks mentioned, and no plans to initiate any positions within the next 72 hours. I wrote this article myself, and it expresses my own opinions. I am not receiving compensation for it (other than from Seeking Alpha). I have no business relationship with any company whose stock is mentioned in this article.