Amira Nature Foods (NYSE:ANFI) is a low quality, Indian rice distributor that with the help of management and sell-side promotion has seen its stock price rise to a completely unjustified level. The bull case for Amira is predicated on a several misconceptions and overlooked risks. A number of near and medium-term catalysts exist that should lead to a meaningful decline in the stock.
Misconception #1: Amira is a branded health food products company comparable to Annie's (NYSE:BNNY) and Hain Celestial (NASDAQ:HAIN). As such, ANFI should trade at a multiple commensurate with these consumer packaged goods companies.
Reality: Management cleverly states that "Amira branded and third-party branded products contributing 98.2% of our revenue." Although this statement is technically accurate, only 28% of total revenue comes from Amira branded rice, the remaining 72% comes from rice processing for private label and "opportunistic sale of bulk commodities." This fact is curiously absent from the quarterly filings and needs to be calculated from notes in the MD&A section of the annual report. The contribution from the Amira brand has been declining, down from 34% at the IPO. It is no wonder the company is burying this information. This also seems to be glossed over by Wall Street analysts who are no doubt seeking banking business. As the below comparison demonstrates, ANFI is much closer to a capital intensive agriculture processor than to a branded health food company like BAIN or HAIN. In fact, rice processing is what the company was known for until it added "Nature" to its name before marketing for its US IPO in 2012.
The Amira Pure brand only launched outside India two years ago and in India in 2009. The words "Research & Development" don't appear in any of its filings. Although not disclosed, it's possible the Amira has spent less than $1M in product development. Amira is just selling bags of rice with close to zero value-add. Regardless how commoditized its product, a company needs to invest in its brand. Yet, ANFI's LTM marketing budget was less than $40M or 8% of revenue versus the CPG industry average of 20-22% of revenue (based on SG&A). As presented in the table below, BNNY alone spent significantly more on marketing on nearly one-quarter of the revenue base.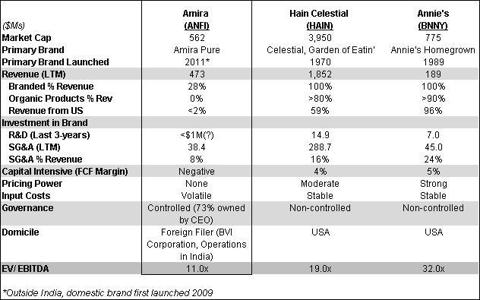 Comparable agriculture processors and capital intensive commodities distributors (KRBL, LT Foods and REI Agro) trade at 3-5x EV/ EBITDA versus ANFI that currently trades at 11x. At the peer multiple, the ANFI would trade at $4-5 per share, 75% below the current price.
Misconception #2: Amira is a vertically integrated.
Reality: ANFI sources its rice from agents, does not have any transportation assets (ie. trucks, port facilities) and most significantly, it only processes 1/3 of the rice it sells from the single facility it owns. The company has acknowledged that this places it in a potentially precarious situation (ie. it makes ANFI beholden to other processors that are also competitors). Below is a table detailing the rice milling capacity of the leading Indian rice companies. With only 12 metric tons per hour, ANFI does not even make the table.

In the risk factors section of the latest quarterly filing Amira notes that the new facility will cost $64M to build. Given ANFI's current liquidity and near-term capital needs, it is likely it will need to do an equity raise.
Misconception #3: ANFI has a relatively attractive cash profile.
Reality: The Company has severely under-invested in capital equipment (capex was less $4M over the last 3 years) yet its FCF profile is still very poor. LTM FCF was -$74M (under IFRS, ANFI chooses to report CFO before interest expense). Since basmati rice needs to age rice for 10-14 months, ANFI has relatively large working capital needs and commodity price exposure.
Misconception #4: CEO Chanana repeatedly stated he intends to purchase shares.
Reality: Between the initial holding disclosure on February 14, 2012 and the most recent ownership on November 13, 2013 he has been a net seller of 12k shares. From 19,660,000 to 19,648,667 shares, adjusted for the generous option grants he receives annually (equivalent to 1% of the shares outstanding).
Where exactly is the growth coming from?
Amira revenue grew 36% Y/Y last quarter. Disclosure here is very cursory. In the 6-K, ANFI groups Amira branded with third-party private label so one cannot see how much the brand is growing. The company does not provide any detail about growth by region so one has no idea of the level of revenue contribution from India and outside. Management would not even provide those basic details when asked on the last earnings call. Also no pricing or volume detail was disclosed. How can anyone get comfortable with company guidance if they don't know have any insights on the drivers of that growth?
Meanwhile, peers are experiencing significant pressure in India due to a spike in the price of rice. In Q3, McCormick (NYSE:MKC) reported that "sales in India declined significantly as consumers reacted to a significant increase in the cost of rice." Somehow this has not had any effect on Amira.
Country Risk: Increasing fiscal challenges, latest PPI showed 11% inflation and an ongoing weakness in the rupee present potentially significant risks since all Amira's product is sourced in India and 50% of its revenue is domestic.
Corporate Structure: ANFI's headquarters is in the UAE, it is incorporated in the BVI, operates through an India-based subsidiary which is held through a Mauritius-domiciled entity. Does this set-up remind anyone of the Chinese RTOs?
Management & Board of Directors: In October independent board member Dan Malina departed with no reason provided. He is a partner at the US private equity firm Metronome Partners. Malina was replaced by Harash Sethi, a European alternative energy investor. In September 2012, Amira's COO Protik Guhu was accused of smuggling $10M of rice and was charged with contempt of court by the Philippines Senate.
Conclusion: Awareness of these issues and the Company's likely need to raise capital should result in a significant downward adjustment to ANFI's multiple and stock price.
Disclosure: I am short ANFI. I wrote this article myself, and it expresses my own opinions. I am not receiving compensation for it (other than from Seeking Alpha). I have no business relationship with any company whose stock is mentioned in this article.