What's wrong with Big Lots Inc. (NYSE:BIG)? Once the darling of Wall Street, this closeout retailer is a Zacks Rank #5 (Strong Sell) as earnings are expected to fall 22.7% this year as same-store sales decline.
Big Lots operates 1,526 Big Lots stores in the United States, 5 Big Lots stores in Canada and 73 Liquidation World and LW stores in Canada.
Shuttering the Canadian Operations
On Dec 5, Big Lots reported its third-quarter fiscal 2013 results and announced it would close its Canadian operations by the first quarter of fiscal 2014. It acquired the Canadian operations in July 2011 but it could not turn around the business. The Canadian operations remained unprofitable.
Closing up Canada would allow Big Lots to focus on its U.S. stores. Those stores are also struggling.
In the third quarter, same-store sales at U.S. stores fell 2.5%. The company expects fourth-quarter same-store sales to decline in the low to mid-single digits.
For the year, total U.S. sales are expected to decline 6% to 8%.
Inventories also rose in the third quarter to $1.24 billion from $1.19 billion a year ago. The rise was due to more U.S. stores and a 2% increase in inventory per store in the U.S. Rising inventories are usually not a good sign for a retailer.
Full Year Estimates Cut
With sales declining and the Canadian operations being shut down, it's no surprise that earnings are expected to fall in fiscal 2013.
The company gave earnings guidance between $2.40 and $2.55. Seven analysts have lowered their estimates since the earnings report, which has pushed down the fiscal 2013 Zacks Consensus Estimate to $2.31 from $2.94. That is under the company's guidance range.
Analysts are bearish on fiscal 2014 as well. The fiscal 2014 Zacks Consensus Estimate has fallen to $2.56 from $3.26 in the last four weeks. That is $0.43 under the $2.99 the company made in fiscal 2012.
Shares Plunge
After the earnings report, shares took a dive. But they're still not at a 52-week low which was recorded in early 2013.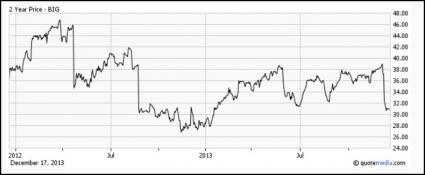 Big Lots is in the middle of a business transformation. The Zacks Rank is a short-term recommendation of one to three months. The "Strong Sell" recommendation reflects the difficulties that Big Lots faces in the near term.
If you're looking for a discount retailer that isn't having to shutdown an unprofitable division, take a look at TJX Companies (NYSE:TJX). The parent of TJ Maxx and Marshalls is a Zacks Rank #2 (Strong Buy) with earnings expected to grow 13.5% next year.
BIG LOTS INC (BIG): Free Stock Analysis Report
TJX COS INC NEW (TJX): Free Stock Analysis Report