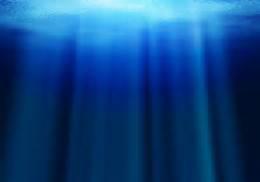 2013 has been smooth sailing for stocks for the most part. The S&P500 (NYSEARCA:SPY) (NYSEARCA:IVV) is up around 25% YTD and volatility has been very low. "Never in my life before have I experienced such beauty, and fear at the same time." -Ellen MacArthur. The combination of high gains and low volatility is exceptional. As the S&P500 cruises with the nice breeze behind it, is there a storm looming around the corner? History tells us that the weather will change.
First, taking a look at volatility itself over the past years, measured by the standard deviation of the S&P500, we can see that volatility is on the low side. For several months this year, watching the S&P500 was like watching paint dry. However, volatility can go lower as we saw happen in 2005 or 2006.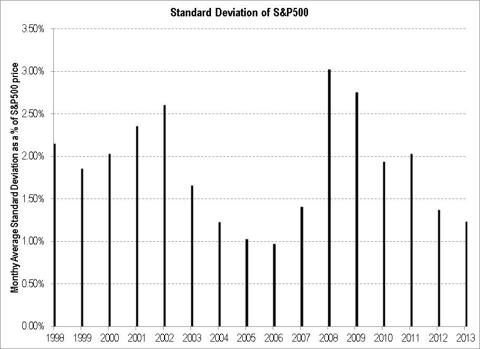 What is more interesting is the amount of return in relation to the amount of volatility. This can be computed simply by taking the S&P500 returns divided by the standard deviation in the previous graph, a simplistic Sharpe-like ratio to measure the amount of return per unit of risk.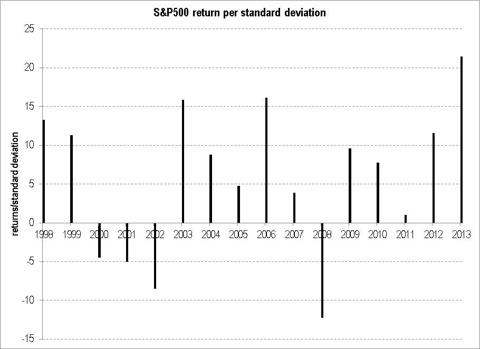 The result for 2013 YTD is at an all-time high over a period of more than a decade, even higher than 1998 and 1999 when stocks were screaming to new highs during the tech bubble. Prior to 2013, this amount has been greater than 20 nine times since 1950. Whenever this amount was greater than 20, history provided us with an unprecedented outcome:
1) The S&P500 return was always less the following year, by 20.4 percentage point on average. So if the average applies, returns will be around 5% in 2014.
2) Also, the amount of return per unit of risk always decreased the following year.
Now is a good time to rethink your asset allocation strategy. While a storm is not for sure, if history holds, smooth sailing for the S&P500 is going away. The attractiveness of stocks versus other asset classes may change. As such, 2014 may become more favorable for more dynamic strategies that harness market movement and/or ones that modifying asset allocation according to the relative valuation of markets.
Disclosure: I have no positions in any stocks mentioned, and no plans to initiate any positions within the next 72 hours. I wrote this article myself, and it expresses my own opinions. I am not receiving compensation for it. I have no business relationship with any company whose stock is mentioned in this article.
Additional disclosure: Article is for educational purposes and should not be construed financial advice.