Emerging markets have lagged this year and now look to be among the cheapest stocks available relative to other options but they also look inexpensive relative to themselves. The Russian market looks particularly inexpensive. Using the Market Vectors Russia ETF (NYSEARCA:RSX) as a proxy we find that last 12 months Price/Earnings ratio is 6.37 and LTM Price/Book is 0.89. The Russian market has been left for dead likely because of a combination of a bad reputation for corporate governance combined with poor historical stock performance. There are a couple of catalysts that could drive prices higher from depressed levels. First, Russia has been focusing on improving the business environment as displayed by the World Bank and International Financial Corp. where Russia was ranked 92 out of 189 countries in terms of overall ease of doing business. This is up from 111 last year showing solid progress. Second, Russia may require state owned companies to pay a dividend of 35% of earnings. This would require companies to be more shareholder friendly and to be more diligent with their capital. This would also drive overall yield higher for Russian stocks paying investors to wait which should drive interest in Russian stocks in the current yield starved environment. These developments should drive Russian stocks higher and as you can see from the performance below it is not unheard of to see annual returns north of 50% particularly when valuations are this depressed.
Emerging markets are less efficient markets where good active managers should be able to generate superior returns. The Templeton Russia and Eastern Europe Fund Inc. (NYSE:TRF) is a closed end fund managed by legendary emerging markets investor Mark Mobius that is trading at a 10.4% discount to its net asset value. This fund offers a discounted way to get access to active management in a depressed market poised for attractive returns.
Performance:
While not exactly apples to apples, the RSX offers a reasonable comparison. TRF has the ability to invest outside of Russia but the majority of the fund's holdings are Russian. As you can see, returns have been very volatile but recently TRF has offered superior performance on both a NAV and price basis. Additionally, 10-year annualized returns have been strong at 9.78% on a NAV basis.

Premium/Discount: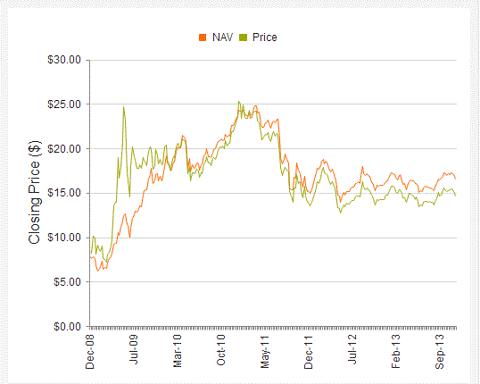 The fund closed 12/13/2013 at a 10.4% discount to the NAV or underlying value of the portfolio. This is below the 52-week average discount of 10.04%. If you look back on a 5-year average basis the fund traded at a 1.73% premium so there is the possibility that the market price could move back to parity. The discount is likely due in part to the weak recent performance of emerging market stocks in general and Russia in particular. If we see improvement in sentiment toward emerging markets then the discount would likely narrow at the same time that underlying performance is advancing leading to strong investment returns.
Expense Ratio:
The fund has a tiered management fee based on assets under management. However, the first breakpoint is at $1 billion. It is unlikely that this $100 million fund will get there anytime soon. Effective May 1, 2013 the fund increased its asset management fee so that below this first breakpoint the fee is 1.30% but at the same time removed the administration fee so in effect the expense ratio remains the same. The total cost of fund management is 1.57% fairly high as funds go overall but for a niche emerging market fund it isn't too bad.
Distribution:
The fund pays an annual distribution that includes investment income as well as any capital gains that were realized on the portfolio during the year. On 12/11/2013 the fund paid its annual distribution of $0.1882/share consisting of investment income payable 12/31/2013. This represents a 1.25% distribution on the fund at the market price or 1.13% on the NAV.
Leverage:
This fund does not employ leverage.
Liquidity:
TRF trades 23,000 shares daily. At current prices that represents $345,000 per day in value. This is a thinly traded issue but should allow individual investors the ability to get their orders filled. Due to the low volume, limit orders should be used to purchase or sell shares.
Management:
TRF is managed by Franklin Templeton Investments a firm with deep experience in emerging markets. The famous Dr. Mark Mobius is the portfolio manager of the fund. He has been investing in emerging markets since 1987 and has been the portfolio manager of the fund since 1995. So as you can see the fund is in good hands.
Holdings:
Asset Allocation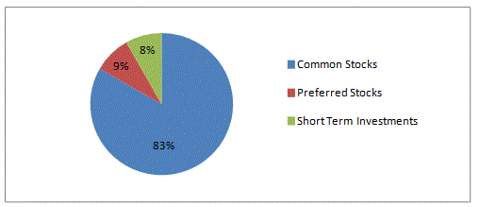 The fund is mostly invested in common stocks with a couple of preferred stocks thrown in for good measure. The 8% cash allocation gives the fund a little dry powder to play with if they find any new opportunities and should dampen some of the volatility expected if investing in these markets.
Country Allocation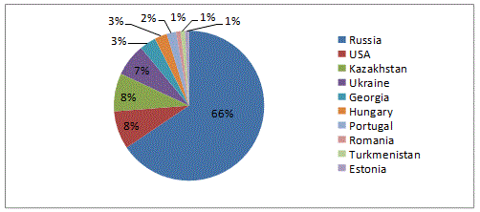 The majority of the fund's assets are invested in Russia but there is money invested in former soviet bloc countries as well as other emerging European countries. The manager has the flexibility to invest in assets outside of Russia, which should benefit shareholders as some of these assets are likely to have more attractive valuations because they are not included in the BRIC countries that get so much focus in emerging market investing.
Sector Allocation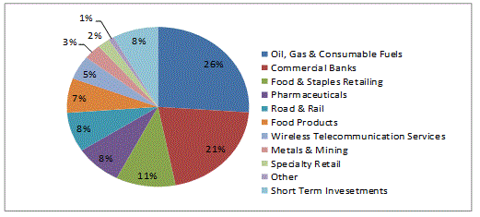 The Russian market is dominated by oil and gas companies due to the large natural resource reserves in Russia. This fund has a large allocation to these assets but also allows for diversification away from these standard Russian investments and has money in many other sectors with a notably large allocation to financials. This should allow the fund to have lower correlation to energy prices than the Russian market overall. This should also increase the exposure to the overall Russian economy and the emerging consumer.
Top Holdings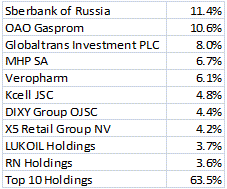 The fund is highly concentrated with 63.5% of the fund held in the top 10 names. There are only 33 assets in the full portfolio. This concentration has the potential to increase the volatility of the fund but can also allow for stronger results if the manager is successful in allocating capital to attractive names by not diluting the best ideas with investments in companies where the manager has less conviction.
*All portfolio information as of 9/30/2013
Strategy:
The fund invests at least 80% of net asset in investments that are tied economically to Russia or Eastern European countries. The fund uses a long-term value approach to construct a concentrated portfolio with a value bent.
Tax Issues:
As of 9/30/2013 the fund had $24,809,244 of unrealized appreciation offset by $11,001,961 of unrealized depreciation and $1,484,954 in tax loss carry forwards. There is some risk of a large tax headache. However, the fund has traditionally shown a low turnover rate, generally less than 40% a year, so significant tax issues are not expected.
Conclusion:
This fund trades at an attractive discount that will likely narrow if the performance of the Russian market improves. It is a concentrated portfolio with a solid management team that is targeting investments in an inexpensive market segment that has been left for dead. However, the historical volatility should be considered and this fund ranks relatively high on the risk/return spectrum.
Disclosure: I have no positions in any stocks mentioned, and no plans to initiate any positions within the next 72 hours. I wrote this article myself, and it expresses my own opinions. I am not receiving compensation for it (other than from Seeking Alpha). I have no business relationship with any company whose stock is mentioned in this article.