The U.S. coal industry has been going through a downturn, as coal prices remain weak and demand stays soft. To survive and navigate through the downturn and boost liquidity, debt-ridden coal companies are opting for different options, including sale of assets, debt issuance to extend maturities and cutting costs. Alpha Natural Resources (ANR) is among the leading coal companies in the U.S., with notable exposure to met and thermal coal markets. Last week, the company announced to sell its stake in a shale venture and disclosed that the company will issue $300 million convertible notes to boost liquidity. The measures taken by the company are necessary to extend debt maturities and boost liquidity, as ANR burns cash due to the continued weakness in coal markets. Moreover, I am downgrading ANR from 'buy' to 'hold', as met coal prices remain under-pressure.
Improving Financial Flexibility
Asset Sale
Last week, ANR announced that it was going to sell its 50% stake in a shale gas joint venture for $300 million in cash and shares to Rice Energy. ANR will receive $200 million in common stock of Rice Energy and $100 million in cash; Rice Energy plans to hold an IPO in early 2014. Also, ANR is entitled to appoint one member to Rice Energy's board of directors. The transaction will help ANR improve its financial flexibility and strengthen its overall liquidity of $2 billion. The company continues to hold another 10,000 acres of Marcellus gas assets, which it could sell in the future to strengthen its balance sheet if coal market conditions remain weak.
Coal companies have been targeting to sell their assets in weak coal market conditions to survive the prevalent industry downturn. Arch Coal (ACI) and Walter Energy (NYSE:WLT) are other coal companies that have been targeting asset sales to improve their financial flexibility. In the recent third quarter, ACI sold its Utah mines to Bowie Resources for $435 million and WLT has plans to raise $250 million from the sale of assets in the near future to boost liquidity.
Issue of Convertible Notes
Apart from the sale of assets, the company has been considering other options, like issuing convertible notes to extend debt maturities in order to navigate through the difficult times. Last week, ANR announced that it was going to issue $300 million of 4.875% convertible senior notes due in 2020. The company has the option to convert the notes into cash, common stock or a combination of the two. The proceeds of the issue are expected to be used for repurchasing upcoming debt maturities. Currently, the company has a debt-to-equity of 78% and has approximately $2.045 billion worth of debt maturities from 2015 through 2019. The following chart shows ANR's debt maturity profile.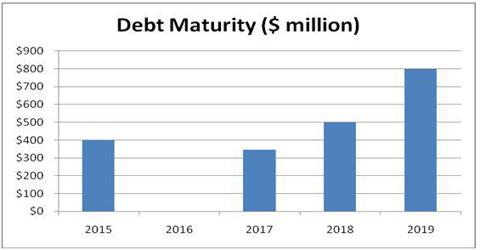 Source: Company Reports
Low Met Coal Prices
Met coal prices have been under pressure as of late, as the market remains oversupplied. Met coal spot price has dropped to approximately $133/ton, down from the fourth quarter benchmark price of $152/ton. I believe the primary reason for the weakness in the met coal market is excess supply. As the cost curve of coal producers has moved lower, due to cost control efforts, met coal supply has remained excessive, limiting the price recovery. Met coal markets are expected to remain oversupplied in the near future as additional supplies are expected to come in markets throughout 2014, which will limit the met coal price recovery. Analysts are expecting the 1Q2014 met coal benchmark price to settle around $140-$145/ton, down from the 4Q2013 benchmark price of $152/ton. According to Citigroup analyst Brain Yu, ANR is expected to realize an average met coal price of $89.27/ton in 2014 as compared to $106.13/ton in 2011. As the met coal market is expected to remain oversupplied, it limits a met coal price recovery; therefore, I am downgrading ANR from 'buy' to 'hold'.
Conclusion
ANR currently has enough liquidity, with approximately $2 billion in cash and revolving credit limit, however, the company is correctly taking steps to position itself for a prolonged downturn. We might see the company take additional measures to strengthen its balance sheet as the met coal market remains weak. Also, due to an oversupplied met coal market and depressed prices, I am downgrading ANR from 'buy' to 'hold' and believe that notable production cuts are required to address the issue of the oversupplied met coal market.
Disclosure: I have no positions in any stocks mentioned, and no plans to initiate any positions within the next 72 hours. I wrote this article myself, and it expresses my own opinions. I am not receiving compensation for it (other than from Seeking Alpha). I have no business relationship with any company whose stock is mentioned in this article.