58.com (NYSE:WUBA) is a Chinese company that offers an online marketplace for individuals or companies to sell or buy secondhand cars, apartments, services, post or look for jobs or roommates, and more. The company went public in the US on October 31st, 2013 at an IPO price of $17. Thereafter, the stock rallied to a high closing price of $37.30 on November 26th before falling to its current price of just over $30.
58.com's platform has been likened to that of Craigslist and has even been referred to in the western media as China's Craiglist. What has not received coverage in the western media yet, are references to 58.com's competitor in the China market, Ganji.
58.com and Ganji have much in common. Both companies were founded in 2005 and the similarities between Ganji and 58.com can be most immediately observed from screenshots of the two websites' homepages. The layout of the platform and the product categories are very similar. In the screenshots below, the blue arrows have been drawn to help those who do not read Chinese see where the similarities are.
The mobile versions of the site are also virtually identical. Icons that are almost exactly the same identify where users can click to search for cars, housing, jobs, and pets. (Ganji is on the left, 58.com is on the right)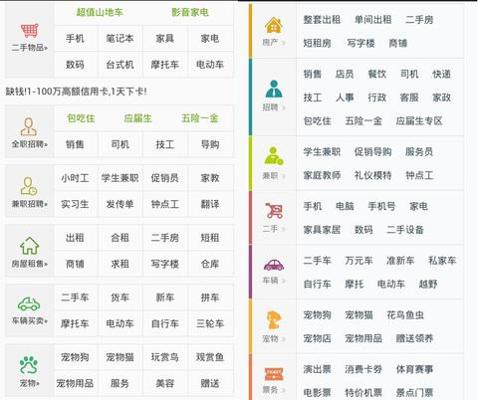 The two companies compete fiercely with one another and the similarities between 58.com and Ganji extend to the way they aggressively vie for users. Both companies have used prominent subway advertising in Beijing and Shanghai and both feature celebrity female actresses as their spokespeople. (In addition to their celebrity spokesperson, Ganji also features an animated donkey in their advertising)
On the upside, the advertising battle does not seem to be spiraling out of control for 58.com. In the third quarter of 2013, in their unaudited financial statements, 58.com reported advertising expense of $5.9 million, which is roughly 14% of the $41.6 million in revenue the company earned for the quarter. This a dollar increase of $0.9 million from the $5.0 million the company spent on advertising in the third quarter of 2012, or in percentage terms, an 18% increase. However, when looking at this amount as a percentage of revenue, that $5.0 million represented roughly 21% of the $23.4 million in revenue earned in the third quarter last year. Thus, in percentage of revenue terms, 58.com spent less in the third quarter of this year than the third quarter of last year.
Third Quarter Advertising Expense Comparison
| | | |
| --- | --- | --- |
| | 2013 | 2012 |
| Advertising | $5.9 million | $5.0 million |
| Revenue | $41.6 million$ | 23.4 |
| Advertising as % of revenue | 14% | 21% |
Although having Ganji as a competitor does not seem to be causing 58.com's advertising budget to mushroom out of control, of concern are the competing claims of which company is currently the largest. On the investor relations section of its website, 58.com claims that it holds the No.1 market position with 38.1% market share measured in terms of cash receipts in 2012. It also claims that it enjoys an average of 1.9 million new listings per day in the second quarter of 2013.
Ganji, on their website, claims an average of 2.35 million new listings per day in the period up to February 2013 (there is no indication of when the start of this period is). Ganji also goes on to claim that as of the end of 2012, its mobile client was number one for market share, with 58.com in second, and yet another competitor, called Baixing, in third (Baixing's website is also quite similar).
It must be noted that the time period for measuring the average new listings used by Ganji is not the same as the one used by 58.com, making a direct comparison impossible. Also, the statements about market share are referring to different aspects; mobile with respect to Ganji, and cash receipts with respect to 58.com. Thus, investors will have to decide for themselves how much merit, if any at all, to put into these competing claims.
Also, an unanswered question is whether these companies will take market share from one another in a way that would threaten the other company's existence and share value, or, coexist and grow. These questions require further research. For now, investors in this stock for the long term should be aware that outside of the 38.1% of market share that 58.com holds, in the 61.9% comprised by the rest of the markets players, there could be a very stubborn competitor in the shape of Ganji.
However, 58.com does not seem to be standing still and waiting for another company to outdo them when it comes to looking for new ways to earn money from their platform. The company claims to have hired more research and development personal to work on creating new services and they state that this is the primary reason behind an increase in research and development expenditure of 31.3% in the third quarter of 2013 over the third quarter of 2012.
Research and Development Expenditure
| | | |
| --- | --- | --- |
| | 2013 | 2012 |
| R&D Expenditure | $6.4 million | $4.9 million |
| R&D Expenditure as % of revenue | 15% | 21% |
This increase in R&D expenditure, although exhibiting a sizable year over year increase, does not seem to be increasing out of control when viewed from a percentage of revenue perspective, thus, if the website can capitalize on that expenditure by creating new features that will capture market share, it will support the long-term growth of this company. However, as pointed out earlier, the company's main competitor already has a very similar website. China is also known for being a difficult place to protect intellectual property. There is no telling that even if 58.com can develop new ideas for their website, they will not simply be instantly adapted by a competitor.
58.com is in a crowded industry. Simply because they happen to be the company that has gone public first does not necessarily mean they will ultimately be the industry leader. They have an advantage in the sense that the IPO gave them a significant amount of capital to use for development. Thus, the final word on this company's long-term outlook may depend on the extent to which it can differentiate itself and protect its business model in an industry with relatively low barriers to entry and multiple existing competitors that already offer substitute products.
Disclosure: I have no positions in any stocks mentioned, and no plans to initiate any positions within the next 72 hours. I wrote this article myself, and it expresses my own opinions. I am not receiving compensation for it. I have no business relationship with any company whose stock is mentioned in this article.