The impact of Circulite
In Part II of this series I said, "There is not much point in putting a huge value on a huge opportunity unless investors believe in the huge opportunity."
No sooner do I deal with the issue of a falling share price than HeartWare (NASDAQ:HTWR) acquires Circulite, apparently to target the NYHA Class IIIb/early Class IV (INTERMACS 4-6) heart failure (HF) market.
Sunshine Heart presently targets the wider NYHA Class III/ambulatory Class IV market. This move by HeartWare has created much concern about Sunshine Heart's (NASDAQ:SSH) competitive position in this market segment.
This is now a 4 part series
Concerns from long-term investors over the HeartWare acquisition of Circulite now require me to address this issue prior to proceeding with what will now be Part IV (Parts I and II see here and here).
In fact, I will address all of the following -
Sunshine Heart's views on Circulite's SYNERGY
The attributes of SYNERGY, good and bad, compared to Sunshine Heart's C-Pulse and the LVADs from HTWR and Thoratec (NASDAQ:THOR);
Information about HeartWare/Circulite's SYNERGY;
Information about Sunshine Heart's C-Pulse;
The absolute need for a means of halting and reversing the progression of heart failure;
"2014: The Year Of The Heart"; and
My conclusions.
But before I do that, I want to talk about the exciting potential for SYNERGY to be used in combination with C-Pulse, the cornerstone of the "Platinum" standard, to increase the target market for the much safer C-Pulse device.
I have a dream
Call it a dream, a vision or a hypothesis, but I believe in time there will be the development of very specific regimens for managing recovery from heart failure. The recovery and ongoing running of the heart will be treated like a marathon runner's, or a Tour de France rider's very specific regimens for superior performance in, and recovery from exhaustion, after grueling events.
The current regimen options for HF-
To date the emphasis has been on use of drug therapy for HF which mostly only slows the worsening of heart failure. Current drug therapy does not generally improve heart health so there is no basis for a recovery regimen based on it.
With the development of full flow LVADs it has been possible to keep the heart running, and in a very small percentage of cases, to assist the recovery of the heart. But they require invasive operations and are dangerous and burdensome devices for patients, with potential for adverse effects such as clots, bleeding and strokes. They mostly take over from the heart rather than improving the health and functioning of the native heart. So they are not a suitable basis for a recovery regimen for the native heart.
I have long believed a combination of Sunshine Heart's C-Pulse for safe longer term heart support, coupled with a minimally invasive blood pump for shorter term use, would provide the basis for a regimen for managing the longer term recovery of a failing heart.
Such a combination therapy has already been used to aid short-term recovery from critical heart failure. A paper titled "Centrimag Left Ventricular Assist System" published in 2008 in the Texas Heart institute Journal, describes the use of a Centrimag LVAS in conjunction with an intra-aortic balloon pump (IABP) where the use of an IABP alone is not sufficient. Extracts appear below -
Despite many advances in the care of postcardiotomy heart failure, the mortality rate for this condition remains high. The therapeutic priority is inotropic and vasoactive drug infusion along with intra-aortic balloon pump (IABP) support,(1) but a higher level of circulatory support-such as that of a left ventricular assist device (LVAD) may be necessary to improve outcomes in selected patients.

The LVAD was started, and flow was gradually increased to 4 L/min. Immediately after LVAD actuation, transesophageal echocardiography showed an improvement in contractility and in left and right ventricular function.
The article goes on to discuss that -
the TandemHeart® LVAD and Abiomed's Impella and abiomed® AB5000™ have particular limitations but the CentriMag LVAS is quite practical for postcardiotomy circulatory support; however
An ideal mechanical system for treating postcardiotomy cardiogenic shock is not currently available. Each of the systems designed for short-term use has limitations regarding cannulation, thrombogenicity, infection and patient mobility.
While the combination of IABP with a Centrimag appears to provide a valuable therapy it is only safe for very short term use due to the limitations described above.
Towards realizing the dream
An alternative to the above combination would be to use C-Pulse, which employs the same counter-pulsation technology as an IABP, in conjunction with SYNERGY which can deliver a blood flow of 4.25 liters per minute, similar to the Centrimag flow in the above study.
A combination of Sunshine Heart's C-Pulse 1, or better still C-Pulse 2 (the fully implantable model to succeed C-Pulse 1), and SYNERGY, or better still, Circulite's IC system (the less invasive model under development based on the SYNERGY pump) has the potential to be a powerful combination to treat advanced heart failure.
This combination could enable C-Pulse to treat later stage HF patients than those presently targeted.
Rest and the "Lance Armstrong" effect
To recover between stages, a Tour de France rider benefits from rest and, in the much-publicized case of Lance Armstrong, additional oxygen rich red blood cells via transfusion.
Both SYNERGY and C-Pulse provide a measure of rest for the heart - Synergy through pumping blood and C-Pulse through lessening the pumping workload when the balloon deflates, thus reducing pressure in the aorta.
But it is only C-Pulse that actively increases perfusion of the heart muscle with up to 67% of additional oxygen rich red blood cells.
It is my personal opinion, this is likely the single most important factor in 5 of 20 patients (25%) being able to be weaned off C-Pulse due to improvement in heart function (see hibernating myocardium further below).
Hypothesis for a future draft regimen for heart recovery
Therapy would commence with a combination of both fully implantable C-Pulse2, and the IC version of SYNERGY.
The drawbacks of having SYNERGY installed would be its percutaneous interface lead (PIL), with exit site infection risk, and its blood contacting nature with risk of blood clotting, bleeding and stroke (also the need to take blood thinning medications with their own complications and side effects).
This could be overcome by limiting the use of SYNERGY to ~40 days and then removing the pump, which is a simple process.
I draw the 40 day time frame from the following extract from this article, "Time course of reverse remodeling of the left ventricle during support with a left ventricular assist device."
.. Maximum structural reverse remodeling by left ventricular assist devices is complete by about 40 days. Molecular reverse remodeling of sarcoplasmic endoreticular calcium adenosine triphosphatase 2a expression is quicker, being complete by about 20 days.
With the removal of SYNERGY, the PIL also goes and the need for blood thinning medication and the risks of blood clots, bleeding and strokes also go. HeartWare might hope that all that is needed to halt or reverse HF is SYNERGY. But clearly, there has been negligible success for LVADs in improving heart health to an extent that weaning is possible, either in the short or longer term. On the other hand, 5 of 20 patients in the C-Pulse feasibility trial have been weaned off the device.
After 40 days, fully implantable C-Pulse2 could be left to continue its work of reducing heart pumping workload, and providing additional oxygen rich blood flow to the heart muscle. With no PIL exit site and no blood contact there would be no risks from exit site infections, blood clots, bleeding and strokes that plague all blood contacting pumps, including SYNERGY.
This ability of C-Pulse to create additional blood flow to the heart muscle really excites me as explained below. It is the key feature that will make C-Pulse the cornerstone of combination therapy - the "Platinum" standard that has the potential to give back to HF patients their natural heart in satisfactory working order.
Bringing hibernating myocardium back to life
After the shock of a heart attack or a virus or other condition affecting the heart, the heart is unable to pump as much blood. It would appear some of the heart muscle then goes into hibernation to avoid dying because not enough blood is available for all of the muscle to function. Now of course, hibernation cannot last forever and unless the heart muscle can recover sufficiently to re-vascularize these sections they will die.
C-Pulse uniquely forces up to 67% additional blood flow back into the heart muscle while the heart is at rest. This is hugely important as mentioned in this article -
Moreover, when the reduction in Myocardial Blood Flow (MBF) is large at rest, even a "small" increase of MBF with revascularization may improve patient outcomes but to a greater degree.
This provides a greater understanding of how the C-Pulse might have been so effective in reversing HF in 5 of 20 patients in the feasibility trial. C-Pulse increases MBF by up to 67% while the heart is at rest when the degree of benefit is greatest.
Sunshine Heart's response to HeartWare's acquisition of Circulite
In its December Corporate presentation, Sunshine Heart provides the following summary on the HeartWare acquisition of Circulite -
Circulite Acquisition Analysis
• Validates that there is a viable Class III heart failure market
• Raises questions about confidence level regarding current/future
LVAD technology for Class III population
• Valuation reported to be impacted by device issues
• Overall good for the Class III space that there is a larger player
increasing the exposure
• LVAD technologies under pressure the past year regarding thrombus
and stroke concerns - C-Pulse has not had any of these outcomes to
date
I have some thoughts to add to that as per below.
Circulite's SYNERGY is another blood contacting device
Sunshine Heart's C-Pulse still has no known competitive technology outside the blood stream.
Table 1 below compares the attributes of Sunshine Heart's C-Pulse to HTWR/Circulite's SYNERGY and the HeartMate II from Thoratec and the HVAD from HTWR.
Table 1 - Comparison of C-Pulse to SYNERGY and LVADs from THOR and HTWR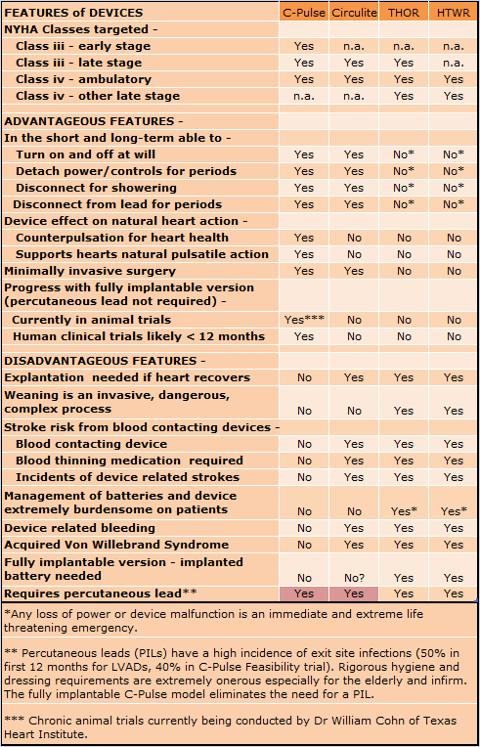 As can be seen from Table 1, the main disadvantages Circulite's SYNERGY has compared to Sunshine Heart's C-Pulse are -
SYNERGY is a blood contacting device with risks of thrombus formation, blood clots, bleeding and stroke; and
To my knowledge there are no plans for a fully implantable version of SYNERGY so there will be ongoing PIL issues and related exit site infections.
About Circulite's Synergy
CircuLite's circulatory support systems (see here) are designed with unique attributes, which include:
World's smallest implantable blood pump (the size of a AA battery and weighing 25g);
provides up to 4.25 liters of blood flow per minute, and is intended to reduce the heart's workload while improving blood flow to vital organs;
First superficially implanted micro-pump, designed to be placed without cardiopulmonary bypass or sternotomy
Small percutaneous lead
Designed to supplement native cardiac output
Designed for long-term support
Magnetically and hydrodynamically stabilized rotor design
Lightweight, rechargeable dual battery pack system (average power 6-8 hours)
Although SYNERGY has previously obtained CE Mark in Europe, sales are currently suspended due to device issues. Re-launch of Circulite's SYNERGY could take up to a year (see here).
Sunshine Heart's C-Pulse system:
The Sunshine Heart C-Pulse system is a medical device to treat congestive heart failure by assisting the natural heart's pumping function. To further explain:
The C-Pulse system is not blood-contacting and does not take over from the heart. It employs proven counter-pulsation technology to reduce the workload of the heart, and to create additional blood flow to the heart muscle. This provides ongoing permanent support and allows a tired heart muscle some opportunity to rest and recover in a measurable way (NYHA Heart Failure class improvement). For further information see here and here.
Some results from the C-Pulse 20-person feasibility study (Data sources:Prospectus filed with SEC August 10, 2012 and Sunshine Heart Corporate Presentation October 2012):
NYHA Heart Failure Class improvement - 12 patients (60%) at 6 months. (Subsequent to completion of the feasibility study 5 patients (25% of cohort) became asymptomatic and were weaned off the device);
Re-hospitalizations at 6 months 5% (compares to recent trial published control group re-hospitalization rate of over 40% with similar patient population at 6 months);
Medication Reduction: Diuretics - discontinued, reduced or unchanged for all patients; Inotropes - 4/4 patents successfully weaned (within 48 hours).
Following on the successful completion of the feasibility trial, the FDA has approved a 388-patient pivotal trial addressing NYHA Class III and ambulatory Class IV CHF patients with targeted marketing approval in early 2017. The C-Pulse already has CE Mark approval for commercial sale in the EU.
The absolute need for a means of halting and/or reversing the progression of heart failure
Regardless of treatment, one-fifth of those diagnosed with congestive heart failure (CHF) will die within one year and one-half will be dead within five years. Only about 20 percent survive much longer than 8 to 12 years - a prognosis worse than most cancers. For those who do survive, quality of life is often severely compromised (see here and here)
Congestive heart failure (CHF) is a progressive disease. Current FDA approved treatment for earlier stage CHF is only effective in slowing the worsening of heart failure.
The incidence and prevalence of chronic heart failure (CHF) in the United States is continually rising. There are approximately 5.7 million Americans living with the disease at any given time with an estimated 670,000 new cases diagnosed per year.
"2014 The Year Of The Heart"
A paradigm shift is taking place towards new treatments for CHF that promise the possibility of CHF sufferers taking a new path - the "Platinum" standard - leading to them keeping their own natural heart, with that heart continuing to work satisfactorily in the longer term.
The "Platinum" standard is one step up from heart transplantation which is the "Gold" standard. Donor hearts are scarce. As discussed in my recent article, "Sunshine Heart's C-Pulse: The 'Platinum' Standard" (linked above), Paragonix continues to make progress with their technology to increase availability of donor hearts. Paragonix recently filed another 510(k) FDA Pre-market notification - which application intends to further identify user indications for the static hypothermic preservation of hearts during transportation.
I believe the paradigm shift will gather real momentum in the coming year, leading to 2014 being hailed as "2014:The Year Of The Heart." I further believe that Sunshine Heart will be the cornerstone technology of this paradigm shift and will become referred to as the "platinum" standard in the same way that donor heart transplantation is referred to as the "gold" standard.
It will be considered the cornerstone because of its ability to work as a standalone therapy or as the key therapy to support, or be supported by other therapies, that, as described above, are unlikely to be wholly effective by themselves.
My conclusions:
1. C-Pulse will achieve numbers comparable to pacemaker implants in time -
In my article, "Sunshine Heart: Profitability And A 'Light Bulb' Moment," I provided detailed assumptions for C-Pulse implants for HF patients in the US and EU to eventually reach 305,000 per year. The HTWR acquisition and promotion of Circulite should only accelerate the paradigm shift taking place from optimal medical therapy (OMT) to mechanical assist devices. In addition, there is a large target market for the fully implantable C-Pulse2 in treating stable angina. This market could equal or exceed the HF market.
2. C-Pulse will grow faster with a Johnson & Johnson or a Medtronic at the helm -
As stated in Part II of this series, I will explore further, in Part IV of this series, the option of Sunshine Heart going alone, versus a takeover by, or a partnership with, a large medical device company such as Johnson & Johnson (NYSE:JNJ) or Medtronic (NYSE:MDT).
I intend to complete Part IV of this series in 2014.
In the meantime, I extend to all readers the compliments of the season, along with wishes for good health and prosperity in 2014.
Caution: The information above is not intended to replace the advice of a doctor. I disclaim any liability for any decisions you might make based on this information.
Additional caution: As always, please do your own research before any buy or sell decisions. Use of information and research in the article above is at your own risk.
Investing in micro cap companies is not suitable for all investors and can be risky. It's important that investors thoroughly perform their own due diligence and analyze the potential risks. Due to illiquidity, share prices can fall despite strong fundamentals and possible inability to raise sufficient additional cash to continue to fund ongoing operations is always a serious concern. Fuller details of risks associated with Sunshine Heart as identified by the company may be found with their form 10-12B/A registration filing with the SEC and their other SEC filings.
Disclosure: I am long SSH. I wrote this article myself, and it expresses my own opinions. I am not receiving compensation for it. I have no business relationship with any company whose stock is mentioned in this article.