By Chris McKhann
Shares of Palm hit their lowest level since March 2009 yesterday after dropping more than 50 percent in the last five months, but at least one bull has not given up.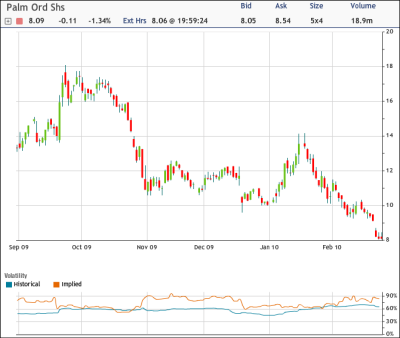 The smartphone maker slipped another 1.3 percent to close at $8.09 yesterday. PALM has fallen from above $14 a month ago and its 52-week high of $18.09 back in September.
Despite this decline, one large trader is taking a bullish stand using the April contracts. We see 19,000 of the April 9 calls trade, 14,500 bought for $0.69 and 4,500 for $0.68 in the same minute. At the same time a block of 38,000 of the April 11 calls sold for $0.21. The open interest at both strikes was fewer than 1,300 contracts, so these were new opening positions.
This ratio spread is bullish, but only to a limited extent. The trader would like shares to be right up around that $11 level at the April expiration for maximum profit. The net debit of $0.27 is the risk if shares remain below $9, and there is the risk of the additional sthort calls if shares move too far to the upside.
(Chart courtesy of tradeMONSTER)