Palm's (PALM) smartphone recovery took a big hit Thursday as the company sharply cut its outlook for the third quarter and fiscal 2010 because "driving broad consumer adoption of Palm products is taking longer than we anticipated."
How ugly is it? Palm said its third quarter revenue will be $285 million to $310 million under generally accepted accounting principles. Non-GAAP revenue will be $300 million to $320 million.
The problem: Wall Street is looking for revenue of $424.7 million.
For fiscal 2010, Palm also said its revenue will be "well below its previously forecasted range of $1.6 billion to $1.8 billion."
The issue is that Palm is being crowded out of the smartphone market by existing powerhouses—RIM (RIMM) and Apple (NASDAQ:AAPL)—as well as resurgent players like Motorola (MOT). Meanwhile, the webOS is being swamped by Google's Android.
In a statement, Palm said "slower than expected consumer adoption of the company's products has resulted in lower than expected order volumes from carriers and the deferral of orders to future periods."
Palm CEO Jon Rubinstein said:
Driving broad consumer adoption of Palm products is taking longer than we anticipated. Our carrier partners remain committed, and we are working closely with them to increase awareness and drive sales of our differentiated Palm products.

Needless to say Wall Street wasn't pleased. Here's the premarket look: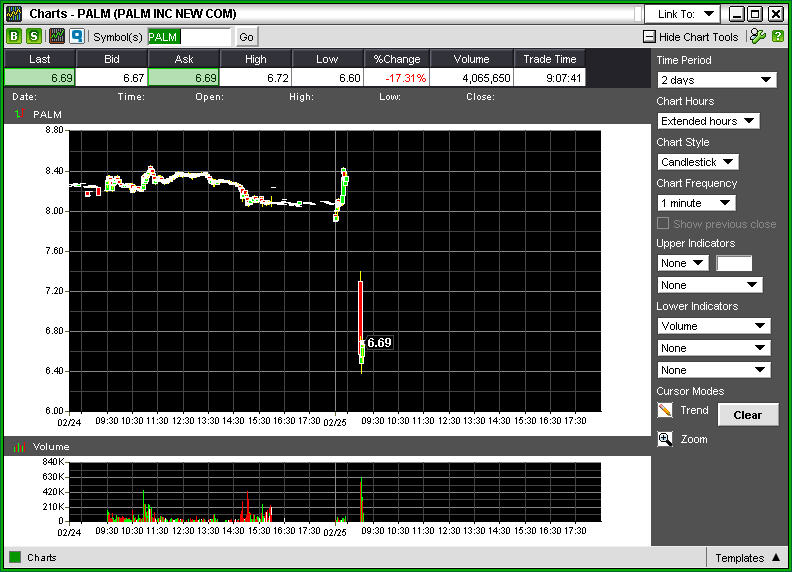 Add it up and Palm shares are trading back to April 2009 levels.
Simply put, Palm is going to have to spend more money on marketing if it wants to compete in the market share game. Scale matters and as this comScore chart shows, Palm's getting crunched by Android devices.