As evidenced by the large number of free-standing net lease M&A transactions that have closed over the last year, the Triple Net REITs have become a very popular investment sector. That demand in high paying dividends was even more obvious back in May when shares in many leading Triple Net REITs climbed to all time highs.
While I've previously reported that Triple Net Lease REITs are not bonds in my article (It's A Myth: Triple Net Lease REITs Aren't Bonds, They Are Becoming A Core Asset Class For Income Investors) the market is temporarily looking past these macro factors and benefits within the Triple Net Lease sector. That can lead to continued growth and has currently penalized the sector rather than giving it credit for its long-term contractual escalations and other inherent factors than can lead to long term growth.
As I suggested previously, "It's a myth: Triple Net REITs look like bonds, and in some cases act like bonds, but they aren't bonds." Why?
Because Triple Net leases require tenants to pay all operating expenses, including property taxes, insurance, maintenance and utilities on top of base rent. These stable investment vehicles offer strong, predictable cash flows, supported by contractual rents on long-term leases. Accordingly the steady net lease dividends are due in large part to the lower volatility of cash flows
So it's somewhat of a misconception that the "star player" asset class that has seemingly safer fundamentals has now become the "bench warmer". When you consider the fact that three of the eleven "dividend champions" are Net Lease REITs. Also, four of the Health Care REITs with net-leased assets are "dividend champions". Collectively, seven of the eleven "dividend champions" have paid and increased dividends for 236 years.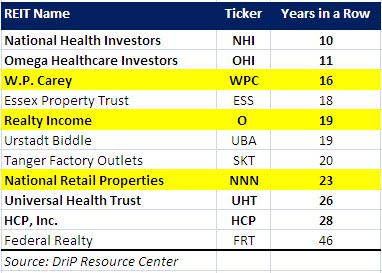 Invest Like a Pro
In a recent Seeking Alpha article I examined some of the drivers for the Triple Net REITs and specifically I examined some of the underlying issues of sustainability. As I explained:
A large part of the success of these businesses are rooted in the sustainability of the sources of income.
It's quite clear that the value proposition for owning shares in a Triple Net REIT is not so much capital appreciation in so much as dividend sustainability. So now that the shares of most Triple Net REITs have moved into the fair valuation range, there is considerably more opportunity to take advantage of the buying opportunities.
Accordingly, value investors can find success these days with buying "all star" REITs that are sitting on the bench. It's kind of like investing in Kobe Bryant but only paying for Mark Madsen. In case you don't know Madsen is the #1 greatest bench warmer for the LA Lakers, yet I understand he has amazing dancing skills.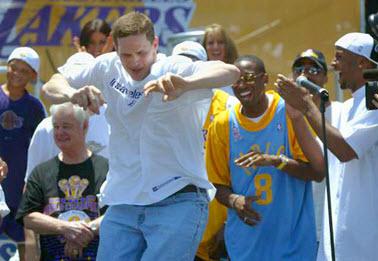 This is the second article in a series on Triple Net REITs. As I mentioned in my previous article (of the Triple Net series), "I will examine the voyages of the durable dividend sector and its mission to explore strange new worlds, to seek out new life and new civilizations, to boldly go where no one has gone before."
In this edition, I want to introduce you to a leading Triple Net investor. Shelby E L Pruett is Chairman and CEO of Equity Global Management (or EGM), a leading, principal-oriented investment firm headquartered in Chicago, Illinois. EGM invests in the single-tenant net lease, sale-leaseback, and build-to-suit real estate markets. EGM's funds are professionally managed investment programs designed for institutional and individual investors attracted to the potential income, stability, and capital appreciation available from net leased commercial real estate.
Thomas: Shelby, what are the growth catalysts for the Triple Net sector today?
Pruett: The sector has expanded dramatically over the last several years in the public as well as the private markets. This expansion has brought the net lease sector into a new phase of growth. One in which institutional participation will play an increasing role. The eventual rise in interest rates and inflation as well future economic expansion will also act as a catalyst within the sector leading to a new supply of net lease, sale-leaseback, and build-to-suit product that was not previously available to the third party market.
Only a small portion of the $2 trillion investable corporate real estate assets are controlled by publicly traded companies. That leaves a substantial portion of existing product in the coffers of corporations. Additional supply will continue to come from companies expanding which should accelerate as the economy picks up steam and the leading companies continue to expand to control market share.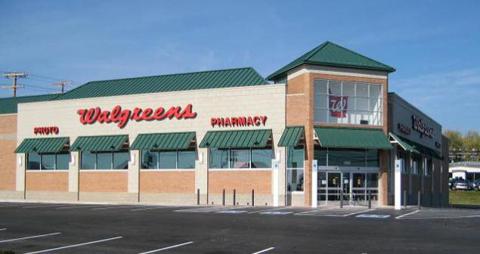 Thomas: Why will growth materialize?
Pruett: The net lease market, which has been supplied by sale leasebacks and build-to-suits historically, is not a new market, it is a capital solution or financing alternative for corporations that has been around for a long time. It is now however more visible with significantly increased public ownership and representation.
Despite the improved visibility the net lease market is still a highly fragmented market. Inefficiencies continue to exist within the market much more so than any other major real estate sector. While there is significant supply, much of it is controlled by corporate America. The recent trends within the market, the supply of capital looking for net lease product, and rising interest rates and inflation will lead to increased supply as corporate America continues to become more efficient and simultaneously looks for capital for growth.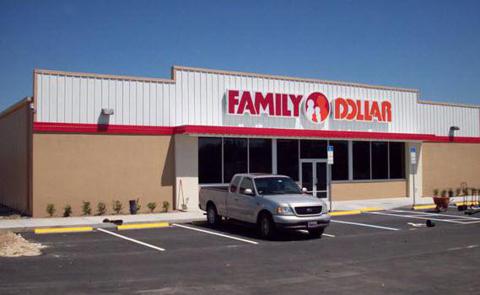 Thomas: Where will the growth come from?
Pruett: Supply will come from the unlocking of existing corporate assets and new sale leasebacks, both domestically and internationally; new product with leading companies using the capital solutions to finance growth and expansion to lock up market share; corporate America rebalancing their short and long term risk as interest rates rise; and a reaction to the larger amounts of capital and digestibility of larger deal sizes by large net lease investors that can invest in larger deals as a result of their increased size.
Thomas: Will the growth be enough for the larger companies?
Pruett: While the supply exists to fuel the larger net lease companies, significant transactional volume, is required to move the needle. In the recent past the larger companies have grown dramatically through the acquisition of other operating companies with existing portfolios. The acquisition candidates have been both public and private.
While opportunities still exist to acquire large pools of previously aggregated assets from existing net lease owners and operators, the pool is limited and the majority of acquisition opportunities have become smaller. Corporate America however has significant pools of net lease assets that could change hands as the market continues to evolve that could significantly add to the growth of the net lease sector and its larger players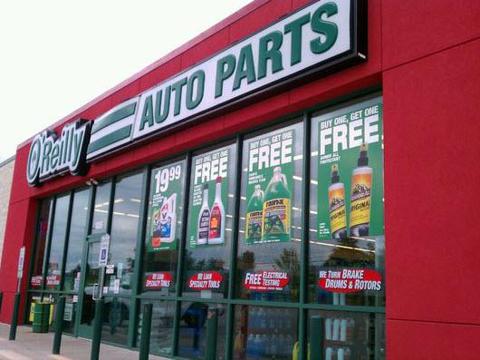 Thomas: So why does Funds from Operations (or FFO) matter?
Pruett: For companies focused on growing FFO through acquisitions, the going in cap rate has a direct impact on the volume of acquisitions that are required to generate a certain level of FFO growth and share appreciation. Generally companies that acquire lower cap rate properties require a higher volume of acquisitions than their peers who buy higher cap rate properties to generate the same level of per share accretion. For example assuming a set cost of capital and market capitalization of approximately $4 billion, a public company buying assets at a 6.5% cap rate would need to acquire approximately $850 million of property to generate the same per share accretion to their shareholders as buying approximately $250m at a 7.5% cap rate.
Thomas: Why Invest in Net Lease versus Multi-Tenant?
Pruett: For the companies paying low prices for real estate today, either net lease or multi-tenant, there is tremendous growth required to maintain acceptable returns if inflation and interest rates accelerate rapidly. Buying core multi-tenant properties or paying high prices for net lease properties in the 4 to 6 cap rate range will require substantial asset level growth to be able to keep up with or re-set to investors' higher return expectations when interest rates and required unlevered returns are significantly higher.
Typically investors view shorter term leases and multi-tenant properties as a solution to the preceding due to the rationale that investors will be able to increase rates to maintain pace with the changes as a result of the rollover. As has been seen in the past, this may or may not prove to be true. Structured correctly a long term net lease property with built in escalations acquired at a higher, but reasonable, cap rate backed by a high credit tenant could be a better choice.
One aspect typically not broadly discussed is the risk and the variables associated with the short term lease multi-tenant properties. These properties typically have multiple tenants each of which is rolling several times during a 15 year period. Future projections are based on assumptions, not fact. Investors, analysts, and others do not really know what the demand will be in terms of future usage or absorption, what kind of rental rates can be charged, how much it will cost in tenant improvement and brokerage commission to release the space, as well as a host of other variables. Multiply this several times over for each tenant and there is a significant amount of unknown information that can have a material impact on the asset one way or another.
With long term single tenant net leased assets with attractive built in escalations one can eliminate a good portion of the preceding variables. An investor has one tenant at each asset that has the contractual potential for rollover once versus multiple times in a multi-tenant asset with short leases.
If you add up all the expense, downtime, and opportunity cost associated with the multiple rollovers and compare that to the cost to renew or release a net lease at the end of its term 15 years later, the net lease asset can look very appealing. If acquired correctly, with cap rates above traditional core pricing, and sufficient escalations, the growth should keep up with or outpace inflation. Equally important is the fact than an investor can forecast their return on an asset with a higher degree of certainty. Additionally, if the assets are bought for cash there is no refinancing risk. If low leverage, the rental increases and lease term should enable an investor to refinance the asset on a periodic basis as required.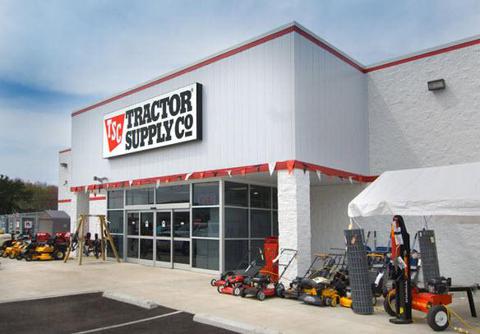 Buy an All-Star REIT at Bench Warmer Prices
Today Realty Income (NYSE:O), better known as the Monthly Dividend Company®, announced that the company has signed purchase and sale agreements with Inland Diversified Real Estate Trust to acquire 84 single-tenant, 100% net-leased properties, for approximately $503 million.
The acquisition will be financed with approximately $349 million in cash and the assumption of approximately $154 million of debt. The portfolio to be acquired consists of primarily retail, industrial and distribution properties leased to 16 tenants, in 12 different industries, located in 22 states, with an initial average lease term of 13.7 years. In addition, 68% of the rental revenue is generated by investment grade tenants.
The transaction is expected to close during the first quarter of 2014 and when that portfolio closes, Realty Income will have achieved around 50% of its guidance of $1 billion for 2014. Realty Income closed today at $39.73 with a dividend yield of 5.49%.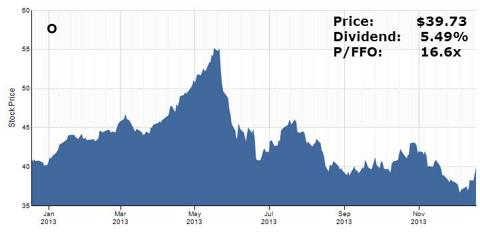 Another Triple Net REIT worth considering is Chambers Street (NYSE:CSG). I included the "big box" Industrial REIT as an honorable mention in "My Intelligent REIT Picks for 2014" article. Chambers Street is trading at $7.78 with a dividend yield of 6.48%.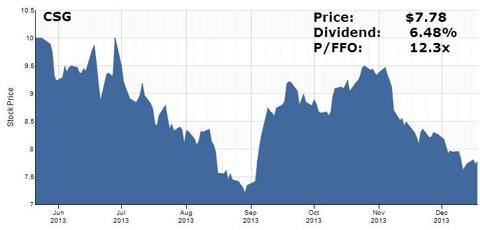 The biggest story for 2013 has been American Realty Capital Properties (ARCP). In just over two years ARCP has grown from 63 assets (at IPO) to its more recent announcement to acquire Cole Real Estate Investments (NYSE:COLE). The $11.2 billion deal is expected to close in early 2014 and I remain concerned about ARCP's negative reaction to the merger. In my opinion, the negative reaction to ARCP's share price can be attributed to higher level debt (used to finance aggressive acquisitions). The intersection of a highly leveraged balance sheet and the specter of higher rates has had a dampening effect on ARCP's share price.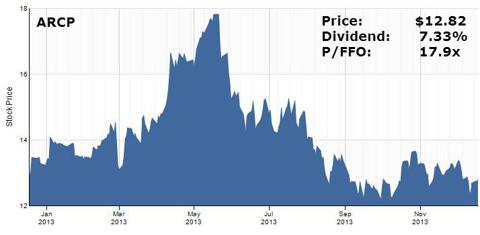 There are a lot of moving pieces for ARCP and COLE and I see no justifiable reason to add more shares until the dust settles. There are benefits to the merger (COLE helps deleverage ARCP); however, I need to see more stability with the integration of the combined management teams and the operating platform. ARCP closed today at $12.82 with a 7.33% dividend yield.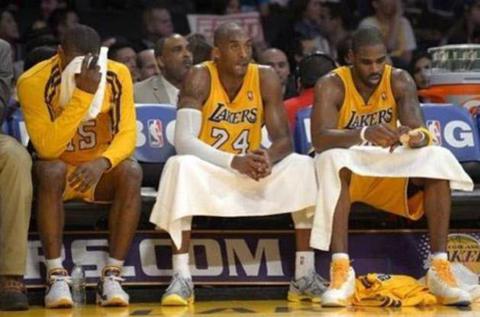 Check out my monthly newsletter (The Intelligent REIT Investor) and my NEW 3D (durable disciplined dividends) portfolio.
Source: SNL Financial.
REITs mentioned: (NYSE:NHI), (NYSE:OHI), (NYSE:WPC), (NYSE:ESS), (NYSE:SKT), (NYSE:UBA), (NYSE:NNN), (NYSE:UHT), (NYSE:HCP), and (NYSE:FRT).
Disclaimer: This article is intended to provide information to interested parties. As I have no knowledge of individual investor circumstances, goals, and/or portfolio concentration or diversification, readers are expected to complete their own due diligence before purchasing any stocks mentioned or recommended.
Disclosure: I am long O, ARCP, VTR, HTA, HCN, GPT, UMH, DLR, STAG, CBL, ROIC, CSG. I wrote this article myself, and it expresses my own opinions. I am not receiving compensation for it (other than from Seeking Alpha). I have no business relationship with any company whose stock is mentioned in this article.