Founded in 1995, Crown Castle International Corp. (NYSE:CCI) has grown to become the largest cell tower operator in the US with 'nearly 40,000 sites'. It edged out its rival, American Tower (NYSE:AMT), when it acquired the exclusive rights to 9,700 towers from AT&T for $4.85 billion on December 16. CCI is the leading service provider in a rapidly growing industry--their AFFO (adjusted funds from operations) grew 38% from Q3 2012 to Q3 2013 and Jay Brown, CCI's CFO, painted a very positive picture of CCI's future when he was quoted in the Q3 2013 earnings release as follows:
Given the significant anticipated cash flow from our existing business and future cash flows from the AT&T towers, we expect to be able to continue to make significant investments to enhance the long-term growth of our business while providing investors with a meaningful dividend. Based on our expectation for growth in our business, we believe that we can grow our dividend over the next five years by at least 15% annually.
While cellphone usage nationwide is continuing to grow, the number of carriers has been reduced over the years to four major national carriers that comprise 84% of CCI's revenue: AT&T (NYSE:T), Sprint (NYSE:S), T-Mobile (NASDAQ:TMUS) and Verizon (NYSE:VZ) (slide 3 and pie chart below). On December 13, the WSJ and other news sources announced that S was working on an offer to buy TMUS. Since S and TMUS make up 45% of CCI's revenue, a merger of the two companies could dramatically affect the growth opportunity for CCI. In the Q3 earnings release, CCI described the opportunity for the acquisition of approximately 9,700 AT&T towers as an "opportunity to significantly increase tenancy" - the reason being "the average existing tenancy of 1.7 tenants per AT&T Portfolio site, including AT&T" compared to "Crown's portfolio average tenancy for sites operated for more than 5 years is 2.8 tenants per site." If S and TMUS were to be combined, there will obviously be less of an opportunity to lease the towers to multiple carriers.
click to enlarge image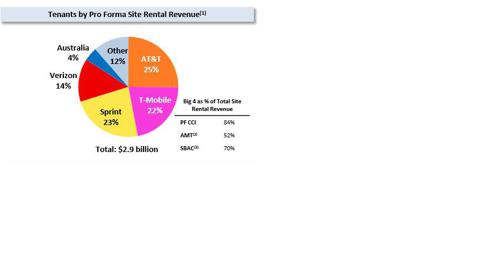 The stock sold off on the rumor of the merger. CCI fell over 2% from $73.91 at the close on Friday, December 13 to close at $72.15 on Monday, December 16 and gained just .82% on Wednesday, December 18, when the S&P rallied 1.66%.
I certainly don't know if S will make an offer for TMUS, if TMUS, majority owned by Deutsche Telekom, would accept the offer, and if the Federal Communications Commission would approve the merger. But a merger of two companies comprising 45% of CCI's revenue would be a significant threat to the company's growth and highlights the risk inherent in owning a stock that is supplier to a consolidating industry. I would stay away from this one until the FCC rules on whether S and TMUS can merge.
Disclosure: I have no positions in any stocks mentioned, and no plans to initiate any positions within the next 72 hours. I wrote this article myself, and it expresses my own opinions. I am not receiving compensation for it (other than from Seeking Alpha). I have no business relationship with any company whose stock is mentioned in this article.