The CEO search has been extended into next year. A pressing challenge has been to find the right leader for the company.
If Microsoft (NASDAQ:MSFT) wants to succeed, it will need to build the most complete ecosystem through scale, marketing, and innovation. However, the competition from both Google and Apple (NASDAQ:AAPL) is fierce. Try imagining the United States, China, and the European Union invading each other on a regular basis to get an idea as to what is going on. We're entering the "device revolution," which involves selling web capable devices in a variety of form factors. To do this successfully requires building a strong product, software, and cloud ecosystem.
We have two front runners that have emerged, one being Alan Mulally from Ford (NYSE:F), and Satya Nadella President of Microsoft's Cloud and Enterprise Group.
Satya Nadella the man in charge of Cloud and Enterprise
Microsoft's commercial business was well-managed over the years and was the primary driver for earnings growth. Currently the commercial and other segments of Microsoft accounts for 60% of sales (this is the segment that Satya Nadella primarily manages). Considering the sheer scale of involvement that Satya Nadella has, plus his highly technical background, along with leadership ability in Microsoft's most important division it would probably be a no-brainer to consider him as a highly likely candidate.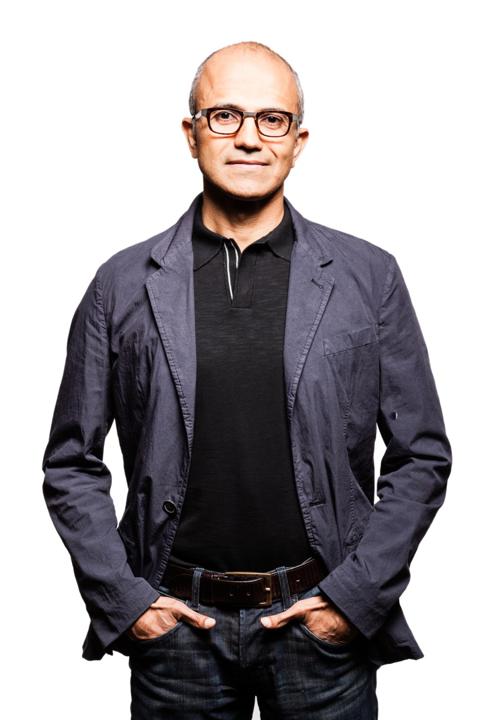 Source: Microsoft
Cloud and enterprise is perhaps the fastest and largest growing segment at Microsoft. It also has the most long-term potential based on third party forecasts.
Migrating software to the cloud as a service rather than as a perpetual license being sold in a packaged disc has been lucrative for Microsoft.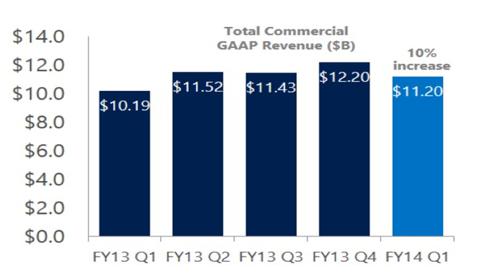 Source: Microsoft
Satya Nadella has a Master's degree in computer science, and business administration giving him both the technical and business background to effectively run any organization. It also doesn't hurt that he's been at Microsoft since 1992 giving him over 20 years in the technology business.
Currently, Satya Nadella manages the largest organization within Microsoft. Part of what makes me concerned is that even though he's a highly qualified candidate, Microsoft still wants to look outside of the company for a CEO. Perhaps the board knows something about Satya that makes it difficult for them to consider him for the job. But then again, within an organization you understand your own employees better than employees that work at other organizations, and it makes it pretty difficult to avoid "the grass is greener on the other side" effect. The board may be thinking, "I think he's great, but maybe I can find something better," and in an attempt to do this the board forget how green the grass was in their own yard.
Other executives from Silicon Valley
Currently the Microsoft board is considering Pat Gelsinger from VMware (NYSE:VMW). VMWare only generated $4.6 billion in the past fiscal year. I know I'm saying "only," but when considering Microsoft's commercial and cloud business generated somewhere in the avenue of $46 billion in annual revenue it's skeptical of me to think that he's a better CEO candidate than Satya Nadella who heads a division more lucrative than VMWare by a hefty margin. It's also unlikely that Pat Gelsinger from VMWare has any practical strategy for pushing Microsoft's consumer division in the right direction when infrastructure-as-a-service cloud is his primary field of expertise.
However, there were other noteworthy candidates that were considered in the hiring process, which was Steve Mollenkopf (President and Chief Operating Officer at Qualcomm). Now personally, I wouldn't have minded if this was the next CEO of Microsoft because he has such a strong background in mobile.
However, Qualcomm acted quickly to keep their top talented executive by promoting him internally to be the next CEO of Qualcomm (NASDAQ:QCOM). Qualcomm had to make this decision, because Microsoft's compensation is likely to be large enough to sway the loyalty of even the most loyal C-Suite execs. I mean, Microsoft has a pressing need for a CEO, and I'm pretty sure it can afford to pay an extremely high price for one (it only has $76 billion in short-term assets and cash). This is why every outside executive involved in Microsoft's hiring process is being given a ton of internal pressure at their own respective companies.
Alan Mulally has great potential
Many in the media continue to debate over whether Alan Mulally will make the cut. Besides orchestrating one of the best turn around strategies of all time, plus having experience in highly technical organizations, it's probably a no-brainer to think that he'd make a great pick. Except… we have a problem, Bill Gates isn't too hot on a non-technology guy heading up Microsoft according to CNET:
Microsoft Chairman Bill Gates provided an update on our search process. He noted that this is a complex role to fill, involving a complex business model and the ability to lead a highly technical organization and work with top technical talent.
I understand why Bill Gates feels this way. Remember how Apple's board dragged in John Sculley from Pepsi (NYSE:PEP), and it was a total disaster for Apple shareholders? John was great at marketing, and perhaps effective at reading financial statements, but product development certainly wasn't his key area of expertise. John Sculley never had any experience with extremely technical roles until he became the CEO of Apple, which was a nightmare for Steve Jobs to work with.
That's where autos and consumer electronics sort of collide, because one could argue that building code is a complicated process. But whoever said building a car from scratch was any joke either? Let's be honest, it's harder to start-up a car company than it is to start up a software company. I mean Tesla Motors (NASDAQ:TSLA) was the only car company to have ever successfully reached profitability as a start-up auto maker in decades, and this was done by Elon Musk who has a background in physics and business. Elon Musk is also recognized for starting up PayPal and selling it for a tidy sum to eBay (NASDAQ:EBAY). So perhaps, if a tech guy can make a car company, perhaps a car guy can make a tech company work too.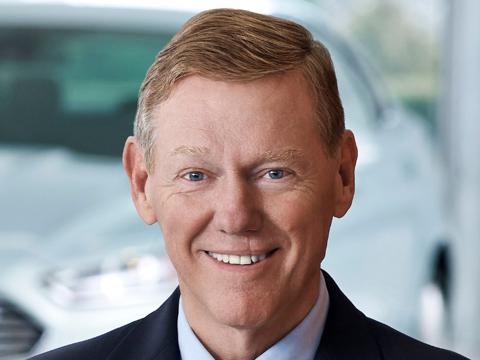 Source: Ford
Part of what makes me confident in Alan Mulally as a strategic alternative to Satya Nadella is because he's accustomed to running truly global businesses (Boeing (NYSE:BA) and Ford). It's probably harder to manage the supply chain and marketing of cars on a global scale than it was to rollout Office 365 cloud. No, I'm not trying to downplay Satya Nadella, but let's be honest, inside of a single car there are 15,000 to 20,000 parts. Ford has over 40 different car models and serves almost every major car market in the world, and generates $134 billion in annual revenue, which is nearly twice that of what Microsoft's generates ($77 billion).
Alan Mulally has a master's degree in aeronautical and astronautical engineering, and a master's degree from MIT in business management. Alan's educational background is extremely different from the rest of the executives that were considered for the job. However, what gets me a little more excited about Alan Mulally is that even without a strong technical background in programming or hardware design; he can still run a highly technical organization. Putting this in perspective, even Steve Jobs didn't know everything about designing a circuit board; he had someone else do it, and brought in his unique entrepreneurial ability to push Apple into becoming the first serious competitor to IBM. Sometimes having a bit of technical ignorance and entrepreneurial spirit is that difference making ingredient that can breathe life or death into an organization.
Alan Mulally and Steve Jobs belong to a very small group of people that have actually pulled off a very successful turnaround in modern corporate history. Part of what gives Steve Jobs a bit of a leg-up on Alan would be the fact that he was a true entrepreneur that could take an organization from zero (not existing) to a full blown powerhouse. However, considering how bad Ford was doing back in 2006, and you'd probably want to work with a clean slate rather than deal with ballooning pension liabilities.
Back in the early days of Ford's turnaround, customers thought that Ford cars sucked and labeled the car company "found on road dead." However, when all the Detroit automakers with the exception of Ford were going bankrupt, almost everyone began to consider Ford "the American car company." Of course with a bit of marketing, and improvement in design, it started pulling well ahead of GM and Chrysler, and fought back against emerging competitors like Hyundai auto group.
Then, of course in the auto business you also have to innovate, and right now Ford's hybrid technologies are catching up to its competitors. Currently development costs are a little high for the next F-series of trucks. But considering it's the best-selling vehicle in the world, Ford has to make sure its next generation truck is built just right. I'm sure Alan is overseeing the project development of its next F Series, and to be honest I can't wait to see what's in store for America's toughest truck.
Not everything is perfect at Ford, but at least the person managing Ford was great at managing employees, resources, development, marketing, and supply chain. It's hard to find people this good, and it's also true that it would take someone who is about as brilliant as Alan to head up the job of turning around Microsoft.
Conclusion
Microsoft's success at the moment primarily stems from being able to sell business applications more so than products to consumers. However, there is a lot of potential in the consumer market as Apple has been able to exemplify this over and over again with each new product category.
Alan Mulally is still in the running to be the next CEO of Microsoft. The downside is that he's probably going to stay at Ford for all of 2014 until he moves over to his position at Microsoft making it difficult for him to make an easy transition. There is also speculation of Alan's abrupt exit from Ford based on speculation of Ford's untimely guidance. Either Ford is trying to its best to strap a chain around his neck or push him away as gracefully as possible.
However, if in the event Alan Mulally doesn't work at Microsoft as CEO it's more likely that it's because Alan chose not to than because Microsoft's board changed its mind. Understanding the consumer is hard, and trying to turn the perception around in a well-established brand like Ford was no ordinary feat, certainly Microsoft could tap into a bit of that brilliance. However, if Microsoft can't hire Alan Mulally, it's highly probable that Satya Nadella will be the next CEO.
The problem with Satya Nadela is that he wasn't treated like the go-to successor. Steve Ballmer's announcement was rather sudden, so that eases my suspicions a little, but something really bothers me about Microsoft having to look through hundreds of candidates when a seemingly competent executive is right underneath their own nose. Perhaps, there's something that I simply don't know about Satya that the board acknowledges as a weakness for him to be the next CEO of Microsoft.
If I had to make a guess, Satya Nadela has very limited experience with running Microsoft's consumer business. That's the business that lost a lot of market share to small computing form factors, and had a near non-existent presence in mobile. So if anything, Microsoft has a problem with staying ahead of the innovation curve by pursuing products that simply don't exist yet. Sure, we don't want Microsoft to create another product flops like the Zune player. But at the same time, Microsoft's board and shareholders want something new, and I don't think anyone thinks of Satya Nadela as the go-to-guy for generating ideas on consumer product development.
But if it was so easy to create a product that every consumer wanted I'm sure everyone would be rich, so I'm not trying to downplay Satya as a competent candidate, just not one that was immediately chosen for CEO succession as in the case like Steve Mollenkopf at Qualcomm. So in the end, if it's not Alan Mulally it's most definitely Satya Nadella as he's done a great job at Microsoft, and it's his division that's holding up Microsoft's fort.
Disclosure: I have no positions in any stocks mentioned, and no plans to initiate any positions within the next 72 hours. I wrote this article myself, and it expresses my own opinions. I am not receiving compensation for it (other than from Seeking Alpha). I have no business relationship with any company whose stock is mentioned in this article.