Auto-parts retailer Pep Boys (NYSE:PBY) recently had a day it would rather soon forget. The company reported fiscal third-quarter results (ending November 2013) that came up short with consensus expectations. Comparable same-store sales at the automotive retail chain declined 2.8% (well below its targets for low-single-digit expansion), consisting of a 0.5% comparable service revenue increase and a 3.6% comparable merchandise sales decrease. The firm swung to a modest quarterly net profit during the period, but its nine-month diluted earnings per share profit of $0.19 was significantly worse than the $0.51 per share profit recorded in the prior-year period. Same-store sales are decelerating as the quarterly mark (-2.8%) is materially worse than the nine-month tally, which was -1%. Through the first nine-months of its fiscal year, free cash flow has fallen from $79.5 million to $24.5 million, or a meager 1.6% of sales.
Pep Boys spoke positively about its maintenance and repair service (about half of the firm's revenue), but competitive pressures continue to challenge Pep Boys' lower price point tires. The 'Service & Tires' market is roughly $185 billion (four times that of the Do-It-Yourself market) and growing at a faster pace than the 'DIY' market. We think the trend toward increased service revenue will continue as cars become more complex and the baby boomers age, but Pep Boys bumps heads with powerhouses such as Firestone, Jiffy Lube, Goodyear (NYSE:GT), AAMCO, Monro (NASDAQ:MNRO), Meineke, and Sears (NASDAQ:SHLD) in this market. Service consolidation may mitigate pressures to a degree, but competition will continue to be fierce. Still, the $46-$47 billion DIY market where Pep Boys competes with AutoZone (NYSE:AZO), Advance Auto Parts (NYSE:AAP), O'Reilly (NASDAQ:ORLY), Genuine Parts' (NYSE:GPC) Napa, and Carquest may be even more competitive.
We're not fans of Pep Boys' relatively flat revenue performance, meager profitability, and value-destroying operations (after-tax return on capital is below our estimate of the firm's weighted average cost of capital), as shown in image below. We prefer companies that have a demonstrated ability to grow revenue and earnings through the course of the economic cycle as they invest in projects above their respective costs of capital. Pep Boys is not one of these firms.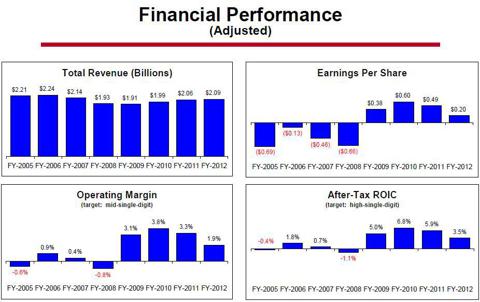 Image Source: Pep Boys
AutoZone's fiscal first-quarter results for the period ended November 2013 were a bright spot compared with the Pep Boys report. Domestic same-store sales at AutoZone advanced 0.9% for the period, helping total sales and net income advance 5.1% and 7.2%, respectively, over the same quarter a year ago. Net earnings for the period totaled $218 million at AutoZone versus Pep Boys' quarterly mark of just under $1 million. Diluted earnings per share leapt 16.2% to $6.29 over the year-ago period thanks in part to the company's aggressive share buyback program. AutoZone has $177 million remaining under its current share repurchase authorization.
Where Pep Boys continues to struggle for top-line expansion and earnings stability, the quarter marked AutoZone's twenty-ninth consecutive quarter of double-digit earnings per share growth. AutoZone continues to hit the nail on the head with respect to expanded inventory assortments and advanced technology, rolling out a new electronic parts catalog that has helped grow sales across its digital commerce business. Though the DIY market may not be as large as the 'Service & Tires' market, AutoZone has carved out an enviable niche as it continues to take market share. The firm continues to perform well in the Do-It-For-Me (DIFM, commercial market) market (roughly $59 billion), a subset of the 'Service & Tires' market, where fiscal first-quarter sales leapt nearly 14% from the same period a year ago. DIFM remains a strategic focus of the company.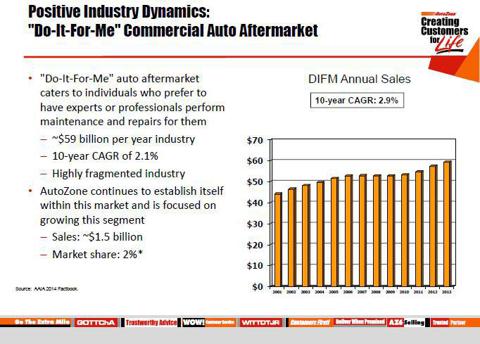 Image Source: AutoZone
Valuentum's Take
The retail auto parts industry is characterized by stiff competition in many areas, including brand recognition, customer service, and price. The industry is impacted by both the age and number of vehicles in service, especially those that are no longer under manufacturer's warranties (typically seven years old and older). Demand for retail auto parts can best be described as counter-cyclical: as consumers' cash flows decrease, drivers tend to keep their vehicles longer, leading to more retail auto parts sales. Though competition among constituents is intense, we like the industry's defensive characteristics.
Still, it is clear from Pep Boys' and AutoZone's respective results that some industry participants are executing better than others. Advance Auto Parts' recent acquisition of closely held General Parts International, which owns the Carquest chain, could also shake up the industry dynamics a bit. The most likely outcome of industry consolidation is a more rational marketplace with respect to price. In any case, we like the faster-growing commercial part of the auto retailers industry and think the industry will continue to grow thanks to the present age duration of the cars on the road today (see image below). Still, we're not rushing to put new money to work in the industry at this time; no industry constituent is trading below our estimate of their respective fair value range. Our best ideas continue to reside in our Best Ideas portfolio and Dividend Growth portfolio.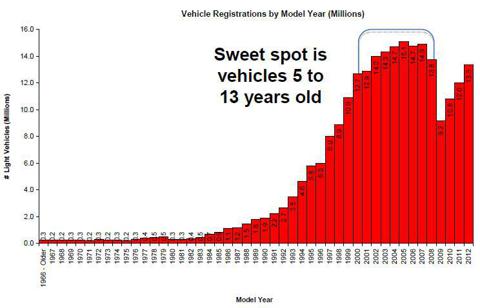 Image Source: Pep Boys
Disclosure: I have no positions in any stocks mentioned, and no plans to initiate any positions within the next 72 hours. I wrote this article myself, and it expresses my own opinions. I am not receiving compensation for it (other than from Seeking Alpha). I have no business relationship with any company whose stock is mentioned in this article.