Well that didn't take very long. Hours after publishing an article talking about the catalyst season is finally upon us with regards to the intellectual property ("IP") space, Vringo (VRNG) has received some surprisingly good news.
On Monday, the High Court of Delhi at New Delhi ordered an expedited trial in Vringo's lawsuit against ZTE. The trial will be completed within six months from the first day when the matter is listed before the local commissioner.
Less then 24 hours later, Vringo was awarded an injunction against ZTE in Germany, after a court in Mannheim found that ZTE (OTCPK:ZTCOY) was infringing on Vringo's European Patent (119'). The patent relates to base stations distributed to mobile telecommunications operator E-Plus.
Today I would like to talk about these recent events and why I feel that ZTE will likely come to a global licensing agreement with Vringo.
Vringo vs ZTE (India)
On November 8, 2013, the High Court of Delhi granted Vringo an injunction against ZTE which restrained the Company from manufacturing, importing, and selling infringed products in India.
However, following a hearing on December 12, 2013, the High Court passed a mandate ordering ZTE to pay a bond of 50 million rupees (roughly $800K USD) in place of the short-term injunction. The Court also ordered ZTE to disclose the number of CDMA devices sold in India, the revenues earned from such sales, and permitted Vringo to seek additional relief upon its review of ZTE's sales.
In preparation for the expedited hearing which will take place six months from being listed, the High Court has put together a schedule for pleadings and discovery and has appointed a commissioner to oversee the process of recording of evidence at the trial stage.
Vringo vs ZTE (Germany)
A Court in Germany ruled Tuesday morning that ZTE must end offering and distributing the infringing base stations that make use of the 119' Patent to customers in Germany.
The Court also issued a declaratory ruling that ZTE is obliged to pay damages to Vringo for past infringing actions. To determine the amount of damages to be paid, ZTE is ordered to render accounts to Vringo concerning the offering and distribution of infringing devices since June 2006. Certainly a lot of money is on the table here, as ZTE has a market capitalization of more than 54 billion.
Vringo can immediately put the injunction into effect after payment of security to the Court. The Court set the injunction at $1M Euro's (roughly $1.38M USD) for each defendant, and the security for enforcing the order to render accounts at $50K Euro's for each defendant. It's unknown whether or not Vringo has already done so.
ZTE Responds
So what did ZTE have to say after these recent events? Here is an excerpt from ZTE's press release:
"ZTE Corporation is pleased that the Delhi High Court set aside the injunction sought against the company's products by Vringo Inc. ZTE is confident of a positive outcome in the litigation in India as the company continues to defend Vringo's complaints vigorously. ZTE fully respects the intellectual property of other companies, and is committed to completing licensing agreements with patent holders on the FRAND (fair, reasonable and non-discriminatory) principle."
Let's be honest, what else was ZTE going to say after two injunctions were given to the Company within the last month? Were they going to say they've been busted? Of course not. They played some of their own cards right back.
It should be known that the High Court of Delhi set aside the injunction after ZTE came up with the bond money (50 million rupees). This doesn't mean that ZTE is off the hook by any means. It simply allows them to continue operations until the expedited trial takes place.

Over on the European side of things, ZTE is now obliged to pay damages to Vringo for all infringing devices since June 2006. That's seven years worth of damages, not to mention future royalties.
Over the years, ZTE has settled and licensed products with many companies such as Ericsson and Dolby just to name a few. Because of these agreements, ZTE has been able to continue to grow rapidly, becoming on of the largest mobile phone manufacturers in the world.
"ZTE's leadership in the mobile market depends on innovation and intellectual property," said Mr. Kan Yulun, Corporate Vice President of ZTE.
One of the biggest things that can hold companies hostage is the inability to innovate. Patents give companies the flexibility to do just that. ZTE knows this as they've proven over time through settlements and licensing agreements with companies. That next company in line just so happens to be Vringo.
Ericsson was a thorn in the side of ZTE as the Company filed many lawsuits in Europe (Germany, United Kingdom, Italy). Oddly enough, Vringo has filed lawsuits in some of these exact same countries. Vringo has pending lawsuits against ZTE in India, Australia, Germany, France, Spain and the United Kingdom, with the possibility of more lawsuits to come.
The ZTE & E-Plus Relationship
E-Plus operates as a mobile telecommunications operator in Germany. The Company is the third largest mobile operator in Germany, after T-Mobile and Vodafone, with 19 million subscribers.
Over the last couple of years, ZTE and E-Plus have been broadening their partnership with each other. On July 8, 2013, both companies agreed to a five-year contract in which ZTE would help E-Plus build and maintain its network in Germany.
"ZTE is a perfect partner for successfully implementing our network strategy and with the transfer of network operation we take our partnership to the next level," said Andreas Pfisterer, CTO of E-Plus.
Unfortunately, that next level looks to be defending themselves in court after ZTE was slapped with an injunction. Not only does the injunction hurt ZTE, but it also hurts their many partnerships as well. This of course will only bring added pressure for ZTE to get things quickly resolved.
Conclusion
As you can see from what I've outlined in the article, Vringo looks to have ZTE cornered. After two courts from two different continents siding with Vringo, what else is ZTE hoping for?

So what does all this mean going forward? Looking at the share price of Vringo, it's easy to see that investors were hoping for some kind of miracle settlement between the two companies. Even after wonderful news, shares have taken a fall due to overreactions and misunderstandings.
Investors need to understand what is happening here. There is no doubt about it that Vringo wants a global settlement with ZTE. That is the reason why they've filed lawsuits on three different continents and over half of Europe. Investors need to understand that this is not going to happen overnight. Things take time and Vringo is certainly firing on all cylinders right now.
Looking over the last two years, Vringo has undergone major changes as it looks to continue making the necessary adjustments in order to maximize shareholder value. The Company has transitioned itself from a tiny company that frankly nobody heard of before, to a company that is known worldwide.
Vringo successfully slayed the Goliath in Google, settled with Microsoft for patents and cash and picked up solid IP portfolios from Nokia among others. Last but not least, Vringo is cornering ZTE like no tomorrow.
On May 15, 2013, Vringo provided ZTE with a term sheet providing the terms under which it would license its standard essential patents. The term sheet can be found here and is pictured below.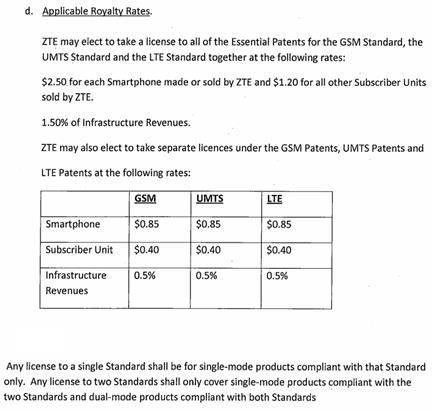 I hope all investors can see what is happening here as the company continues to build a strong foundation. Investors should take advantage of the misunderstandings from the market and make the most of this opportunity.
If ZTE fully respects the intellectual property of other companies, and is committed to completing licensing agreements with patent holders on the FRAND (fair, reasonable and non-discriminatory) principle like Mr. Shen Jianfeng has stated on behalf of ZTE, he better get the checkbook ready.
As always, I'm providing you with my track record and other particular stocks that I like. The link provided will show you all of my picks, how they have fared, and where I think they will be going in the near future. I think you will find my track record to be very impressive and useful.
Disclaimer: Investors are always reminded that before making any investment, you should do your own proper diligence on any stock mentioned in this article. Have a great day and as always, I look forward to hearing your thoughts or questions that you might have.
Disclosure: I am long VRNG. I wrote this article myself, and it expresses my own opinions. I am not receiving compensation for it (other than from Seeking Alpha). I have no business relationship with any company whose stock is mentioned in this article.