Bed Bath & Beyond Inc. (NASDAQ:BBBY), together with its subsidiaries, operates a chain of retail stores selling a large range of domestic merchandise. The corporation was founded in 1971, is headquartered in Union, New Jersey, and as of June 1, 2013, the company has 1,478 stores.
Bed Bath & Beyond is a company that I looked at several months ago between January-March, and was highly convinced that this was a great business trading below intrinsic value. After researching the corporate structure and operations, it is a great business model that attracts consumers every year with great prices (and boosts sales through discounts).
When we look at the home furnishing store industry, there are three corporations that hold a majority of the market share: BBBY, Williams-Sonoma (NYSE:WSM) and Restoration Hardware (NYSE:RH). Just to put things into perspective I compared their fundamental metrics:
| | | | |
| --- | --- | --- | --- |
| Company | ROA | ROE | PM |
| BBBY | 17% | 26% | 9% |
| WSM | 13% | 22% | 6.5% |
| RH | 7% | 11% | 15% |
Bed Bath and Beyond is not only the top holder of market share but also leading in returns for the business and shareholders. Normalized levels of these three categories come back around 15, 23, and 9% but the trend clearly indicates slow, steady growth. Average YoY revenue growth is roughly 11% with no apparent abnormalities (Notice: the tail end year has been relatively flat).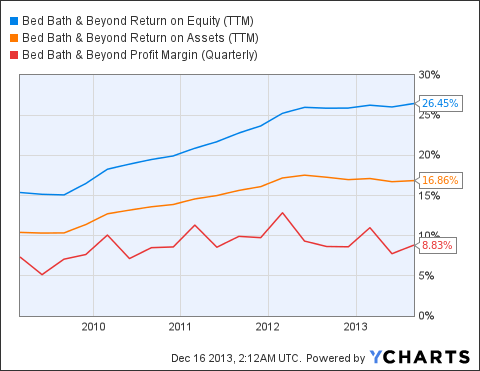 BBBY Return on Equity (TTM) data by YCharts
Sidenote: BBBY is not financially leveraged having no current or long term debt to equity. Considering its massive profitability, the corporation has maintained its steady growth every year by means of its own equity.
Valuation
When using Peter Lynch's price to earnings model, the share price has traded well below the assumed growth level and should have been considered an attractive investment. In fact, Bed Bath and Beyond has only traded below this line twice in the last five years; back in July 2010 at $37 and less than a year ago back in January around $58.
Assuming the market expects BBBY to grow EPS 12% annually for the next five years, discounted cash flow assumes fair value at $70, about 9% below the current market price.
Some Negatives
There are a few disconcerting issues such as massive insider selling. The CEO, among other directors, have been gradually dumping shares in the last year over sixty dollars, you can the data here. What I find more interesting is that there has been a major lack of insider buying in the last several years. Also note if you bought this at any point during the last 5-6 months, you practically have generated no return versus the NASDAQ being up 11%. A final consideration is that analysts are analyzing BBBY's store expansion prospects before they experience market saturation.
Bottom Line
Bed Bath & Beyond is a great business with a large customer base that continuously grows its financial stability. It does seem, however, that the market has potentially moved ahead of itself, and shares are too expensive. I think upside is limited and investors cannot claim any supplemental yield provided no dividends are being issued. Overall if the market considerably sells off this company, I would find it as a decent opportunity to get into a quality business.
Disclosure: I have no positions in any stocks mentioned, and no plans to initiate any positions within the next 72 hours. I wrote this article myself, and it expresses my own opinions. I am not receiving compensation for it (other than from Seeking Alpha). I have no business relationship with any company whose stock is mentioned in this article.